30 Stone Countertop Ideas For A Luxe-Looking Bathroom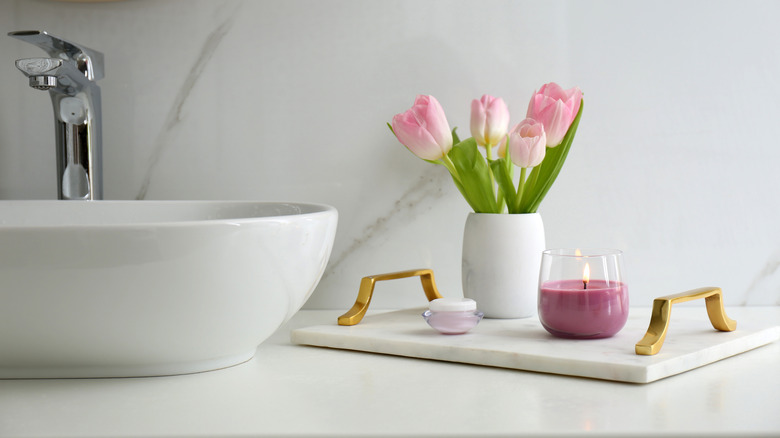 New Africa/Shutterstock
When choosing the right material for your bathroom countertop, the best choice is typically a type of stone. This is because, above wood, concrete, laminate, and resin, stone countertops are much more durable and will last a long time, not to mention that they typically have a more luxurious appearance as well. Once you've decided to use stone, the hard part begins, as there are so many options. The most popular types are veined marble, quartz, and speckled granite. While all three are highly durable, quartz has the added benefit of not needing to be sealed since it's nonporous. 
However, these three materials aren't your only options, as you could also choose a cheaper stone like warm travertine or limestone. Another type is gray slate, which is exceptionally enduring and nonporous. Finally, terrazzo contains chips of stones and sometimes glass for a mosaic look. To help you decide between all these choices, you'll find 30 stone bathroom countertops below, each with a different color and appearance. 
1. White marble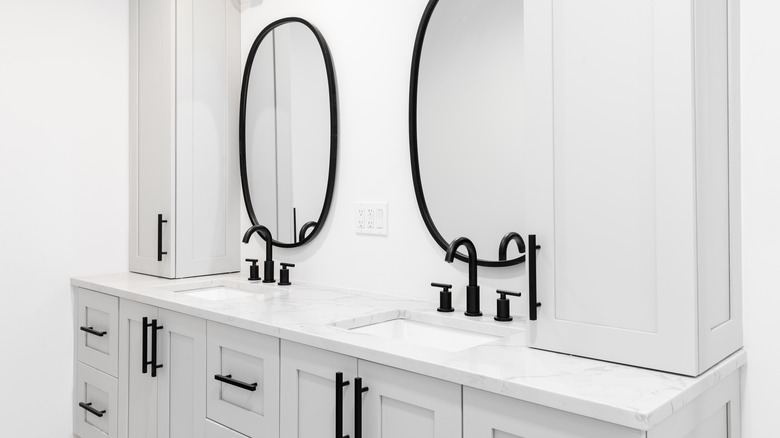 Hendrickson Photography/Shutterstock
One of the most common options, white marble with subtle veins, will give your bathroom an elegant and expensive appearance. Because this option is versatile, it could work with either light cabinets for a cohesive look or dark ones to create contrast. 
2. Black and white granite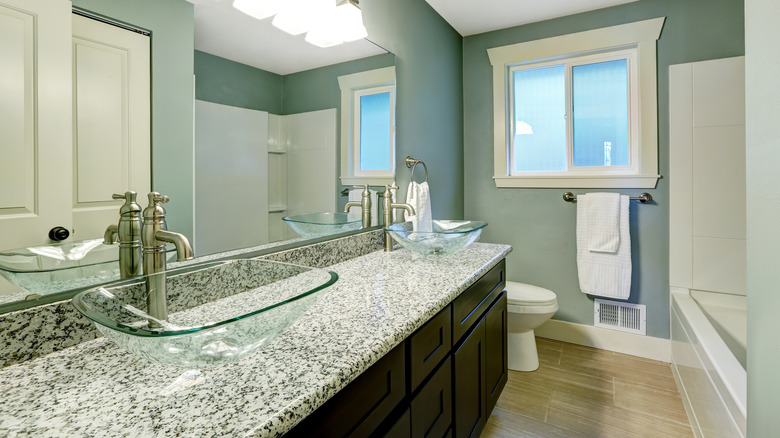 Artazum/Shutterstock
Another popular choice, white granite with black specks, adds interest to a simple bathroom design. As in the case above, this material looks best when paired with solid colors on the walls and cabinets, as it makes a big statement. 
3. Solid white quartz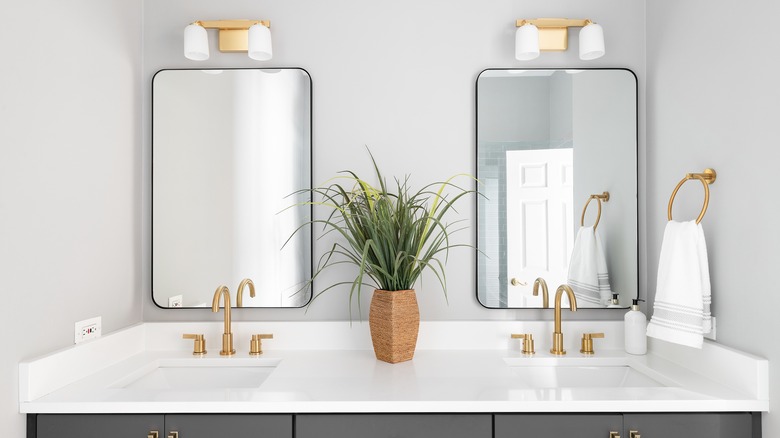 Hendrickson Photography/Shutterstock
For a classic and simplistic look, white quartz should be chosen. While it may look similar to a cheaper laminate material, quartz is much more durable and will last much longer. 
4. Gray veined marble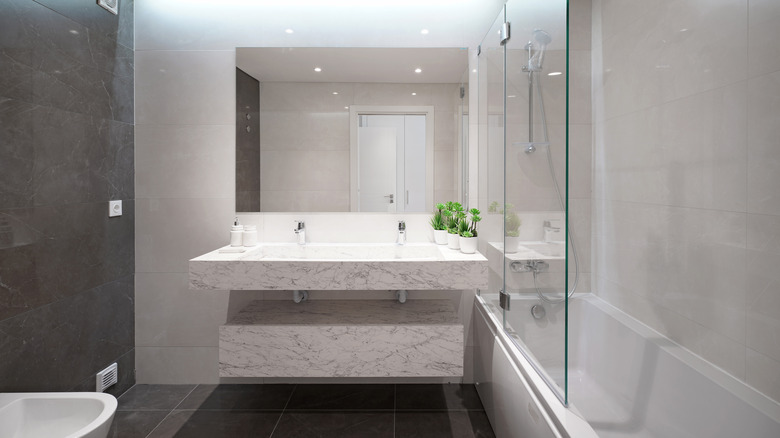 Policas/Shutterstock
Choose a white marble countertop with busy and sharp gray veining to add movement. Further, to make your vanity appear more high-end, carry the material down the sides instead of including cabinets underneath. While this will reduce your storage space, it will also have a dramatic effect. 
5. Off-white granite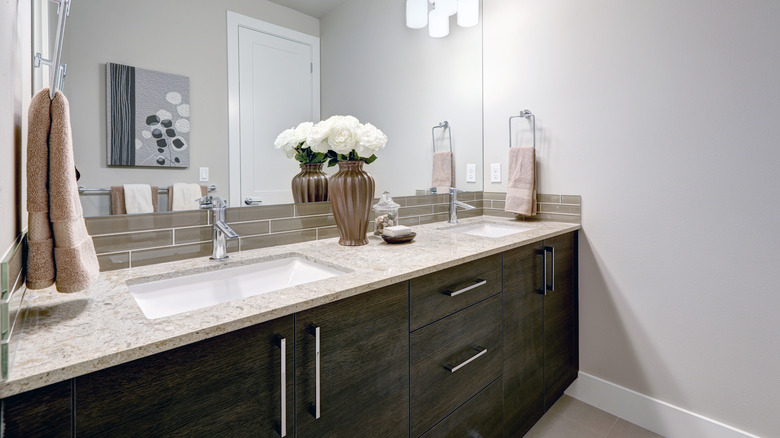 Artazum/Shutterstock
Off-white granite is neutral but still adds a bit of warmth. Further, the specks in the granite don't have to make a huge statement; instead, they can create subtle interest that isn't too loud. 
6. Brown travertine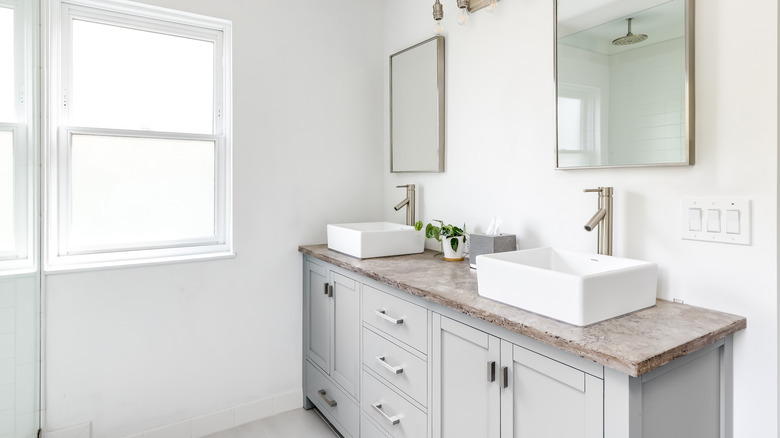 Hendrickson Photography/Shutterstock
Travertine is typically chosen to provide an earthy feel, usually found in either beige or brown tones. As in the case above, this countertop could be the perfect way to spice up an all-white bathroom, as it contains movement and color. 
7. Soft light gray marble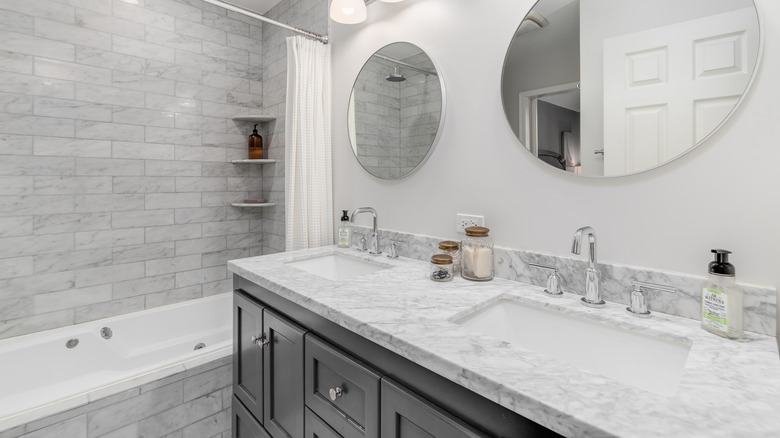 Hendrickson Photography/Shutterstock
White marble with soft, light gray veins is a classic look that adds subtle movement. As in the image above, if you want to make your countertop look more integrated into your bathroom's design, carry the same material a couple of inches up the back wall. 
8. Black granite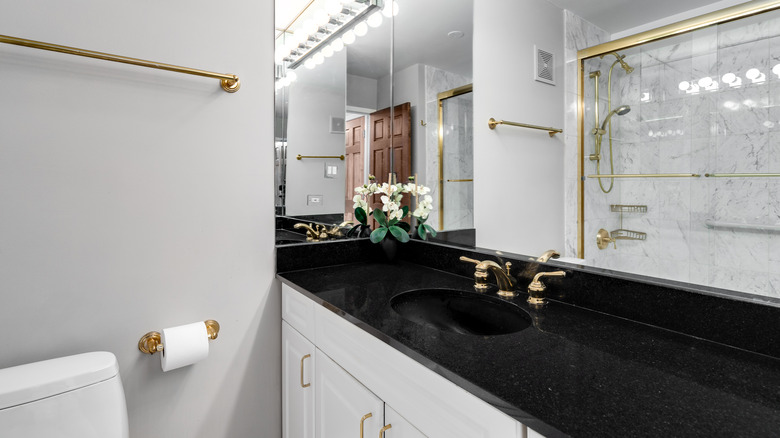 Joe Hendrickson/Getty Images
To make a dramatic statement, choose black granite with subtle specks of gray. Especially when paired with white and gold, this material will make your bathroom design appear expensive. An added benefit of black is that it hides stains and marks exceptionally well. 
9. Beige marble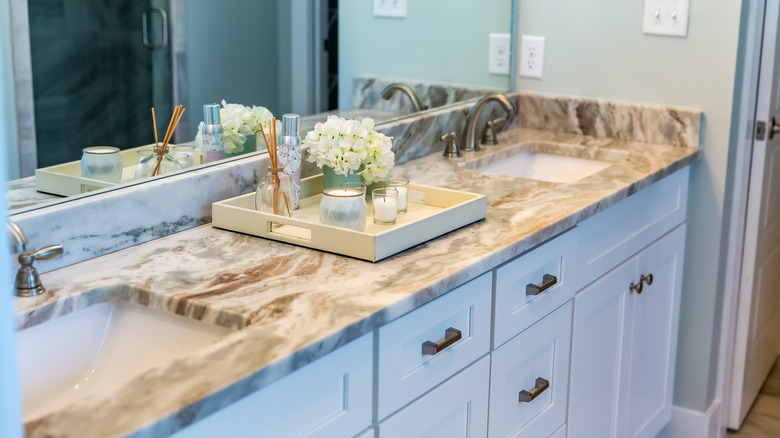 Ursula Page/Shutterstock
For a warmer appearance, marble in beige could be the right choice. While it will still look modern, it will also increase the cozy and homey feel in your bathroom. To really make it pop, surround the countertop with light colors, like white cabinets and blue walls. 
10. Dark gray marble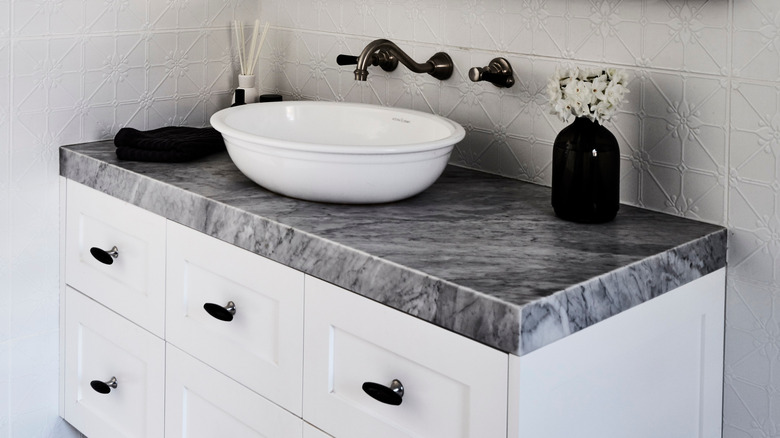 PhotoMavenStock/Shutterstock
Gray marble with light gray and black stripes provides a sophisticated and modern appearance. As shown above, another way to create a chic look is by choosing a thicker countertop slab — one that's a couple of inches thick will make more of an impression than a thinner one. 
11. Solid slate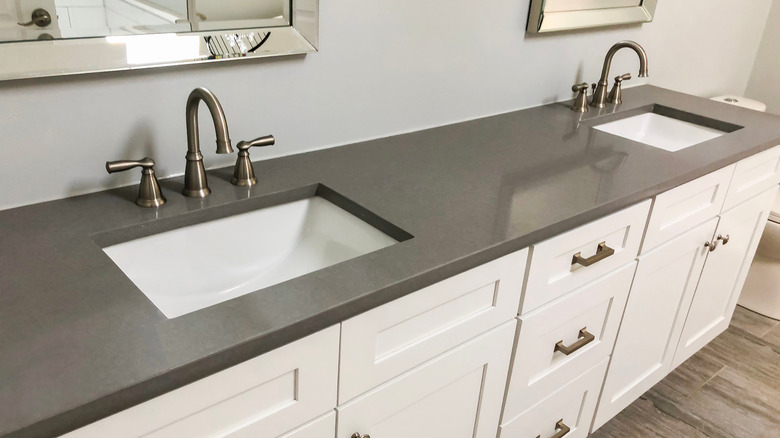 StudioDin/Shutterstock
While gray slate may look similar to laminate or concrete, it is extremely durable and will last a long time. Additionally, this material will provide a classy appearance that matches almost any color or style. 
12. Pink and gray marble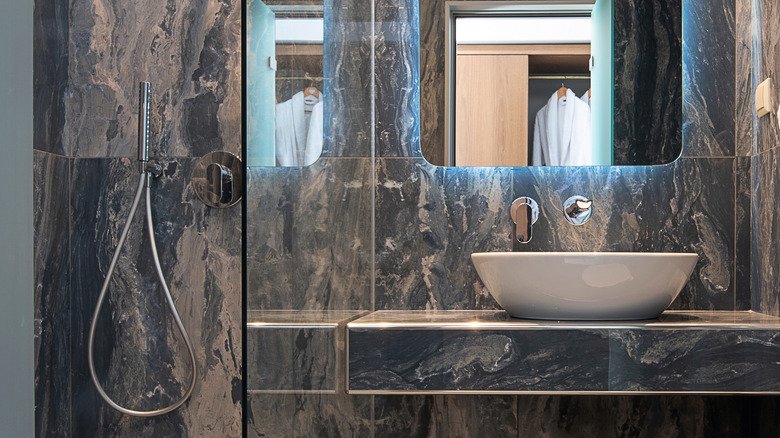 Hotel Art Photography/Shutterstock
Pink marble is typically seen as delicate, but when paired with a darker gray tone, it's given a less predictable appearance. Additionally, as the image above demonstrates, covering your walls with the same material as your vanity will make your bathroom look luxe. 
13. Gray veined quartz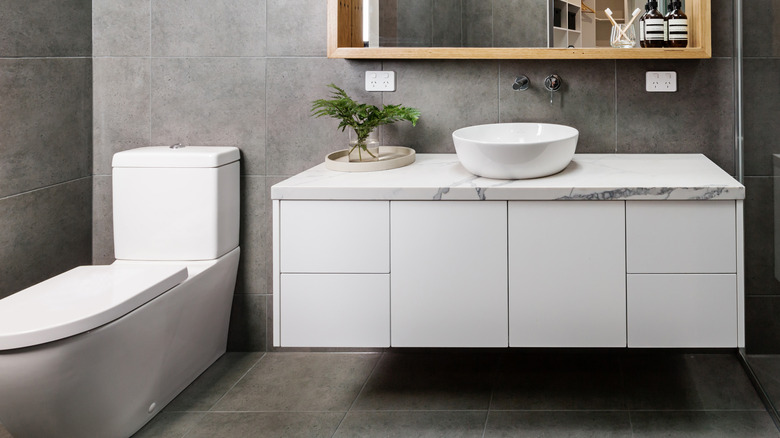 Jodie Johnson/Shutterstock
While veined quartz can look similar to marble, it has the added benefit of being nonporous, so it doesn't need to be sealed to keep moisture out. Choose a primarily white slab with large gray veins to get the same look as this vanity. 
14. Warm limestone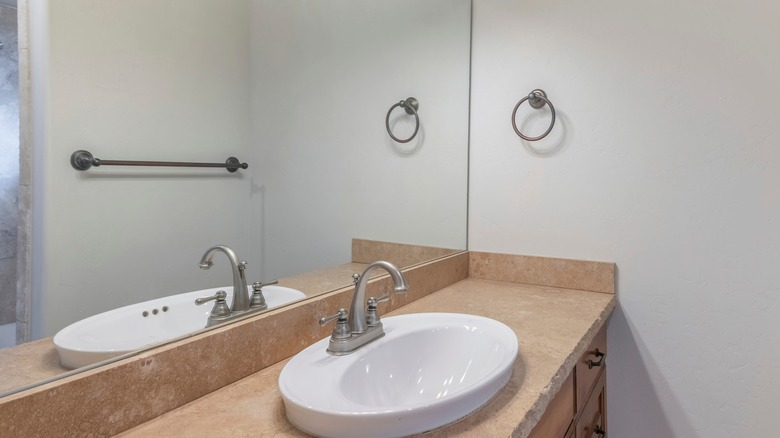 Jason Finn/Shutterstock
Limestone always has a warm, typically beige appearance that sometimes has an orange or pink tint. To draw attention to your vanity's natural stone countertop, include a raw edge to create more texture and interest. 
15. White terrazzo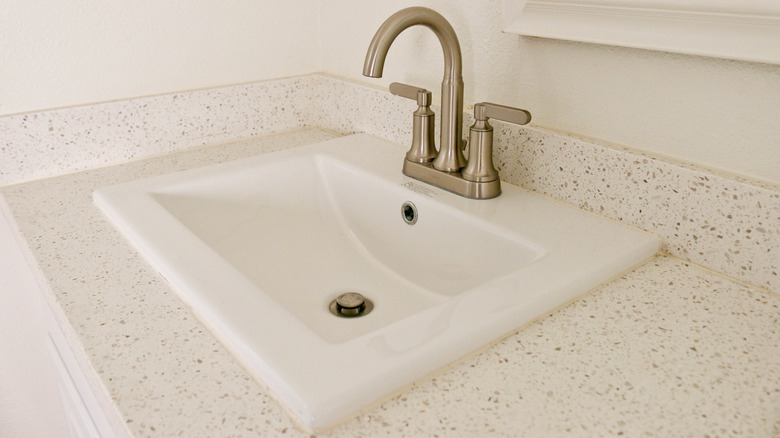 TheWonderWays/Shutterstock
Most people think of this when they hear the word "terrazzo" — small pieces of stone or glass inside a light-colored surface. While it can look similar to granite, it's sold at a much cheaper price. Further, though it's not the most luxurious stone available, it can look expensive when paired with higher-end materials. 
16. Beige terrazzo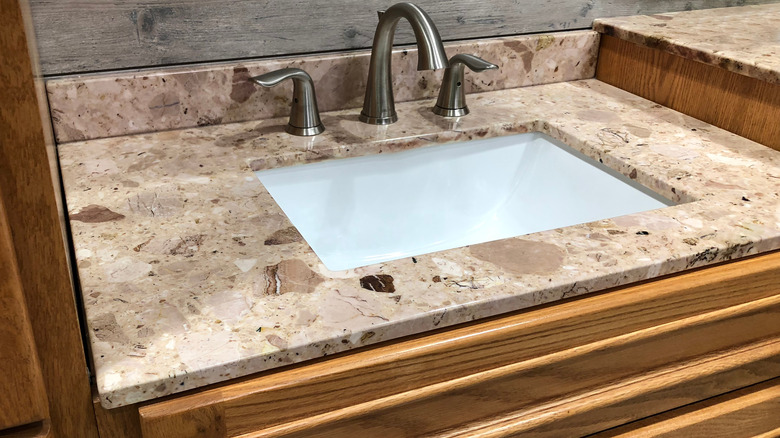 StudioDin/Shutterstock
Here's another version of terrazzo that provides more character and uniqueness because the pieces of stone vary in size and color. Additionally, the whole slab is a warmer tone of beige-pink, which makes more of a statement than neutral white and gray. 
17. Green granite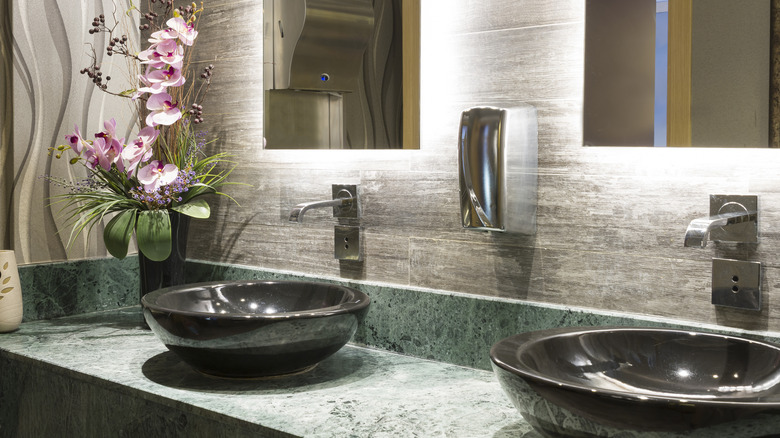 Nadir Keklik/Shutterstock
Green granite may be the right choice if you're a fan of colors over neutrals. This material is typically medium to dark green and has specks of darker tones like black. Pair it with moody colors and shiny metals to play up your luxe look. 
18. Soft blue-gray marble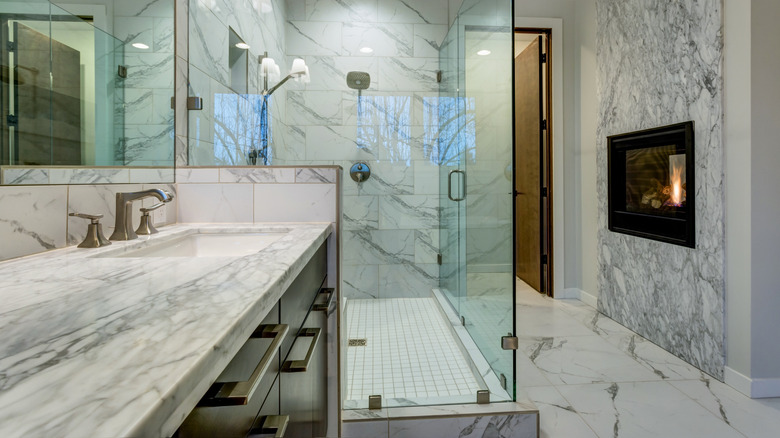 Alabn/Getty Images
Carrara marble is known for its blue-gray veins and soft appearance. While some marble slabs have distinct lines, this material's veins often blend into the white background, adding a less dramatic but interesting appearance. 
19. Black veined quartz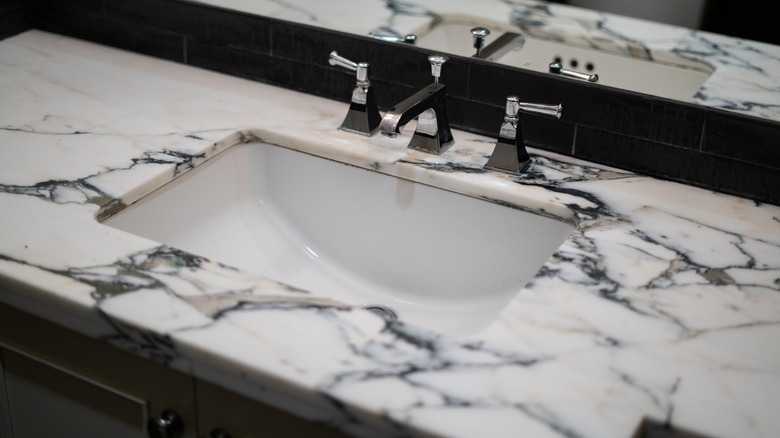 Zeke Willard/Shutterstock
This white quartz has hints of beige and beautiful spider web-like black veins that branch out in an organic pattern. Because the veins are so defined against the light background, this slab would become the focal point in a bathroom.
20. Beige veined travertine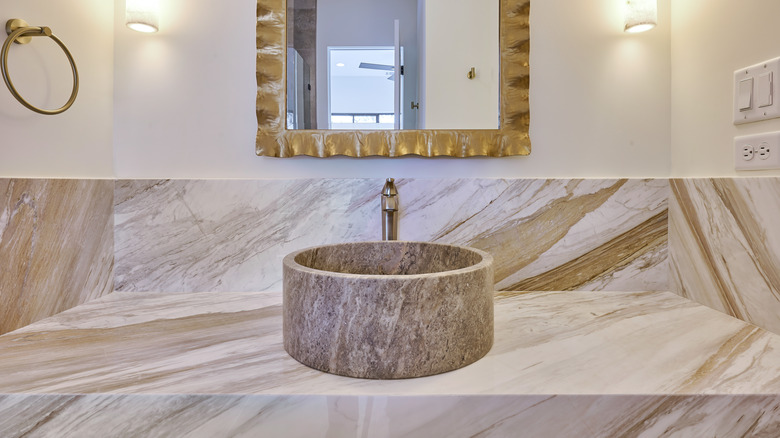 Bluelemonphoto/Getty Images
While some travertine countertops are speckled like granite, others have strong, defined lines that make a statement. Because this material is typically beige, it adds coziness and the warm veins pair well with gold metals. 
21. Green marble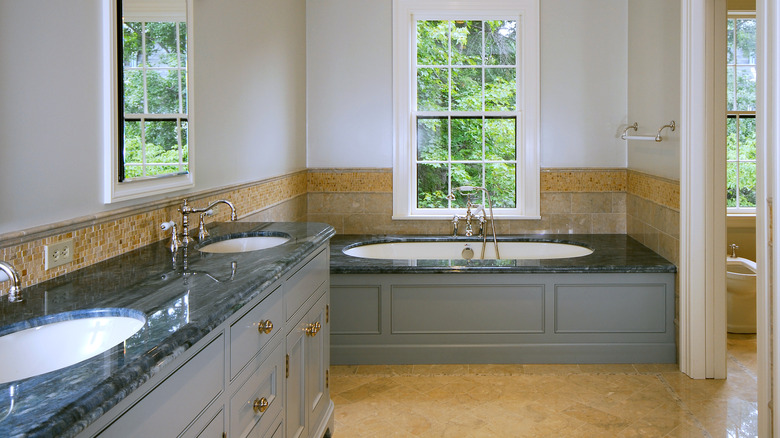 Jorge Salcedo/Shutterstock
While this dark green marble material has been paired with warm beige tiles and flooring in the image above, it could also be mixed with neutrals like black, white, and gray if you want a more modern look. In the sunlight, this green material with subtle stripes of off-white can sometimes appear blue. 
22. Warm white marble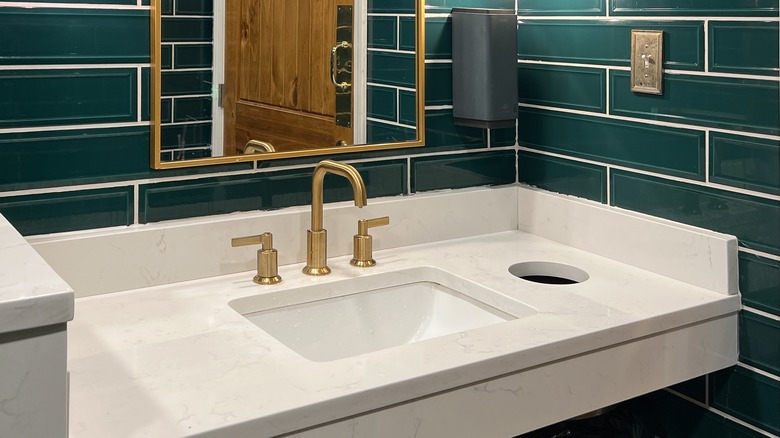 Hendrickson Photography/Shutterstock
With very soft gray veins, this piece of marble has a sleek look. The warm white color is less stark than pure white, giving the space more contrast against the green tiles on the walls and the bright white grout.
23. Warm gray quartz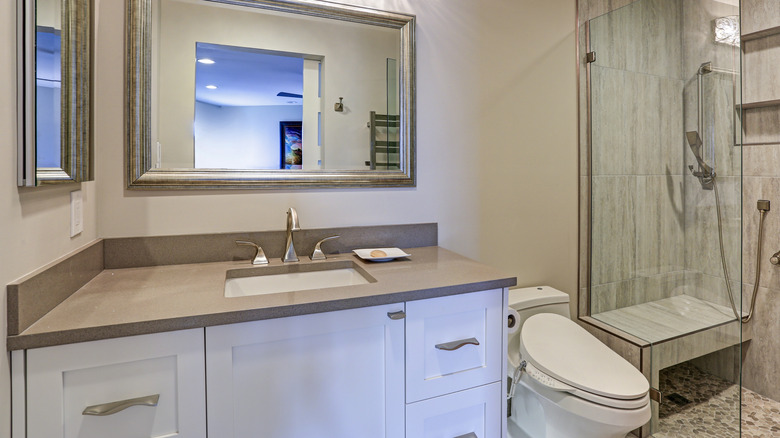 Alabn/Getty Images
A brown-gray color, this slab of quartz darkens the white vanity and matches the other elements like the gray shower and silver mirrors. This choice would be more unexpected than solid white quartz, as it's less frequently used. 
24. Multi-colored terrazzo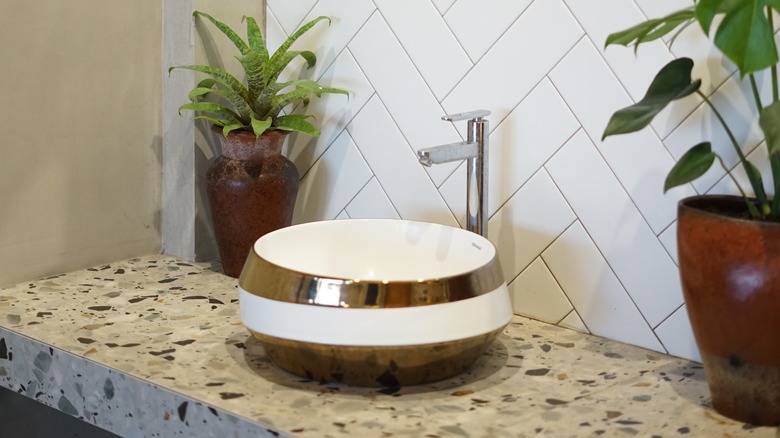 ilham prasetiawan/Shutterstock
Sometimes, terrazzo is filled with many different colors and types of stone for a mural, one-of-a-kind appearance. If you're renovating your bathroom and decide upon a countertop like this, use the colors in the stone as accent tones in the rest of the room to create a cohesive appearance. 
25. Subtle terrazzo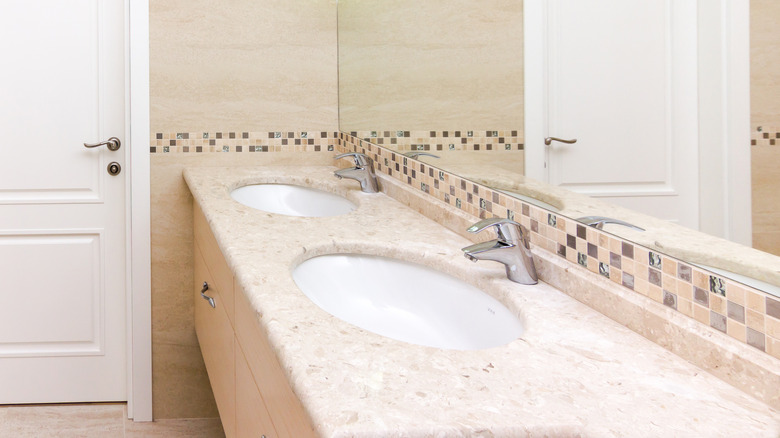 Raisa Suprun/Shutterstock
Terrazzo's pattern can also sometimes appear pretty subtle, which happens when the main material's color is very similar to the pieces of stone. Choosing a slab that looks like this can be a great way to create interest without looking over the top. 
26. Warm white travertine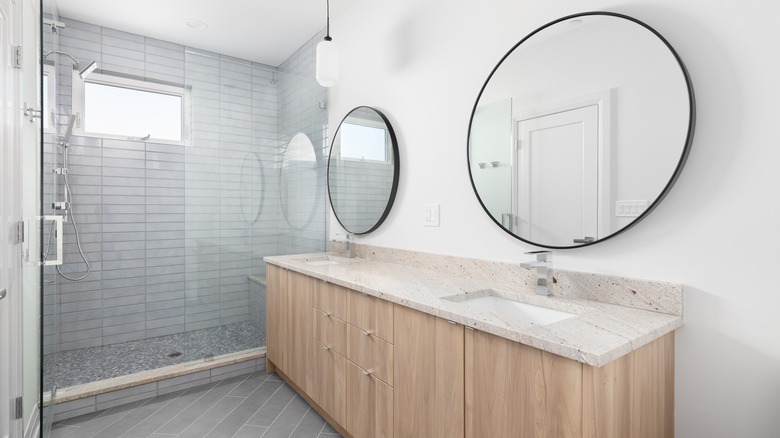 Hendrickson Photography/Shutterstock
Warm white travertine may be an excellent option for both a veined and speckled appearance, and it can provide a similar look to granite but is less expensive. Further, this piece will really pop when paired with cool tones like white and gray. 
27. Light stones in terrazzo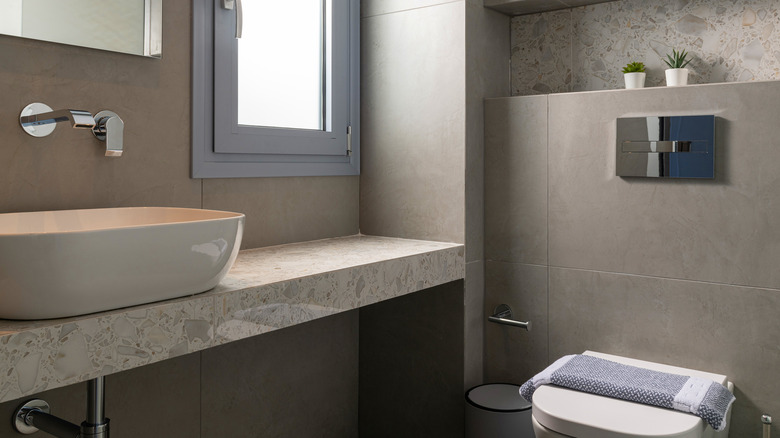 Hotel Art Photography/Shutterstock
While terrazzo often has a lighter background and darker stones, that's not always true. Sometimes, the stones are lighter than the material for a unique look. If you really want this material to shine, add it to multiple areas of the room, such as on the countertop and in a niche.
28. Gray and brown granite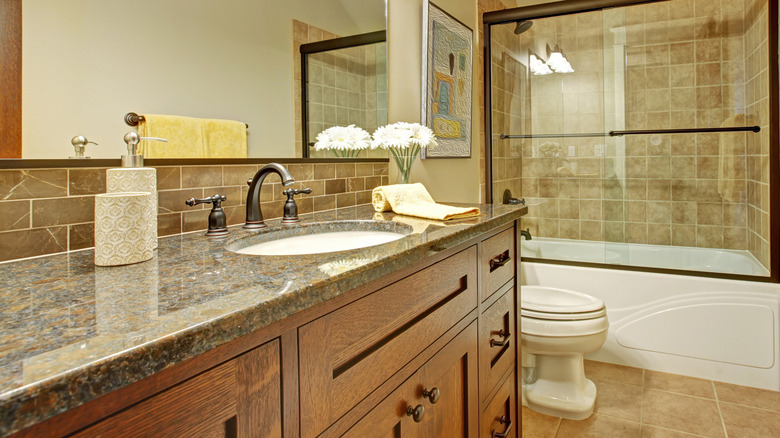 Artazum/Shutterstock
If you can't decide between a warm or cool tone, meet in the middle with a dark gray and brown granite slab. While not the right choice for every bathroom, it could create more sophistication in a primarily beige space or warmth in an all-white or gray room. 
29. Dramatic black veined marble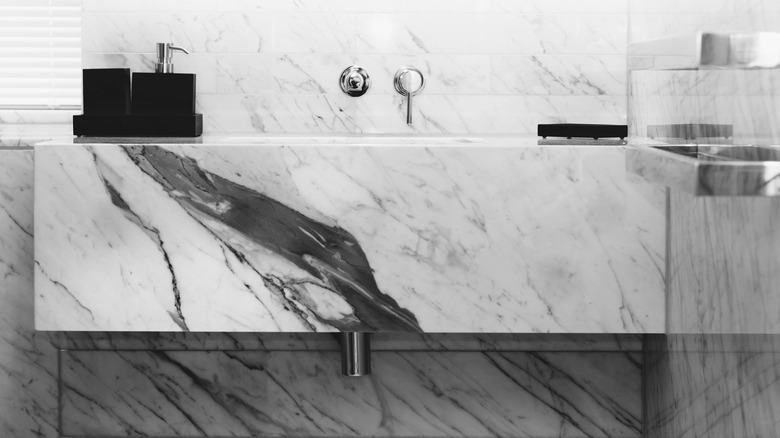 Zaain_k/Shutterstock
Choosing a white marble slab with one dramatic, large black vein will draw attention to that area of the vanity. This could be a better choice over a vanity fully covered in large veins, as the viewer will immediately look to that area instead of feeling overwhelmed. 
30. Dark gray granite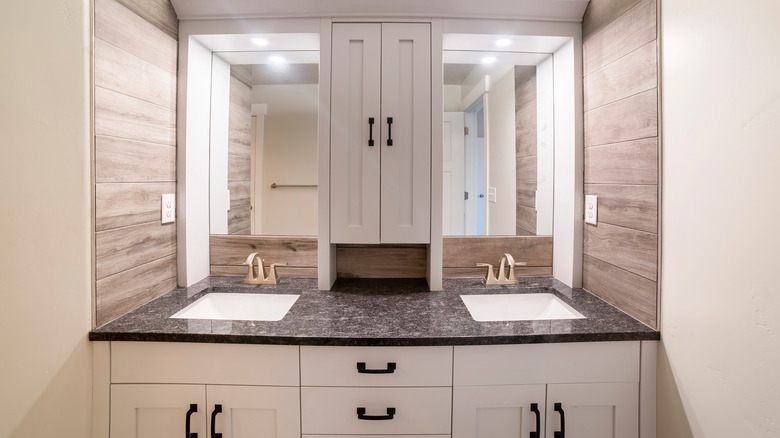 Jason Finn/Shutterstock
Dark gray granite with lighter white or beige specks appears sophisticated without being boring. This choice is extremely versatile but looks best when paired with lighter colors, as too many dark tones could make a bathroom feel smaller than it is.