The Storage Hack That Makes Use Of Your Mattress-Less Trundle Bed
The main use of a trundle bed is to add an additional mattress to a room without taking up any extra floor space, but this isn't the only way to use this bed frame. If you don't need two mattresses, you could remove the bottom one and store items inside the pull-out drawer instead. This shallow-but-deep drawer will be able to hold a large number of possessions, which could prove an extremely beneficial hack, especially for those with small living quarters.
Some use containers, such as fabric holders or short plastic bins, to store possessions underneath their bed. However, using a trundle bed can be a better solution, as it allows you to access everything easily whenever the drawer is pulled out. You can also apply this hack even if the area for an extra mattress on your bed frame isn't an actual drawer; for instance, maybe the bottom is made up of horizontal metal bars. if so, cover the gaps where tiny items could fall through with a plastic liner or wooden planks.
What to store in your trundle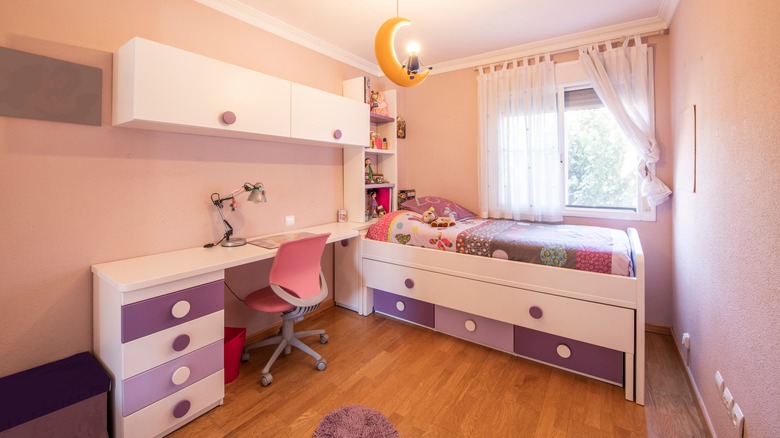 Toyakisphoto/Shutterstock
With this hack, there are countless items you can store in your trundle bed drawer, including extra bedding and pillows. A huge benefit of this is that these items will be easily accessible from your bed, when you may need them on a cold night. If you don't have a place for your seasonal clothes, this can be the perfect area to keep your coats in the summer and your swimsuits in the winter as well. Shoes are another great item to store in a converted trundle bed drawer, as they'll be within easy reach and won't get damaged.
Because trundle beds are typically placed in children's bedrooms, there are also a number of their possessions you can store inside the drawers. Toys, books, clothing, shoes, stuffed animals, and games can all be kept in this easy-to-reach area. Another benefit of this is that your children can easily throw their items inside the drawer and push it back under their bed, for an uncluttered appearance.
What if you need both an extra bed and storage?
However, while using your trundle bed for storage is a great hack, some may also need the extra mattress. If so, the best solution is to choose a trundle bed that also has storage drawers, such as this one from Walmart, available for under $365. This piece has two drawers right below the top mattress but also a space for an extra bed underneath. The added benefit of a piece like this is that the drawers are made to contain items, so you won't need to add a plastic liner or wooden planks.
Another option is a trundle bed with storage in the headboard, such as this bed frame from The Home Depot that retails for about $770. This would be ideal for those who want to store things like children's toys or books, as they could be displayed on the shelves. Further, it's also set up like a daybed, with the headboard along the length of the mattress, so it could act as a couch during the day. Finally, you could decide upon a bunk bed with underneath storage drawers, like one currently sold at Max & Lily for about $800. This would keep both mattresses always available while still adding extra storage space.