These Are The Best Granite Countertop Colors
The fashion industry, social media, current politics, and pop culture are often the inspiration behind interior design trends, influencing the look of bathrooms and kitchens in homes across the United States. According to Vogue, earth tones, neoclassicism, and metal accents are in, and with these trends on the rise, it's unsurprising that granite slabs are some of the most popular countertop materials. This type of material has been used in home builds since the 1920s but became truly prominent in the 1970s, being favored among homeowners for its versatile colors and unique patterns. You can find granite in nearly any color, including blacks, whites, reds, blues, and greens. Within these colors are "veining," which are lines and specks of contrasting color in the rock. The veining can do wonders for your interior design, matching the accent colors in your room and complementing the metallic fixtures and appliances around your kitchen.
Below are some of the most popular granite slabs on the market for 2023. These natural countertops greatly boost your interior appeal when paired with the right cabinets and fixtures. Learn more about specific granite countertop colors that are popular, as well as how to style them in the list below.
White and off-white granite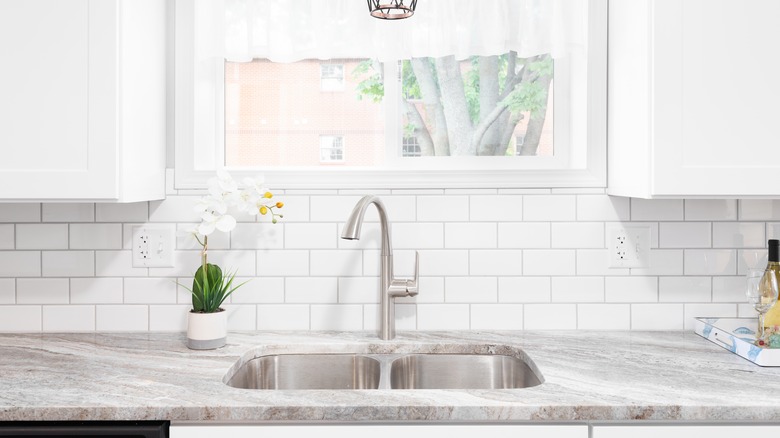 Hendrickson Photography/Shutterstock
White is always popular in interior design because it's easy to style and almost always guaranteed to harmonize with the rest of the room. The theory as to why white looks so good with most designs is that this "color" is a mix of all colors on the visible spectrum. Although there is no pure-white granite, there are dozens of granite options with a predominantly white or off-white background shade. These countertops look great in traditional and modern-style rooms, keeping light cabinets looking sleek or adding a pop of brightness to a darker-themed kitchen.
One of the most popular white granite colors is Alaska White, which is a Brazilian slab held in high regard by many countertop suppliers. This slab is a pale white color with cream and taupe veining and is in the mid-range for affordability. There are cheaper quarried varieties of the same type, though they will have more brown tinting within their marbled design. Earth tones, light blue, and white cabinetry are recommended pairings for all variations of Alaska White, as they contrast well with the primary and accent colors in this granite.
Beige granite
Ursula Page/Shutterstock
Beige granite is slightly darker and warmer than white and off-white varieties and is ideal if you want countertops that aren't as flashy in color. These countertops go well with mid to dark-toned cabinetry, most notably cherry, coffee, espresso, walnut, and wenge-colored wood. The multi-colored brown and reddish veining in beige slabs often matches these dark woods, creating a cohesive and aesthetically-pleasing interior. You'll find wood cabinets and correlating beige countertops as popular pairings in Victorian and country-themed kitchens.
There are two beige granite slabs that are top sellers at most home improvement stores and on online granite slab supplier sites; Colonial Gold and Sunset Canyon. Colonial Gold is mined from India and has a creamy gray base with brown and gray veining. As with most beige countertops, this color looks best with dark cabinetry to create an elegantly dark and moody interior. Sunset Canyon has a more neutral base color, with lines and flecks of white, taupe, and black. This granite is also quarried in India and works well with most interior decorating styles. 
Black granite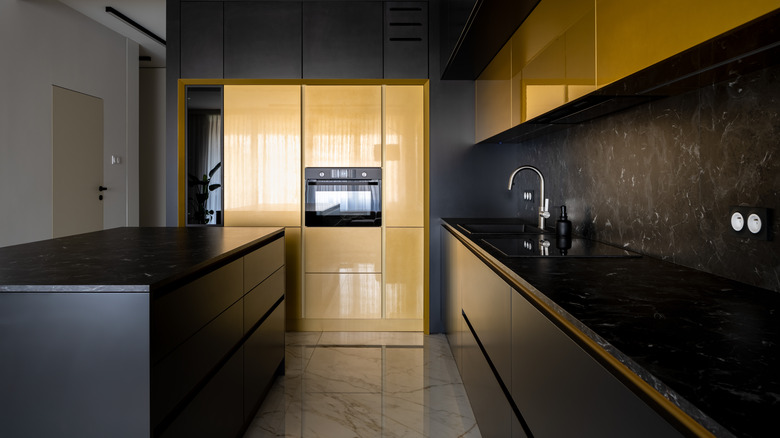 Dariusz Jarzabek/Shutterstock
If you're privy to interior design trends, you've probably heard that quartz is overtaking granite as the most popular countertop choice among homeowners. Perhaps this is why black granite also remains a top choice, for many black granite slabs contain about 20% quartz (via Granite Selection). In fact, if the granite slab you choose has less than 20% quartz, it's not true granite. Rather, it is gabbro, another type of rock less durable than its look-alike (via Keystone Granite). As for black granite, this color countertop typically comes with one of two types of finishes. Honed, which is non-reflective and matte, or polished, which is reflective and glossy. Due to this variety's dark nature, it suits contemporary, traditional, and transitional interior design styles.
Negresco, or Necro Mist, has reigned as the top black option for years, favored for its opaque shade and faint specks of white. It has a matte finish and is sourced from Brazil, and its modest but dazzling appearance befits most kitchens. Black Galaxy is also a desired slab and is admired for its space-like imagery. This item is quarried in India and comes in both honed and polished finishes.
Gold granite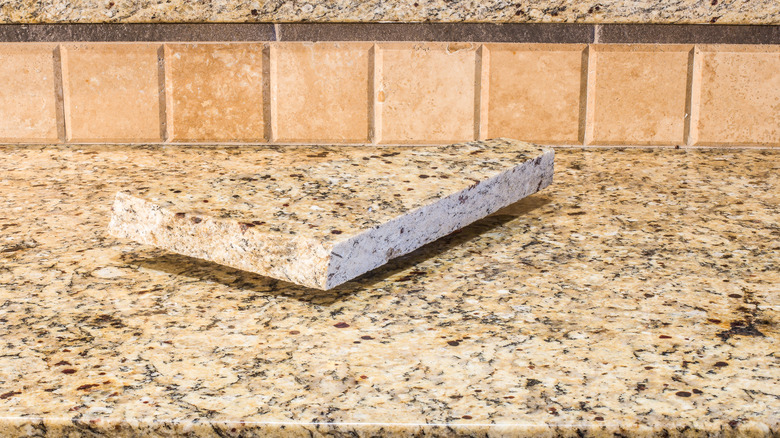 Mccallk69/Shutterstock
Few countertop materials have the glamor and warmth of golden-toned granite. This variety is striking but cohesive with rustic, traditional, and transitional kitchen designs. The glimmering hues light the room and look especially radiant with bold decorative accents.
New Venetian is a polished granite hailing from Brazil, with predominantly gold and yellow undertones and brown veining. This coloring is recognizable as it is one of the most popular designs on the market and is often seen in traditional-style kitchens with natural wood cabinetry. Caravelas Gold is another option that is remarkable for its golden undertone mixed with swirls of browns, grays, and yellows. This granite slab is also sourced from Brazil and has a polished finish. Due to the dark accents in its composition, this variety looks best when paired with dark gray and brown-toned cabinetry. There is a third contender for the most popular gold granite countertops; another Brazilian variety called Golden Crystal. Golden Crystal befits traditional and contemporary styles and has mottled dark and light veining that makes it compatible with all neutral cabinet colors.
Brown granite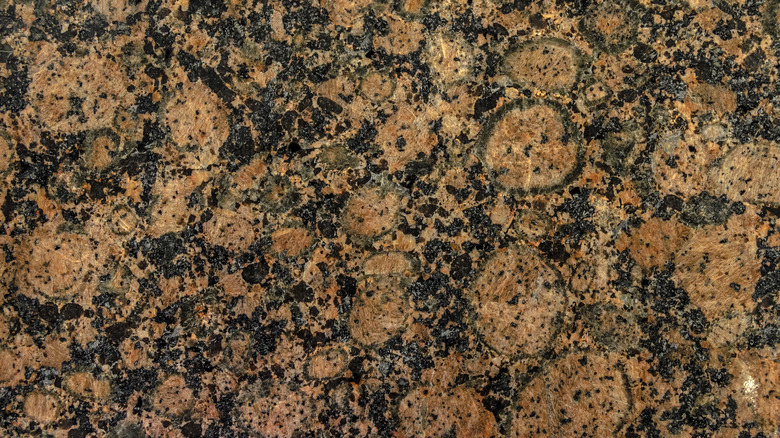 Aleff Gripp/Shutterstock
Brown granite may not be as flashy as gold, but it can make a gorgeous addition to traditional and rustic kitchens. Brown granite is complementary to many cabinet colors, making them easy to pair as countertops, flooring, and even backsplashes. The only downfall of this color is that it is not befitting of modern and contemporary kitchen designs, which are styles that have gained popularity throughout the 2020s. However, this isn't to say that classic kitchens can't be made trendy — designers must simply choose the best brown granite countertops.
Imperial Coffee is mottled with light and dark brown fossils with tiny white specks. Sourced from Brazil, this granite pairs well with red-tinted wooden cabinets due to its vaguely cinnamon-colored tint. Baltic Brown is also a favorite option, and it has a similar appearance to Imperial Coffee. The main difference is that it has a more vibrant tone with flecks of green amongst the redness, and it is quarried in Finland instead of Brazil. This stone is also commonly paired with warm-colored cabinets.
Blue granite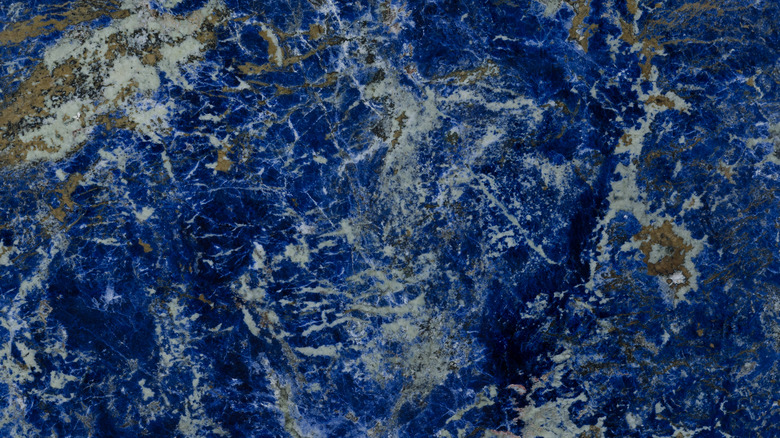 Andrey_Galinichev/Shutterstock
Amateur home decorators may steer clear of vivid-sounding colors since primary shades don't typically fit the current neoclassical and earth-tone trends. However, blue granite is rarely as intense as people imagine, as this type of granite is typically defined by neutral colors with bluish accents. Many popular slabs come in a variety of gray and off-white shades with light or dark blue veining. However, there are high-end slabs that do have the vibrance of a clear sky.
Blue Bahia is a high-caliber stone that costs about 225% more than common granites due to its demand and unique veining. It has a radiant blue color with swirls of white and gold, which greatly vary from piece to piece. Due to its brilliant coloring, this Brazilian slab is easiest to pair with white cabinets and minimalistic modern kitchen designs. More adventurous interior designers install this granite over dark cool-toned woods, but the effect may only be appealing if you have flashier tastes. Aside from Blue Bahia, there are also more subtle blue granite options, such as Ice Blue. This type of stone is a faint cobalt with flecks of gray and black. These slabs come from India or Brazil, depending on which countertop provider you choose, and are elegant additions to modern and contemporary room setups.
Green granite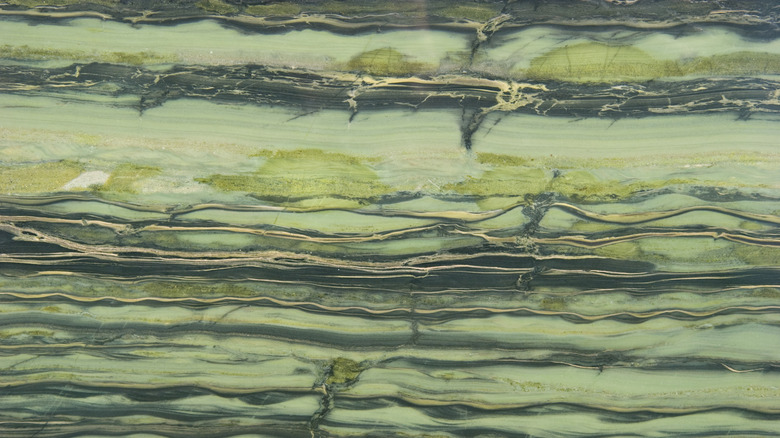 Steve Smith/Shutterstock
The color green is believed to invoke feelings of health and tranquility, making it a welcoming shade to incorporate into a home, especially in kitchens and bathrooms. Green granite is mined throughout the world and comes in light and dark variants for countertops. Many people enjoy the calming and nature-like ambiance that these countertops instill in a room, which is why it's a popular choice despite how its vibrancy contrasts current neutral-colored trends.
Verde Bamboo granite slabs differ from piece to piece but are typically a light moss-green color streaked with soft blues and yellows. Certain pieces are closer to a dark seaweed green, though both varieties are quarried in Brazil. You can pair these slabs with white kitchens to create a traditional or modern interior, or with wood cabinetry to create more rustic, nature-inspired designs. Another popular option is Costa Esmeralda, which is a more subtle green granite with Italian roots. This brushed stone has blue and gray veining with flecks of white. The more muted color scheme can seamlessly complement country and rustic interior designs, or provide a splash of color for contemporary, modern, and traditional room arrangements.