What To Consider Before Adding A Pickleball Court To Your House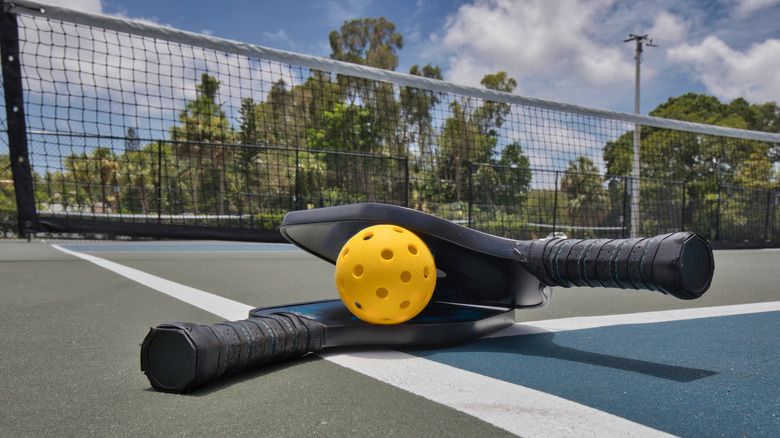 glenrichardphoto/Shutterstock
Pickleball is the latest sporting phenomenon that seemingly cannot be stopped. It is the fastest-growing sport in America and has been for the last few years. The curious game combining tennis and ping pong was created by a handful of dads in Washington in the mid-1960s to keep their children busy. But today, nearly 12% of Americans have played pickleball, with over 10,000 courts available nationwide. Its regular participation has almost doubled in the last two years. From 2021 to 2022, active players increased from about 4.5 million to just under 9 million. So given the sport's popularity, pickleball has now made its way into the backyards of luxury homeowners.
This is unsurprising. Tennis courts, pools, and putting greens have been mainstays for decades now, and pickleball courts offer a more cost-effective option, take up less space, and are an activity that the whole family can play despite skill level. A pickleball court is a mere third of the width and length of a tennis court, so this is also an addition that can accommodate smaller backyard sizes. That said, there are a few other factors to consider when installing a pickleball court regarding the type and quality of the court, along with the ramifications pertaining to the rest of your home. So with that, let's take a closer look!
Configuration and positioning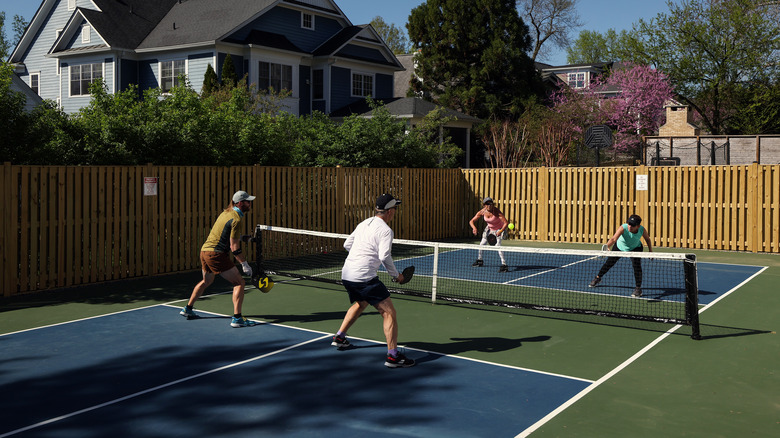 Kevin Dietsch/Getty Images
When designing your pickleball court, consider its visibility in relation to the rest of the backyard. Some may enjoy having it front and center, while others want it tucked away from the main yard. Many parents want to be able to see the pool from the kitchen or backyard patio, and a court may warrant a similar treatment if young kids are playing. Ideally, a court would be best positioned horizontally to the backyard to keep the rally and gameplay away from the backdoor. That said, there are game-related and practical reasons why the court should have a north-south orientation. This positioning can minimize intrusion from the sun, but it also affects the players' first serve. One of the main rules is that the team facing north is the team to serve first, so explicitly noting this direction in your design is ideal.
Regardless of its positioning, it is heavily advised to include exterior fencing. This type of fencing can be minor and not excessive in height, an unassuming plastic material, as the ball used in pickleball does not bounce very high. Nonetheless, the fencing can keep the game more contained and prevent each match from leaking over into other areas of the yard. Cosmetically, something clear or minimal in color will work to provide the function without being an eyesore. 
Climate and sound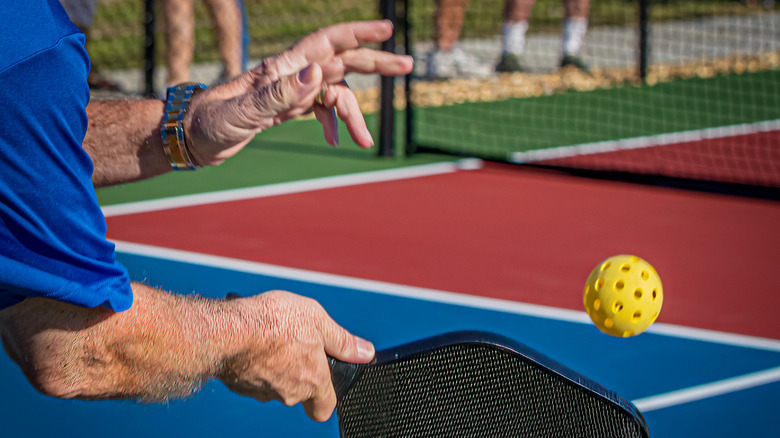 jo Crebbin/Shutterstock
An outdoor court is a sensible option if you live in a warm and sunny year-round climate. An outdoor court is made of asphalt and best designed by a local contractor with a background in building outdoor basketball and tennis courts. However, a colder and cloudier climate may warrant an indoor court properly sealed off from the elements. This is a more extensive construction project, but it protects the utility of the investment. An indoor court also requires different materials, such as wooden finishes found more regularly on an indoor basketball court. An outdoor asphalt court leads to a faster and more precise game, whereas indoor courts can feel slower and looser. Age and skill level also dictate what kind of court you may want. Older players may prefer the slower pace of indoor with no climate concerns, while younger homeowners may prefer a faster, more aggressive outdoor court. For an outdoor court installation, you can typically expect to pay between $40,000 and $50,000.
Aside from the environment, the type of court you design will also dictate noise. An indoor court is louder but contains noise from neighbors. But if you have some acreage and immediate neighbors are not within earshot, an outdoor court will work with no problem. The ball and paddle play a significant role in this regard, and outdoor balls are harder, faster, and generally preferred. More advanced players will also purchase quiet paddles to minimize noise.