How To Wash Your Couch Cushion Covers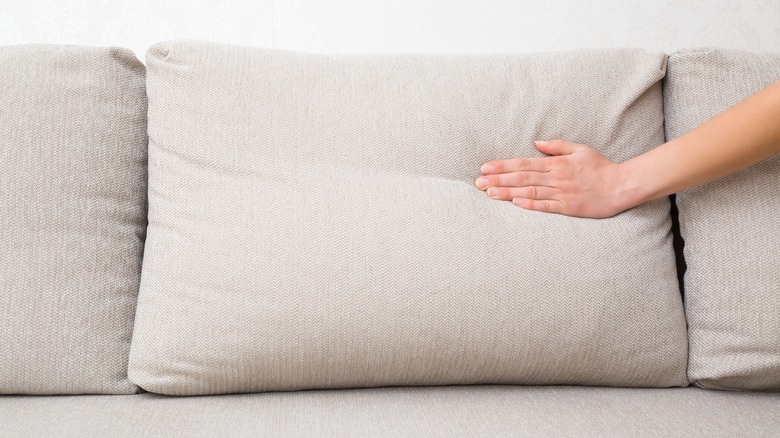 FotoDuets/Shutterstock
If you want to keep your couch looking as good as possible for as long as possible, then you'll likely want to plump up your cushions on occasion and do your best to protect the covers from potentially messy kids and pets. You also need to make sure to clean your couch cushion covers properly and in a manner that will keep them from fading, shrinking, or becoming damaged in one way or another.
First and foremost, take a peek and look for a tag on your cushions. This is where you should find information regarding how to clean your specific covers. This might include whether or not it's safe to use a washing machine, the temperature of the water that might be needed, and how it's best to dry them. If you're not able to find a tag or no cleaning instructions have been provided, then your best bet is to take the cushions to a professional to have them washed up. On the other hand, you may simply want to stick with a spot clean which is a relatively safe option for your furniture.
Why you should spot clean your couch cushion covers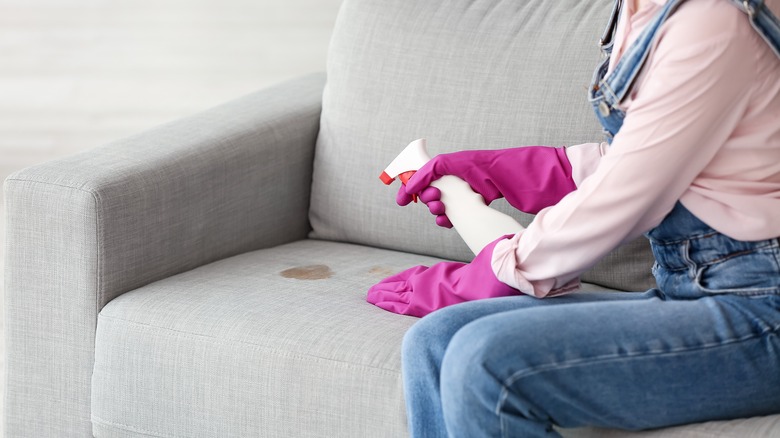 Pixel-Shot/Shutterstock
Taking the covers off of your couch cushions and tossing them in a washing machine may seem like a simple choice, however, it might also end up doing more harm than good. You certainly don't want to ruin the covers and end up having to spend money on a new couch. Instead, you could probably just spot-clean your couch cushions as needed. Just grab a cloth and a bit of fabric-safe cleaner and gently wipe away any dirt or grime.
On top of that, Edgar Blazona, the founder of BenchMade Modern, explained to Martha Stewart, "I strongly recommend cleaning your sofa with the covers on the cushions. [You might] never be able to put them back on as perfectly as they came from the manufacturer, and they might end up lumpy."
Blazona noted that this is a rule that applies to pretty much every couch and its cushions no matter the specific fabric or materials that have been used in the design. At the same time, how exactly you spot clean and with what does depend on what kind of couch you have in your home.
Clean couch cushion covers depending on their material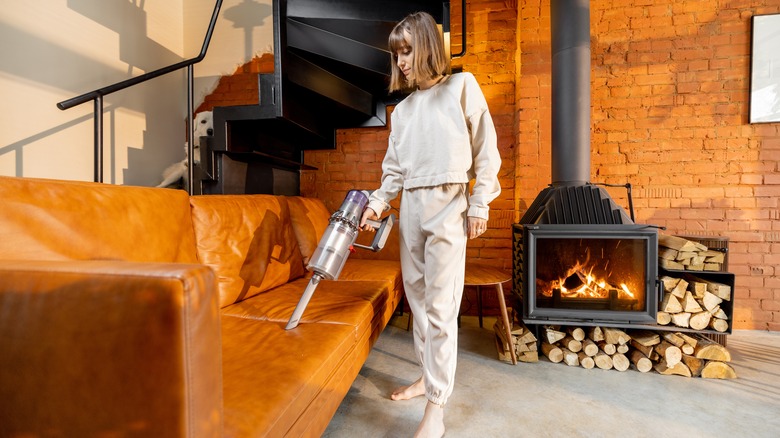 RossHelen/Shutterstock
Even when spot-cleaning the covers on your couch cushions, you'll want to refer to the tag if possible. This is where you might find codes that will help you determine how to clean the fabric. For instance, W means that it's safe to use water while an S tells you to use a solvent cleaner. WS means that you can use water or solvent cleaners and an X indicates a fabric that can't handle anything more than a vacuum.
If you have fabric couch cushion covers, then you can use baking soda and leave it for 20 minutes to get rid of nasty smells. Next, vacuum up the baking soda. From there, mix 1 teaspoon of dish soap and 1 tablespoon of white vinegar with a cup of warm water. Add 1 teaspoon of baking soda and put your homemade cleaner into a spray bottle. Use a little on problem spots and scrub gently with a towel.
For anyone who has a microfiber couch, you'll want to opt for rubbing alcohol which you can spritz onto the cushions before wiping them with an uncolored sponge. Focus on one area at a time and let each fully dry. Distilled water can also be used in the same way for water stains and a brush can then be used to re-poof the material if needed. Leather covers can be cleaned with a solution that's half water and half white vinegar as well as a microfiber cloth that's a little damp.