HGTV's Jonathan Scott Offers Giveaway Treat To Celebrate His Birthday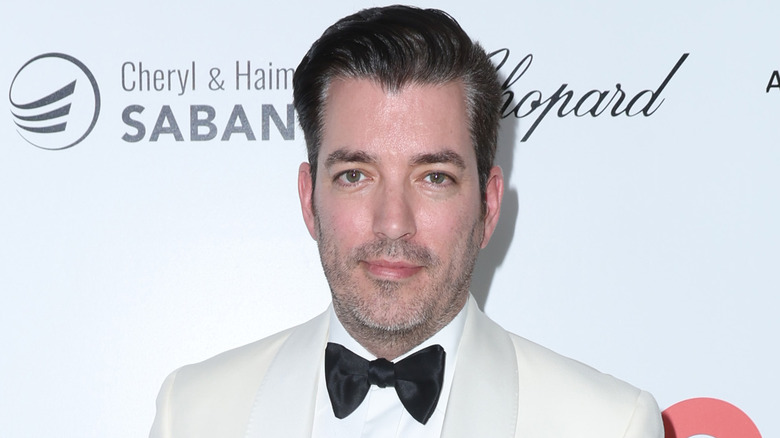 Phillip Faraone/Getty Images
On April 28, HGTV star Jonathan Scott celebrated his 45th birthday along with his twin brother, Drew. To spread the love to his fans, Jonathan is hosting a giveaway on his Instagram, which he's been promoting with celebrities including Jessica Alba, Derek Hough, Taraji P. Henson, and Julianne Hough. The giveaway ends at 11:59 p.m. CST on Thursday, May 4, and the winners of the random draw will be notified by Instagram direct messaging on May 5.  
There will be seven lucky winners who will each receive both a $1,000 Visa gift card and design tips from Jonathan Scott himself. The advice will be given through an under 15-minute video call, where the fan will be able to get questions answered and receive Scott's expert advice on how to design a space. If the winner is not available for the real-time call (which is tentatively scheduled for sometime between 9 a.m. and 11 a.m. PST on May 24), they may receive a pre-recorded video of Jonathan answering their questions instead.
How to enter the giveaway
Those who want to enter need to follow Jonathan Scott's Instagram page, then like at least one of his posts that promotes the giveaway with a celebrity. They'll also need to tag two people in the comments and tell Scott what they want his expert advice on, which could be something like making a small kitchen functional or designing a bedroom. Keep in mind that only those who are United States or Canadian residents (excluding Quebec) and are over 18 years of age will qualify. 
Luckily, those who want to enter the giveaway can comment however many times they desire and on any (or all) of the seven posts, which will continue to be released until Thursday, May 4, and each comment that fulfills the guidelines will count as a separate entry. Therefore, those who like all the posts and comment as many times as possible will really increase their chances of winning. It's also important that those who enter keep a close eye on their direct messages, as the winners must respond within two business days to receive the prizes. If they don't, they will be disqualified, and another winner will be notified.