The Viral Bathroom Upgrade That Will Turn Your Shower Into An Oasis (It's So Simple)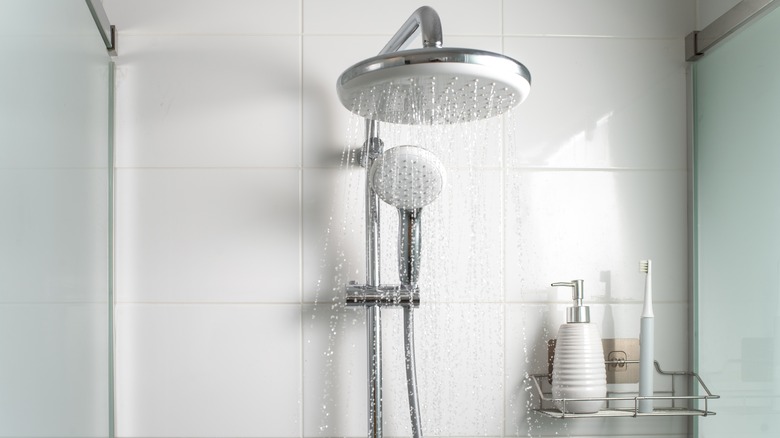 VladKK/Shutterstock
If you don't have the budget or inclination to undertake a big renovation and aren't thrilled with your existing bathroom fixtures such as your shower interior, it can feel discouraging. Luckily, there's a lot that can be accomplished in a simple, inexpensive DIY fashion — including a great upgrade shared on TikTok that will transform your shower into an absolute oasis.
TikTok user @everythingnajhae revamped her standard white tile-lined shower with two inexpensive items picked up at her local hardware store — outdoor deck tiles and stones. Since the tiles are intended for exterior use, they're designed in a way that allows for the water to drain down the slats beneath them. And, they don't have a flat bottom but rather one with a raised pattern, so the air can circulate as well. Some commenters were concerned about whether the tiles would be slippery, so if you're planning to try this hack out, you just want to ensure the outdoor tiles you purchase won't become slippery when wet or damaged by too much water.
To truly level up the spa feel of her revamped shower, the TikTok user created a border of stones between the edges of the tiles and the shower walls, bringing in a natural ambiance. The creator used a black and gray color palette, but you could easily adjust this to go with your bathroom's particular aesthetic by opting for certain hues, such as a lighter bamboo tile and ivory stone color scheme.
How to clean this upgrade
The entire revamp documented in the TikTok video likely took less than an hour in total to set up, making it a great weekend or evening project. Plus, it had a serious visual impact, transforming a boring shower into something with a lot more pizzazz. The upgrade certainly struck a nerve, with the post receiving over 89,000 likes from viewers on the social media platform. It also received 448 comments, with many sharing how they were intrigued by the idea and interested in trying it out for themselves in their own showers. However, there was another common thread in the comments section — many were worried about the practicality of the simple upgrade, wondering how it would be possible to effectively clean the shower floor.
A good rule of thumb is that you'll want to clean your shower floors, walls, and doors (if you have glass doors rather than a curtain) about once a week. To do so, you'll want to remove any products anyway, so this upgrade just adds one additional step to the process, requiring that you remove the tiles and rocks when you take out all the toiletries.
To streamline this cleaning process, one user suggested placing the rocks on a tray (presumably with drainage) and gluing them in place so they can be more easily lifted out for cleaning. Then, you'll be able to scrub the floor the same way you would prior to implementing this upgrade.
Decorative touches to consider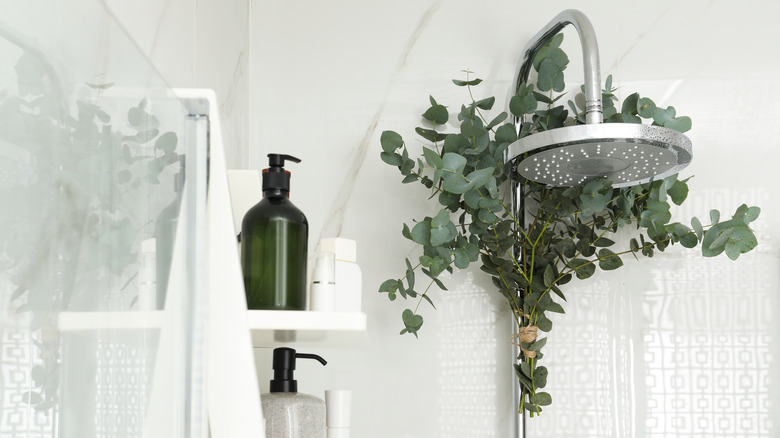 New Africa/Shutterstock
If upgrading the shower floor has made you want to level your shower area up even more, there are a few decorative accents that will help create that spa-like ambiance. 
One easy addition, which the creator of the TikTok video implemented herself, is to tie a bundle of eucalyptus to the shower head. This does double duty, bringing some natural beauty into the space as well as filling it with the aroma of eucalyptus, which the shower steam will coax out of the plant.
Swapping out your bath mat can also work wonders toward creating a specific look and feel. Try finding one that coordinates with the tiles laid on the shower floor, opting for a slatted wooden option rather than fabric in order to get the same vibe.
Finally, recognize that form and function don't have to be two separate things. Organization goes a long way in creating a serene atmosphere, so consider investing in a chic shower caddy that matches the aesthetic you're going for. Additionally, if you want your shower to feel like a high-end spa, try achieving visual consistency with your bottles. Rather than using a mix of plastic bottles that your toiletries such as shampoo, condition, and body wash come in, purchase a few matching bottles to decant your preferred products into. This simple swap will immediately give your shower a more luxurious feel.