The Trendy Paint Color Queen Mary Chose For The 1938 Sandringham Dining Room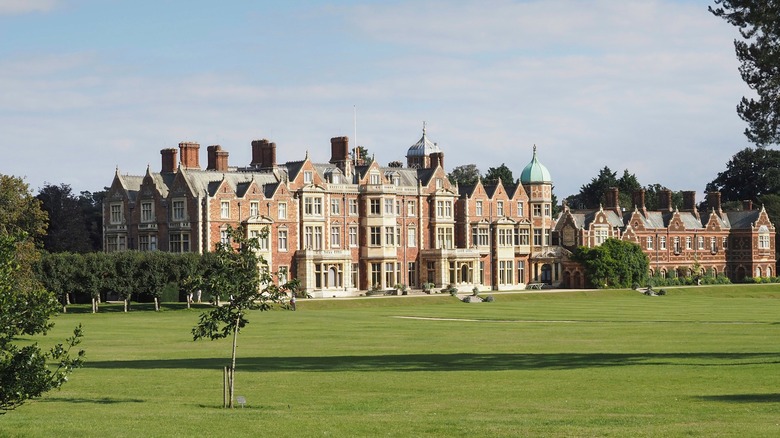 Wirestock Creators/Shutterstock
Most people are familiar with the British royal family, especially the home of the monarchs, Buckingham Palace. However, the royal family possesses a series of gorgeous properties throughout the United Kingdom, one of which is the Sandringham Estate in Sandringham, Norfolk, England. Resting on 20,000 acres, the country house is the residence of King Charles III and the Queen Consort. The property was purchased in 1862 with the Sandringham house being completed in 1870, featuring a Jacobean exterior and interior design that reflects styles from the Victorian era to today. In 1938 specifically, the home's dining room was given a touch of lush, minty green by Queen Mary. Often referred to as Braemar green, it livened up the space and accentuated the lovely tapestries hanging on the walls.
Queen Mary was the great-granddaughter of King George III and the grandmother of Queen Elizabeth II. She was known to be an avid collector of art, often searching for works her family once owned and reclaiming them. Sandringham's dining room was not the only time Queen Mary freshened up a space; she actually restored rooms in various estates, including Buckingham Palace, Palace of Holyroodhouse, and Frogmore House, according to the Royal Trust Collection. 
Braemar Green
The term Braemar Green shares its name with the small town of Braemar in Aberdeenshire, Scotland. It is close to the Highlands and thus surrounded by vast scenery of green. When Queen Mary chose this lighter viridescent shade in 1938, she did so to magnify the hanging tapestries painted by the Spanish romantic artist Fransico Goya. Additionally, the pastel and weightless shade doesn't overshadow the intricate paneling and designs. Making the Sandringham dining room one that encourages jubilation, tranquility, and solace was incredibly important as it has been a long-term tradition to eat Christmas dinner here with the royal family.
Soft greens have been soaring on the trends chart for the last few years, with consumers finding that it grounds them to nature and promotes a soothing and nurturing space. Green also tends to symbolize fortune and prosperity. As television shows like Netflix's "Bridgerton" and "The Crown" continue to gain massive viewership, the design movement of roycalcore aesthetic is only growing with vintage pieces, hardwoods, and golds and brass.
Utilizing Braemar green in your spaces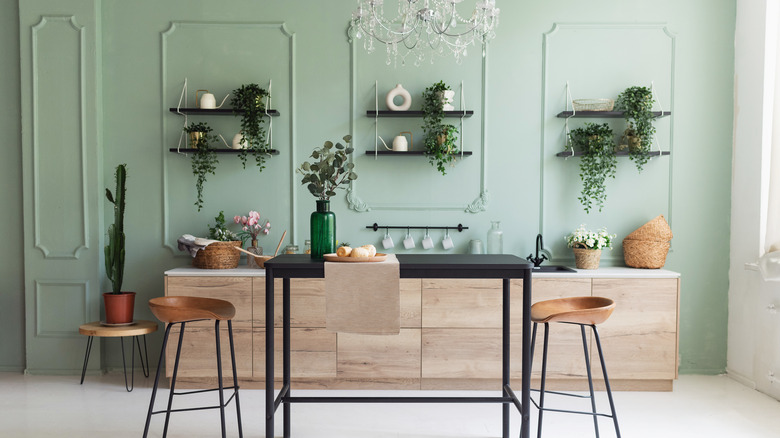 Lysikova Irina/Shutterstock
Green is quickly familiarizing itself with neutral-toned palettes and offers just as much design freedom as creams and beiges. With the lovely shade Queen Mary chose, there are numerous ways to incorporate it into any space, whether you want a room that falls on the spectrum of more saturated and moody or one that slides towards whimsical and lighthearted vibes. Queen Mary was known for her love of 18th-century furniture, jade hues, jewels, and gold trinkets, which can be spotted in Sandringham's dining room. Moreover, our eyes immediately fall upon the large mahogany dining table with chairs that feature a similar Braemar green cushioning, side tables painted in the same shade, and an incredible amount of texture throughout the room on the walls and ceiling.
As you envision this color in your own spaces, consider other unconventional ways it can be applied to a room. As gorgeous as this green is as an all-over paint color, it can certainly be used on kitchen cabinets, credenzas, and on more minor scales like lamp bases instead. Ask yourself if you want to pair it with darker smooth woods or lighter woods that feature heavy grains. Are you specifically looking to enhance any wall art, paneling, or other colors in the room? There is no right or wrong answer to using this versatile color, but asking yourself the right questions will guide the process of creating the perfect space for your personal style.