How To Tastefully Incorporate Mirrored Tile Into Your Home Kitchen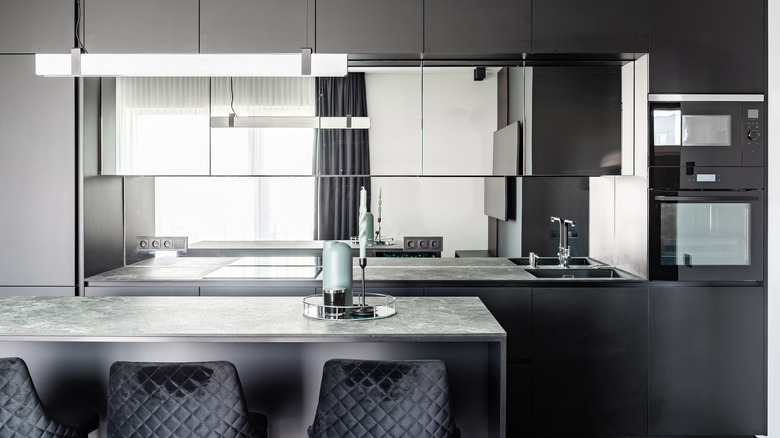 Itchysan/Getty Images
When you decorate your kitchen, you want it to feel like the most luxurious part of your home since it's one of the places you spend most of your time in. However, even with a small kitchen, there are many ways to make it feel grand. For example, using mirrors helps open up the space by reflecting light and adding dimension. On the other hand, if you have a smaller-sized kitchen where there isn't enough space on the wall to hang a mirror, or you don't have a window that filters light, using mirrored tiles as a backsplash can help brighten the room and make it look bigger. Or, if you have a more expansive space, the mirrored tiles add elegance and interest.
Mirrored tiles allow you to get creative with the placement and design, like installing them in areas you want to highlight that don't receive enough light. You don't have to stick to simple tiles; pick a style and shape that will be an attention grabber whenever someone new enters the kitchen. In addition, mirrors are versatile, so you can include them in any interior without worrying about them clashing against colors, materials, or patterns. Here's how to incorporate mirrored tiles in your kitchen.
Coffee bar backsplash
While mirror-tiled backsplashes bring depth and luminosity to a kitchen, they also create distinct focal points in the room, especially when they're paired with warmer tones. You can include bronze accents into the mirrored backsplash if you enjoy an industrial-style interior. For example, if you want to elevate your coffee bar, use a mirror-tiled backsplash and bronze shelves for a soft, warm feel. The mirrored tiles will reflect the surface, making the space brighter and larger. In addition, any mirror backsplash will add a modern touch to any style. So, if you have an industrial interior kitchen with wood or bronze accents, the mirror backsplash will balance the space.
On the other hand, if you have a more modern kitchen, you can play around with the design of the backsplash to add contrast. Instead of keeping the tiles in a uniform placement, create a different style, like a diagonal pattern. There are also mirror tiles available in different shapes, such as hexagons, to give the kitchen more visual appeal and make the backdrop stand out. They'll stand out perfectly against bold or white cabinets.
Place a mirrored tile backsplash behind the stove
Give your kitchen a fun style and new personality with a mirrored tile backsplash, especially if you have a smaller kitchen. Backsplashes are often designed to be placed behind the stove to make it easier to clean grease that splashes onto the back wall. However, you can place a backsplash anywhere in the kitchen, like behind a sink or a counter, if you don't have a window above them. The light will still reflect against the mirrored tiles and brighten up the space. There are different styles of these tiles you can incorporate into your kitchen. For example, if you're transforming your kitchen into a vintage style, you can buy antique mirrored tiles or DIY a modern mirror and give it a rustic appeal.
On the other hand, for a modern kitchen, installing reflective mosaic tiles will create a mirrorball effect. They can be intense, but they'll make your kitchen sparkle. Regardless of the backsplash style, you can always DIY your backsplash with peel-and-stick mirrored tiles. Plus, you'll be able to easily switch them out with other styles if you want to give your kitchen a new look. Or, you can pick out an already-designed mirror backsplash at your home improvement store.