Is It Cheaper To Reface Or Replace Your Kitchen Cabinets?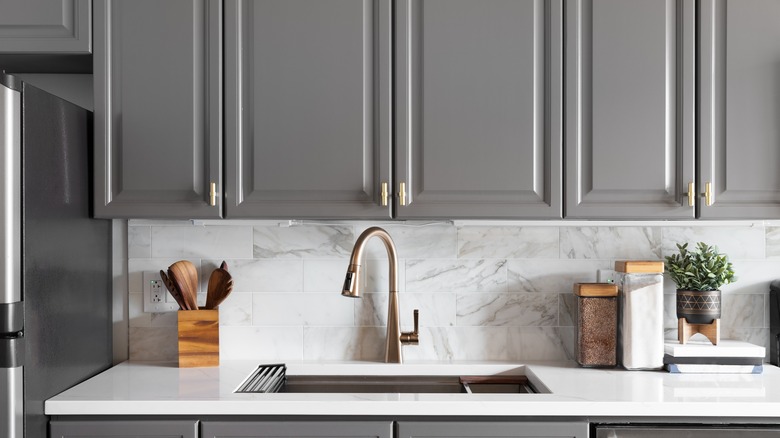 Hendrickson Photography/Shutterstock
If you're planning to renovate your kitchen, you have several options. Replacing the kitchen cabinets entirely is one route you can take, however, for those with a tight budget, refacing them is a more financially viable way to give you a new aesthetic in your kitchen. Replacing cabinets basically takes you back to square one in the kitchen, while refacing is similar to a makeover or upgrade. 
Both possibilities have pros and cons and will require a certain amount of work on your end, regardless of which you go with. Finding skilled specialists who can take on a refacing project can be tricky, as many companies and businesses don't offer it as a service. You can DIY it but you will need to rent or purchase the correct tools first. Cabinet refacing usually runs as much as 50% less than an all-out replacement job and can take less time than pulling out existing furniture. Here's what you can expect from each. 
Refacing vs replacing: what you need to know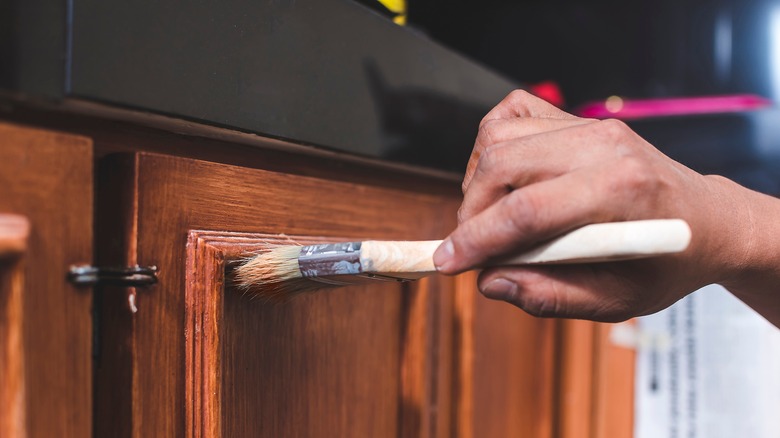 MDV Edwards/Shutterstock
Refacing your cabinets entails swapping out the old doors and drawers for new ones and updating the exterior of the old cabinets. However, when it comes to refacing, your existing cabinet boxes must be in really good shape. Since you're only replacing the visible parts, they need to be able to withstand the work and continue to serve as storage for your items. You also won't be able to change the layout or size of the cabinets, so your aesthetic will remain the same.
Replacing your drawers and cabinets requires a full renovation, with the existing storage being ripped out entirely to fit new ones. The pros of this are that you can rearrange the kitchen to add more storage or larger cabinetry. However, the construction will take longer and your kitchen will possibly be unusable for some time. If your cabinets are old, warped, or damaged, replacement might be the best solution to ensure your kitchen remains functional.
Why refacing might cost you less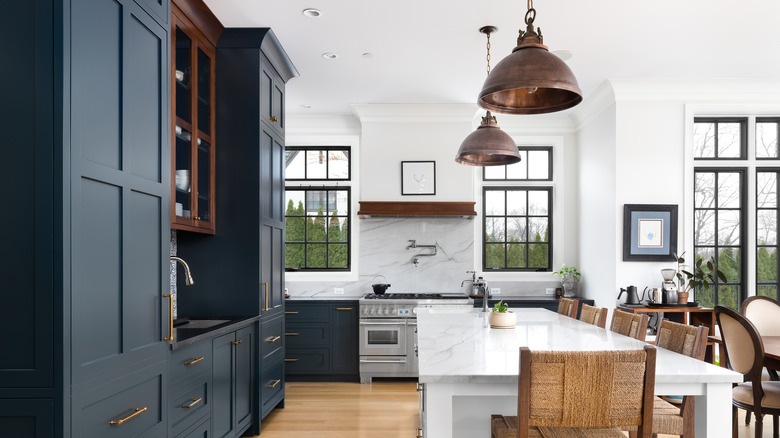 Hendrickson Photography/Shutterstock
When refacing, you can purchase self-adhesive wood for the frames, then add on the new doors or drawers. If you plan to upgrade the handles and other hardware, that is an added cost. Still, the total — which can run between $5,000 and $20,000 depending on the size — is significantly less than a replacement, which could reach $35,000 or above depending on your space. Labor costs, carpentry, new materials, and possibly kitchen renovations to make space for the new cabinets will raise the price quickly.
For refacing, you may need to purchase or rent a specialized cutter for the self-adhesive wood, along with a veneer applicator to ensure the pieces stick properly. You don't need an entire re-do to build the kitchen of your dreams, but you do need to make sure your existing cabinets are up for the task — and of course, time and patience help, too.