Nate Berkus' Smart Lighting Tip To Keep Your Home Zen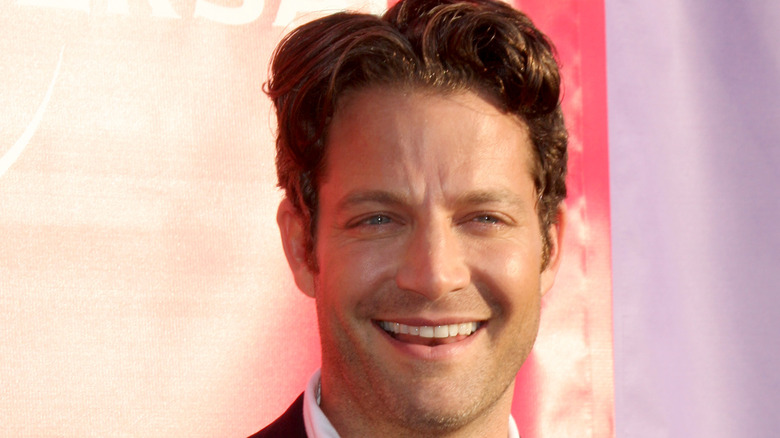 Kathy Hutchins/Shutterstock
Lighting is a crucial element in any space and contributes in a big way to how a particular room looks and feels. However, it can be challenging in some spots to find lighting that works for all your needs, especially in multi-use spaces. Luckily, there's an easy solution — light dimmers.
Interior designer Nate Berkus shared a short TikTok video in which he demonstrated how a simple light dimmer used on a decorative floor lamp created a more relaxing environment with the touch of a button. His tip works whether you're looking to control a particular lamp, as he did, or to change up the main lighting in a room (although you'll need a dimmer switch, not a simple plug-in light dimmer, for the latter).
The ability to adjust the intensity of your lighting is a huge bonus for areas where you need different types of lighting at various points in the day. For example, you may want your kitchen lighting bright to prepare dinner but dim for a cocktail party. You may like the flexibility to amp up the wattage of a floor lamp in your living room when you're reading while also being able to lower it if you're watching a movie. Light dimmers themselves aren't exactly decorative features you'll swoon over when entering a room, but the way they allow you to play with lighting in a space makes the Berkus-approved addition a must-try.
Advantages of upgrading your switches
There are some portable light dimmers that can be used for lamps and just require a wall plug-in to work. These can be great if you're bothered by one particularly luminous lamp or something with an exposed bulb, for example. However, to truly take advantage of light-dimming technology, you'll want to consider upgrading your standard light switches to dimmer switches. This will impact a room aesthetically, as you'll have the option to change the primary lighting as well as the decorative lighting, although the swap comes along with some practical perks as well.
Although it may require a bit of an investment to change multiple light switches in your home to options with a dimmer, you'll actually end up saving money in the long run because having the dimmer option reduces electric bills. Not to mention, you'll be saving money on light bulbs as well, as your bulbs will last longer. Plus, even though you can't take installed dimmer switches with you if you move, it's an upgrade that will likely impress potential buyers when it comes time to sell your home one day.
While you could install dimmer switches yourself if you're particularly handy, they are a bit trickier than just plugging in a light dimmer as they involve playing around with electrical wiring. So, you may want to call on the professionals to upgrade the switches you want changed.
Types of dimmer switches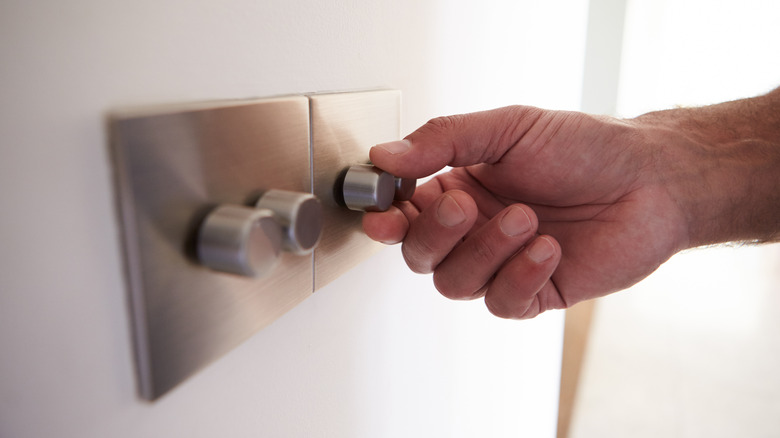 Monkey Business Images/Shutterstock
So you've decided to make the change and get dimmer switches installed, but you're not quite sure which option to go with? It all depends on how smart you want your home's lighting to be (and how you want the switch to look).
On the simpler end of the spectrum, rotary or slide dimmers allow you to manually adjust the lighting in a room. These are typically a little less expensive since they have fewer bells and whistles, but they should meet your needs if you just want the flexibility to control your lighting. For a dimmer switch with a more modern appearance, you might consider touchscreen options, which have a more sleek, streamlined look.
If you want the ability to schedule or switch the lighting from afar, you may need to look at some of the smarter options on the market. Integrated dimmer switches can be used manually the same way any other kind would while you're at home. However, they have the added bonus of being responsive to wireless technology, so you can schedule particular light levels or even turn them on or off when you're not home.
Now, these are just the types in terms of appearance and functionality — before installing anything, you will want to double-check that you've purchased the right kind for your home's wiring and your particular needs.