The Simple Lighting Hack Joanna Gaines Uses To Open Up A Small Kitchen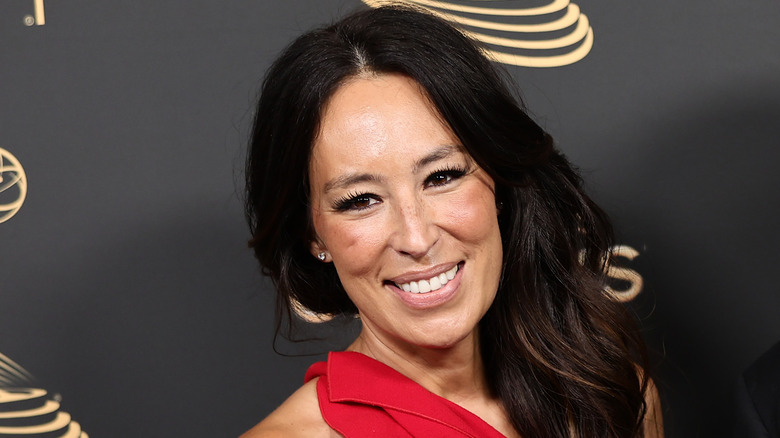 Matt Winkelmeyer/Getty Images
Living in a small house has become increasingly popular, whether people are downsizing or watching their budgets. That's why it's now more important than ever to learn how to utilize your available space to make it feel bigger, all without renovations. Your kitchen is a popular and high-traffic area, so it's essential to create the illusion of space so it doesn't feel cramped. Joanna Gaines has some tried and true methods to make your cooking space look and feel bigger, and she does it all with lighting.
By installing lighting beneath cabinets, she adds dimension and gives the appearance of a larger kitchen. Light bounces off the reflection of surfaces such as stainless steel and granite and brightens up the overall area. The biggest perk of this trick is that it doesn't require anything to be ripped out, upgraded, or reconstructed. The lights can be attached beneath the upper cabinets without disturbing anything else around them. Here's how you can make Gaines' hack work for you.
Under cabinet lighting can transform a small kitchen
If your kitchen is fairly small, using light to make it appear bigger is one of the easiest tricks you can utilize. While you can go the inexpensive DIY route — which we'll outline below — Gaines suggests going through an electrician to get the job done properly. The lights — which can cost as little as $30 — should sit flush beneath your cabinets so you can't see the bulbs while they illuminate your surfaces. This is the key to using Gaines' trick; the additional lights need to bounce off your counters and backsplash.
Gaines shared this tip in a "Fixer Upper" web exclusive, and in the video, the countertops are white marble, and the backsplash is a glossy subway tile. The more your kitchen appliances and surfaces can reflect light, the larger the space will look. She mentions that the cabinets are also a big focal point in one's cooking space, and because they usually sit at eye level, this lighting will help enhance them. Using warm bulbs will make the kitchen feel especially inviting, too. 
Tips for trying this hack
There are several routes you can take when installing lights under your cabinets. There are different options, including individual puck and strip lights. If you are working with a budget and an electrician is too much of a stretch, stick-and-peel rolls come with a USB cable to plug into the wall. If there isn't a socket nearby, you can purchase a battery-operated one. Most also come with remote controls, allowing you to turn them on with a click of a button.
Lighting is fun to play with because you can transform a room completely with just a few changes. Small kitchens are increasingly common, but it doesn't mean they are any less functional than larger models — they just require a more creative approach. Keeping counters clear of excess clutter and pulling cabinets all the way to the ceiling will also help make the space look and feel bigger, but the lights are the true heroes of a small cooking area.