Is It Safe To Install Your Stovetop On The Kitchen Island?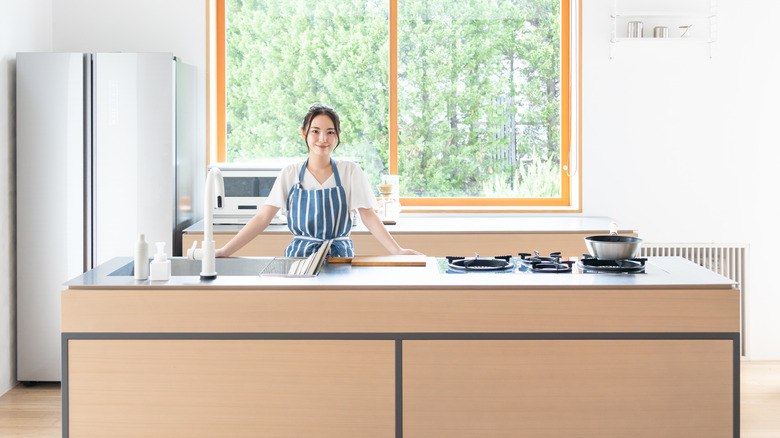 polkadot_photo/Shutterstock
Modern kitchen islands can serve as stylish focal points, providing an ample spot for everything from rolling out dough to chopping veggies. The extra storage space below is also a welcome addition to most kitchens. Many offer seating options where you can peruse a favorite cookbook while enjoying a cup of tea, or help the kids with their homework. You can even add a stovetop, also known as a cooktop or hob, to a kitchen island. That suggestion, however, might lead you to wonder if it's a good idea from a safety perspective. Yes, it is safe, and for some homeowners, an island stovetop is a preferred choice.
There are still some concerns to address, though. Will people be sitting at the island while you're actually cooking? Can you easily add ventilation over your island? As long as you feel comfortable with your own personal kitchen situation, adding a stovetop to your island is safe and doable — providing your budget can weather the expense.
When island cooktops might be a safety risk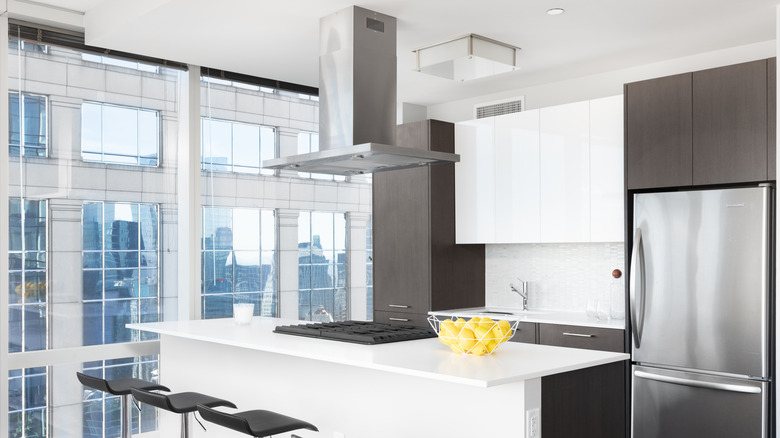 Hendrickson Photography/Shutterstock
As far as safety is concerned, island stovetops are usually not a worry if you have enough space to do it right, according to Forbes. That means the finished island should have ample prep room so that you don't have to worry about flammable products, or things that might easily melt, being too close to a heated surface while you're working. If people will be sitting nearby, especially younger children, is there enough space to keep them safe from grease spatters, boiling water, and hot steam escaping from pans? These are both important considerations when planning a kitchen island configuration. 
Ventilation can also be a concern, as described by Countertop Advisor. If you regularly cook with high heat to blacken foods or prepare steaks, for instance, the smoke they naturally give off must be filtered out of the room. Steam should also be averted to keep condensation from damaging the ceiling. If you can't add a hood over your island, or have trouble justifying the additional expense of a stovetop with downdraft vents, that might eliminate the possibility of an island stovetop before you even start serious planning. Also, keep in mind that some areas have building codes that actually require this type of ventilation, so make sure your contractor can point you in the right direction in that regard.
Other considerations when installing a stovetop in your kitchen island
Gerenme/Getty Images
For those who enjoy entertaining, a kitchen island can serve as a hub for serving food or setting up beverage stations. If this is you, keep in mind that a standard-sized stovetop is between 30 to 36 inches wide (via Whirlpool), so it will take up considerable space. It can also cut into valuable space used for dining, doing homework, and baking prep, so weighing your priorities is imperative when planning a kitchen renovation that includes an island with a stovetop.
If eating up space isn't a concern, and adding a stovetop to your island still seems appealing, the next thing to consider is how it will be powered. Adding a new island equipped with a stovetop to an existing kitchen will require either high-voltage electricity to be available, or running a gas line to the middle of the room. Taking care of this task can add considerable expense to your project. If you have electricity installed in an existing island, this becomes less of an issue unless you have a strong preference for cooking with gas. Keeping these factors in mind, you can quite safely add a stovetop to your kitchen island with the help of a skilled contractor.