The Best Type Of Frame For The Most Comfortable Couch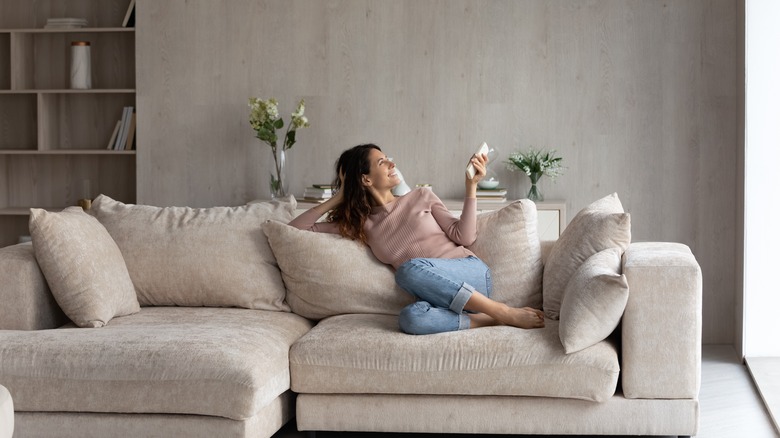 fizkes/Shutterstock
Couches are essential furniture pieces in a living space, that need to be comfortable, stylish, and long-lasting. It's often the first thing people buy before any décor because it sets the room's mood. When you find the perfect sofa for your living room, everything else starts falling into place, and you start to showcase who you are. You don't want to rush the process and make a mistake when you're buying a couch. However, narrowing down which one will be the most comfortable and durable due to the unlimited sofa styles can be challenging. A kiln-dried hardwood frame is ideal when looking for a couch. It has less moisture in the wood, making it stronger, robust, and gives the couch a better overall appearance.
Most kiln-dried hardwood frames are designed from stronger trees like maple, walnut, and oak. Manufacturers that use larger and tougher trees create high-quality wood furniture, especially using the kiln-dried process. As a result, you won't have to worry about your couch producing mold in humid temperatures, or being prone to dents or cracks that can destabilize your sofa over time. The processing time is also faster and more controlled than average air drying, which gives manufacturers and designers more time to create a cozy couch.
Benefits of kiln-dried hardwood frame
When you're couch hunting, finding styles with a kiln-dried frame is ideal, but you want to ensure that it's made from hardwood, not softwood. Softwood is derived from pine and cedar trees, which are more delicate. In addition, they'll bend and dent easier as opposed to hardwood. Your goal might be to buy one or two couches in your lifetime, so to prevent having to replace or upholster a sofa every few years look for kiln-dried hardwood frames, since they will last for years in your home.
Kiln-dried hardwood frames contain less moisture, making them more suitable for families because they won't shrink or warp from humidity or temperature changes. On the other hand, sofas with softwood will lose their shape over time due to all the moisture they hold. The drying process for kiln-dried hardwood is simple; the wood is placed in a kiln oven with closely monitored humidity and temperatures to remove most of the moisture in the wood. There is indirect heat from solar energy and direct heat from the electricity used during the drying process, making the hardwood frame better quality. In addition, it makes the couch's frame sturdier, so it'll be able to withstand being moved around multiple times and live in various temperatures, without affecting its appearance or resilience.
Couch styles with a kiln-dried hardwood frame
Couch shopping is a serious task that can take weeks or months, but there are a couple of options that will give you an idea of what to look for when researching kiln-dried hardwood frames. If you want a neutral L-shaped couch with a kiln-dried hardwood frame and soft, plush cushions, one option is 7th Avenue's 4-Seat Modular Chaise Sectional, available in five neutral tones for $3,850. It's made with kiln-dried solid wood, steel reinforced legs, and sinuous springs that are durable, strong, and supportive. The cushions are made with two different layers, such as high-resilience foam and memory foam, and they're wrapped in a hypoallergenic down alternative in a shell casing. In addition, you're able to remove the arm, back, and base covers to wash them at home. Or, you can change the covers to a different color if you want to give your space a new look.
Another kiln-dried hardwood couch style is Poly & Bark's Napa Sofa, made in four different tones for $1,699. The leather sofa is made with minimal processing and dyed in pure aniline, allowing the leather material to age into its actual color over time.   In addition, the kiln-dried solid wood makes the sofa long-lasting and durable. It has Pirelli webbing that supports the base and back of the couch, and is topped with high-density foam and duck feather topper cushions for comfort.