Should You Paint Your Front Door And Garage Door The Same Color?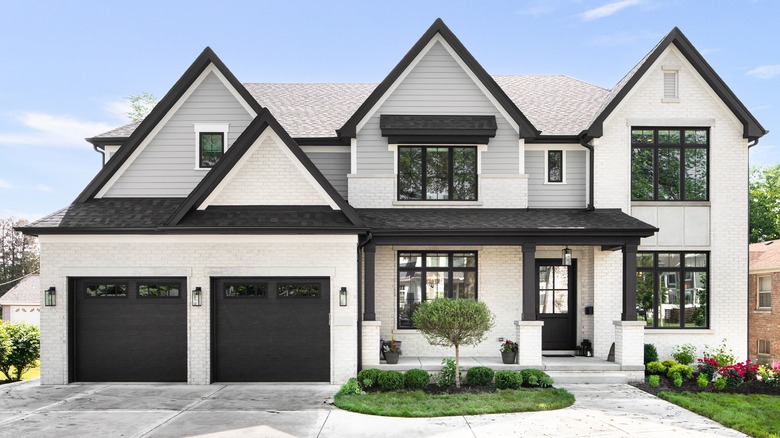 Hendrickson Photography/Shutterstock
If the exterior of your house needs a facelift, a fresh coat of paint on the front door and garage door(s) can make a world of difference. Whether your tastes are bold or understated, a bit of exterior paint can go a long way when it comes to transforming your house and the message it sends to the world with its curb appeal. For the sake of simplicity and convenience, many people prefer to paint their garage doors the same color as their front doors, and understandably so. After all, deciding on one paint color is hard enough – and why spend money on multiple cans of paint if you can get away with using just one?
While using the same paint color for both your front and garage doors is recommended in a lot of circumstances to help create uniformity, depending on the color you choose for your front door, it's often a better design choice to go another direction when it comes to the garage.
Using the same color for both doors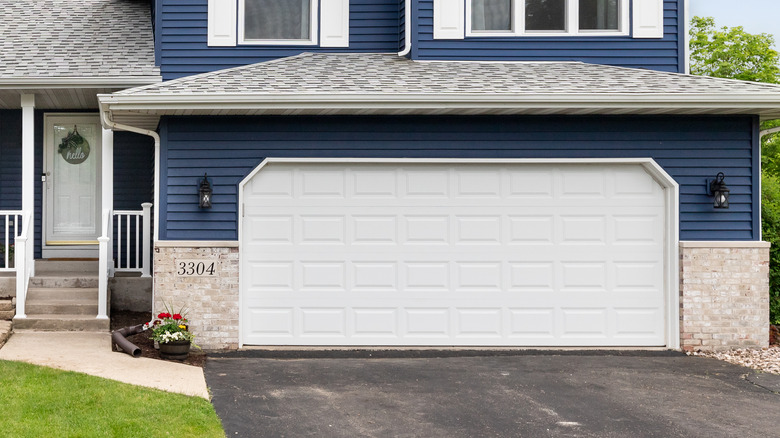 Hendrickson Photography/Shutterstock
More often than not, it's safe to paint your front door the same color as your garage door — as long as the color you choose is cohesive with the rest of the colors in your home's exterior. As a general rule of thumb, it's best to stick to a color that already exists in your exterior color scheme or that's a shade or two darker or lighter than the dominant tones used in other exterior features. Choosing a color for your garage door that varies too much from your existing palette will stand out in a way that detracts attention from the beauty of the rest of your home. 
As long as the color you're repeating on the front door and the garage doesn't overwhelm your home's exterior and doesn't clash with any other colors used elsewhere in the trim, siding, or shutters, painting them both the same color is simple and a guaranteed way to bring a sense of cohesion to your abode's exterior.
When you should avoid matching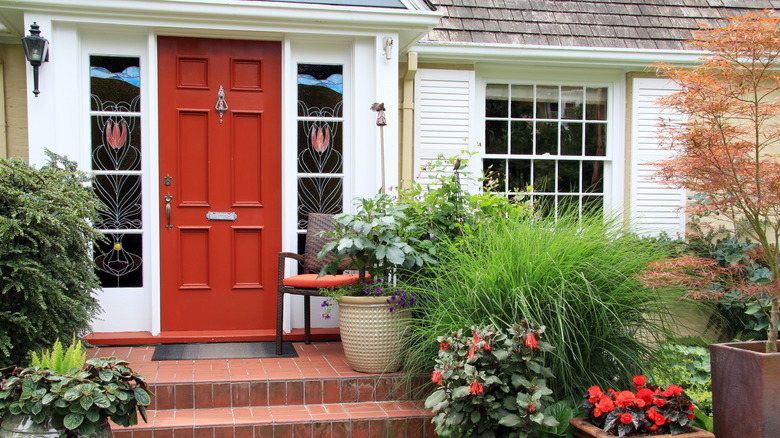 Hannamariah/Shutterstock
While painting your garage door and front door the same color is usually a foolproof way to ensure a cohesive look, it's not always recommended. Specifically, if you opted for a bright, bold, accent color for your front door, it's best to go with something more subdued for the garage. If you prefer to make more of a statement with your front door, consider allowing it to shine by having the garage doors blend in with the rest of the house by painting them the same color as the trim or the siding.
While painting your front door with an accent color outside of your existing scheme is a fun way to incorporate personality into your home and boost its curb appeal, it's also done on a much smaller scale than the garage door would be. Mirroring that accent color by also using it on the garage can majorly overwhelm and throw off the balance of your home — especially if your garage is front-facing. A bold accent shade on the front door offers just the right amount of visual interest, though you'll likely find that covering your garage door with it quickly becomes too much.
Choosing a color for the garage and front door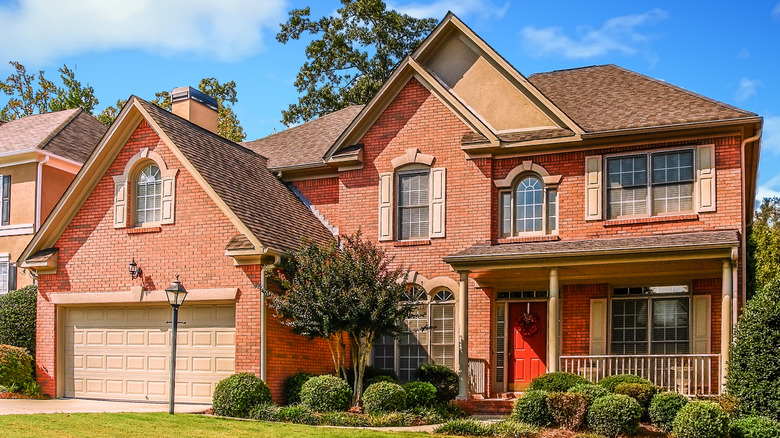 Darryl Brooks/Shutterstock
If you do intend to use the same paint color for both your front door and your garage door, the task of committing to one and liking it enough to use on such a large amount of your home's exterior can feel overwhelming. While you know that you're ideally looking for a color that's somewhat neutral if you're also going to coat your garage door with it, it's best to also select from shades in the same tonal family as your home's other features.
If your house has warm-colored brick or siding, painting the front and garage doors a cool gray won't allow them to blend into the existing scheme very well. If the goal is to freshen up your doors in a way that elevates your home's curb appeal and helps the exterior look put together, using paint that's of the same warmth or coolness tends to be the best option.
With that being said, the easiest and most guaranteed option would be to choose from colors that already exist in your house. Many people paint their garage doors the same color as their siding. Not only does this help guarantee cohesion, but it helps the garage doors shrink into the background, which makes the home look larger. It can also help detract focus from your garage doors and shift focus to other special features, like a colorful front door.
When in doubt, paint one or both white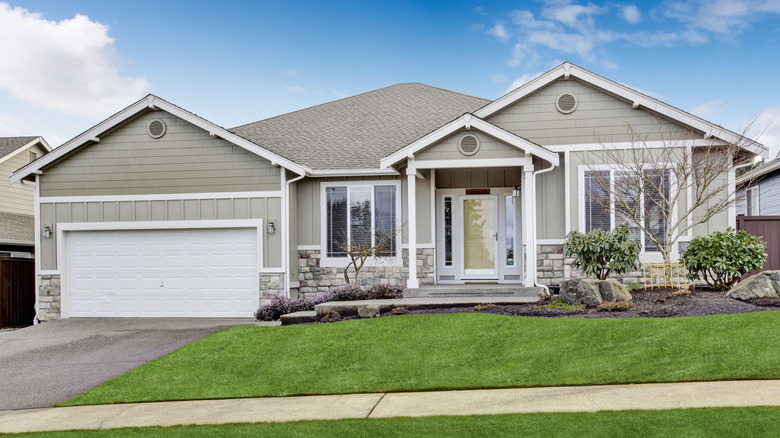 Irina88w/Getty Images
If you still have doubts about your paint-choosing ability and aren't confident your chosen selection will blend with the rest of the house, know that white is always a timeless choice – and you can never go wrong with timeless. Not only does it look nice on both front and garage doors, it's also the perfect, subtle companion color for a garage door on a house with a boldly colored front door. "As color theorists attest, white is the blending of all colors on the spectrum and thus balances out almost all home designs," says Vice President of Marketing and Design at H.A. Fisher Homes, Sarah Fisher (via Fagan Door). "Regardless of the elevation style, exterior finishes or details, white complements best and creates an overall crisp and uniform appearance that is pleasing to the eye."
In addition to white classically tying together your home's overall look, it also has the added benefit of helping keep your garage cool in the summer months. While a sleek black garage door might add major style to your home, it also has the potential to attract and trap major heat with the sun beating down on it all day. Opting for a lighter color like white can help elevate your exterior, while keeping your garage's interior comfortably cool.