21 Front Door And Shutter Color Combos You'll Want For Your Home's Exterior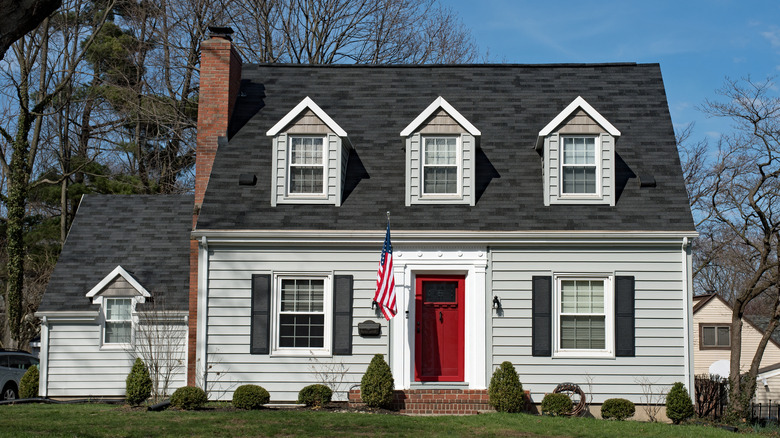 Susan Law Cain/Shutterstock
When it comes to bang for the buck, front doors offer one of the easiest opportunities to transform your home. The style is important, but in the opinion of Erin Napier from "Home Town," so is the color (via HGTV). If your budget doesn't dictate changing out a door, simply painting it a different color with some punch can liven up the overall façade of a house. It's also a way to let a bit of your colorful personality shine through. 
Then you have shutters to think about. Do you need them? Unless they're functional shutters that help shield your home during stormy weather, probably not. Can they add more color, texture, and interest to windows? Absolutely. Even so, many homeowners prefer to go shutter-free these days. Before you ditch the idea of shutters, think a little more about how you can up your home's window dressing using shutters in combination with a fresh front door hue. 
At this point, you might be wondering if your front door and shutter colors should match. Years ago, it was more stylish to paint them the same color. Homeowners are taking more risks with exterior colors these days, and that's a welcome departure from the norm, according to Mandeville Canyon Designs. This won't work in all neighborhoods since some homeowners associations (HOAs) have color restrictions for front doors and coordinating shutters. Don't worry; there are plenty of traditional choices to take up the slack when going bold isn't an option.
1. Urban color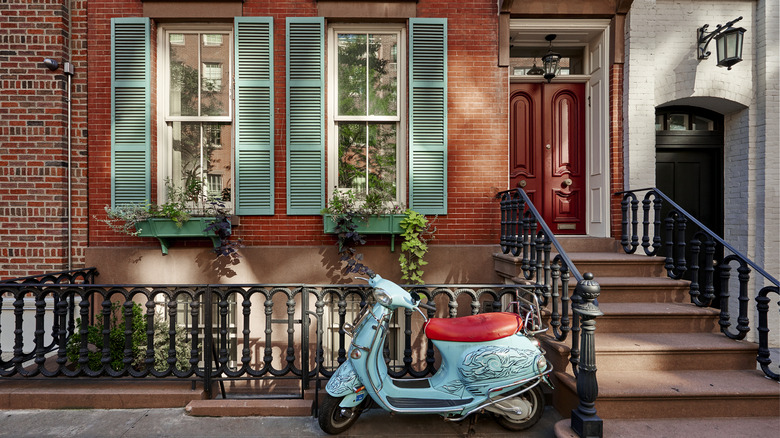 Brian Goodman/Shutterstock
Using color in unexpected places is a way to have fun with a home's exterior, as exhibited with this urban brownstone. In this instance, the homeowner has added a pop of sea foam green to their brick in the form of louvered shutters that work well with the dark red front door. 
2. Colonial classics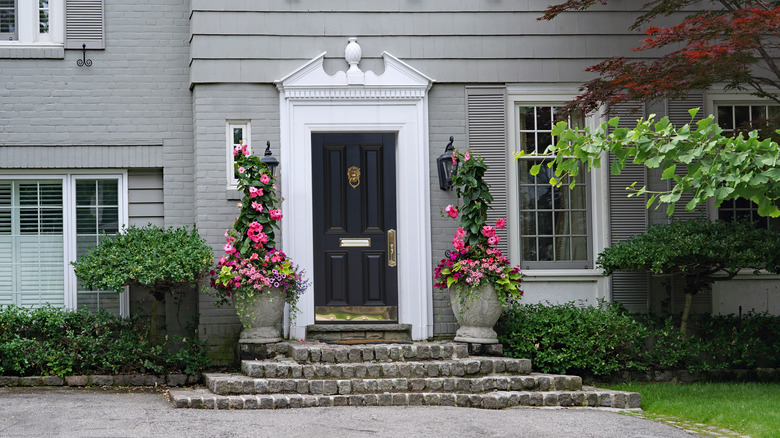 Spiroview Inc/Shutterstock
Nothing says Colonial style like a front door pediment topped with a finial. That's especially true when it's akin to a pineapple, the international symbol of hospitality. This classic American door trim stands out when painted white, so a contrasting black door adds a touch of needed drama that works well with tone-on-tone louvered shutters.
3. Color surprise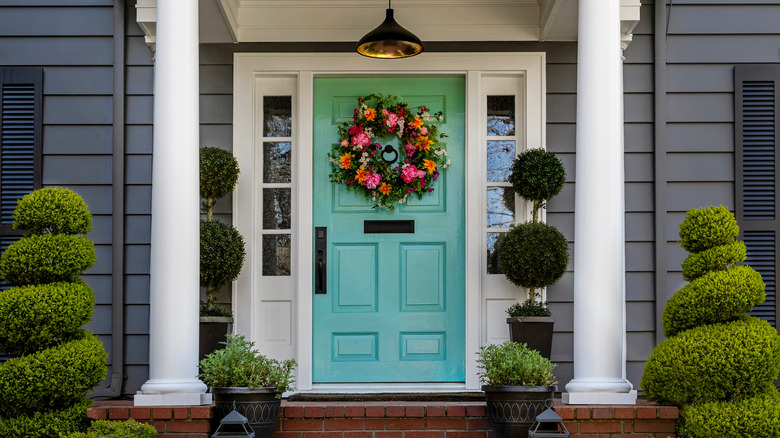 David Papazian/Shutterstock
A light turquoise front door on a home with white Colonial columns? As odd as it sounds, it definitely works. This is a colorful alternative for a home that's sported a plain black or white door for years. What's even better? You can change the front door color and leave the shutters black for a completely acceptable contrast. 
4. Going green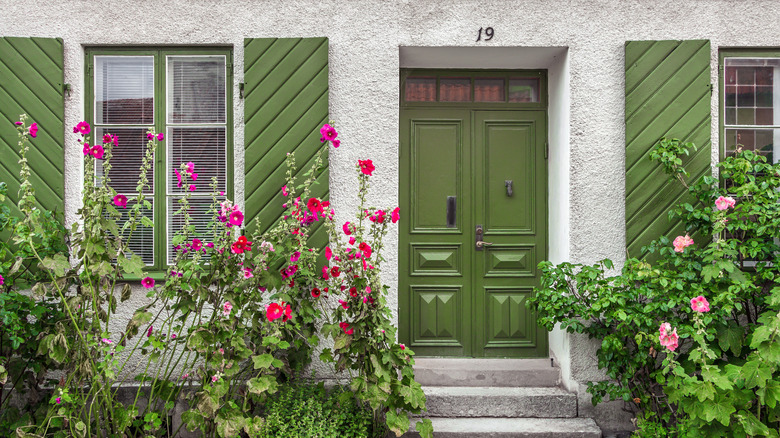 Nadezhda Kharitonova/Shutterstock
Going green takes on a new meaning when it comes to home exterior accent colors. Not only does green look right at home on neutral stucco, but it's also natural for homes with lush landscaping. Out-of-the-ordinary shutters offer the perfect foundation for this hue, and painting the window jambs to match is just the right finishing touch. 
5. Back in black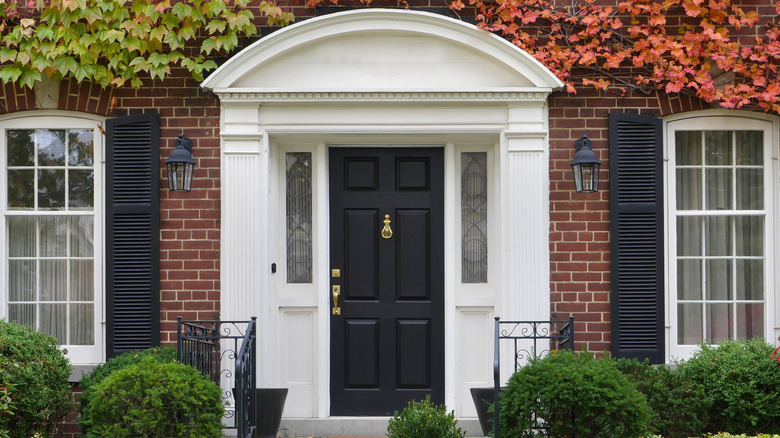 Spiroview Inc/Shutterstock
This Georgian-style entry with a rounded pediment and fluted pilasters is another Colonial American look with a stately feel. Timeless, elegant, and classic, this black-and-white door ensemble is as traditional as it gets. The coordinating black shutters on dark red brick complete the picture of this old-money look. 
6. Clean slate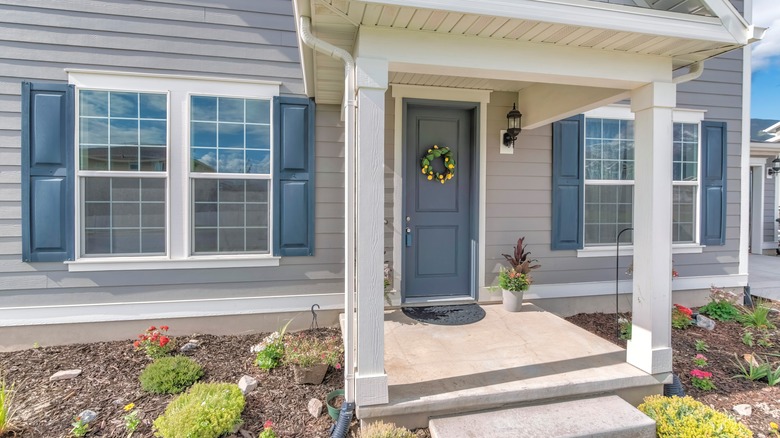 Jason Finn/Shutterstock
The cool tones of blue, especially slate blue, look fantastic on paneled shutters with gray siding for a backdrop. When going with a color like this, it's also a great time to make a color match with the front door for a clean, coordinated look. White trim around the widows, door, and porch add a nice highlighting effect. 
7. Knock on wood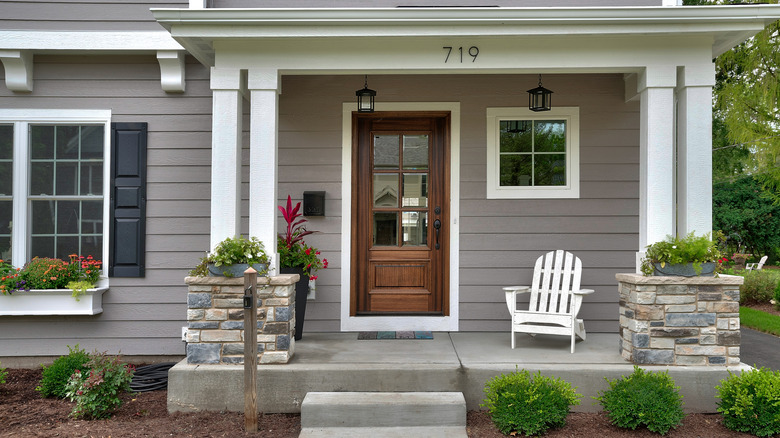 Pc Photography/Getty Images
If you have a beautifully grained wooden door on your home and can't bear to cover it with paint, there's no shame in that game. Wood is welcoming and warm, making it perfect for an entranceway. That doesn't mean you can't add a bit of drama to your windows by incorporating some paneled shutters painted black. 
8. White at home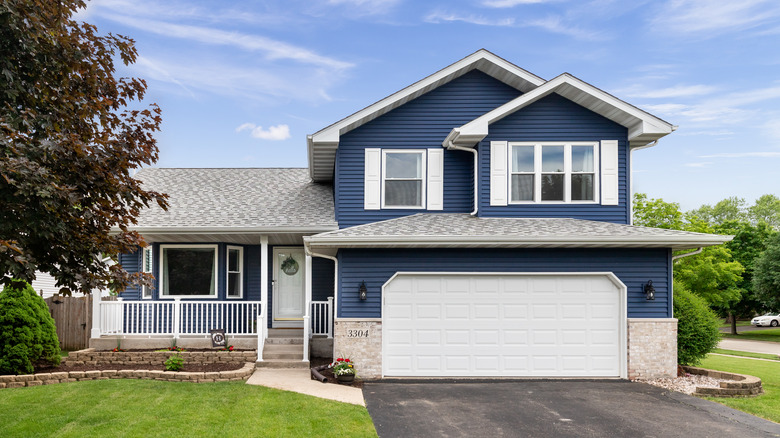 Hendrickson Photography/Shutterstock
If you prefer clean and classic, nothing imparts that feeling like a white door with coordinating paneled shutters. The freshness of white is the perfect contrast to darker paint colors like deep ocean blue. Adding more white to the porch trim and garage door offers a complete look that works well with various landscaping options. 
9. Brown is the new black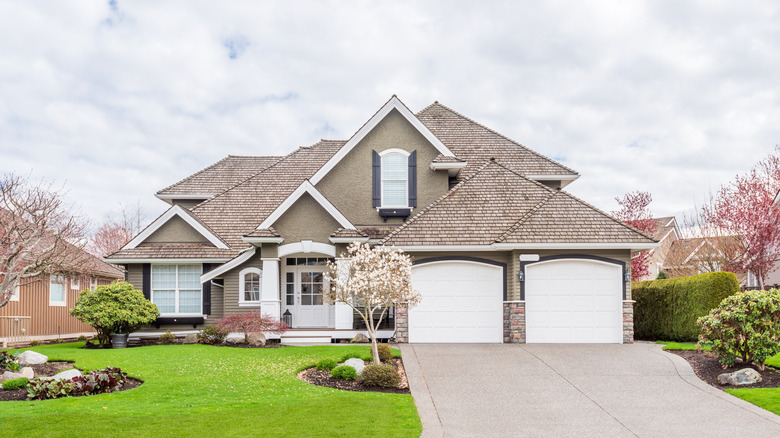 Nature's Charm/Shutterstock
Dark brown and off-white work well together when it comes to exterior doors and shutters. Smaller versions of board and batten shutters offer a nicely placed dark contrast when paired with a creamy white front door. It's not a full-blown farmhouse look but provides a bit of that vibe without getting carried away.
10. Blushing beauty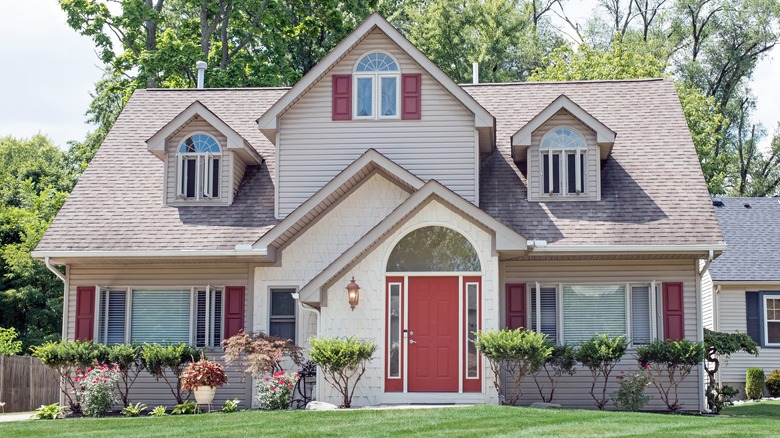 Susan Law Cain/Shutterstock
While you can certainly match the color of your door to your shutters, going one shade lighter or darker is also an alternative that works quite well, as noted by Kelly Window & Door. Here the brighter door is complemented by raised paneled shutters in a shade akin to the magenta hues that have recently gained popularity. 
11. Seaside vibes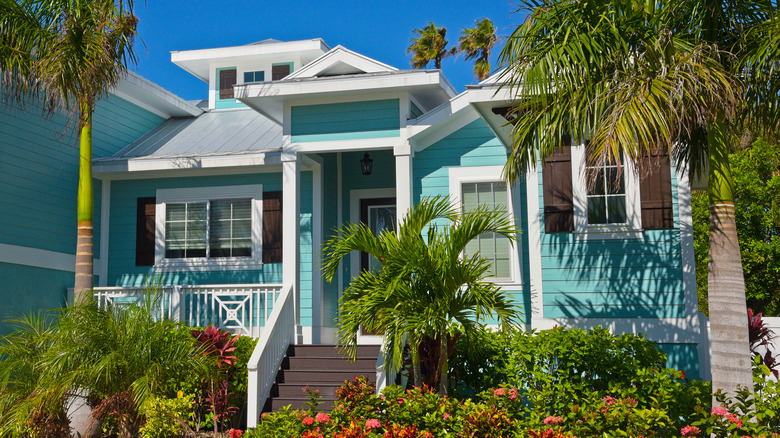 Mark Winfrey/Shutterstock
Looking for a permanent vacation? Seaside vibes are in order, even if you're miles from the ocean. In this instance, brown board and batten shutters pair nicely with a glass-paneled brown door. If your HOA situation dictates less color, explore a similar door and shutter look with a more suitable paint pallet for your neighborhood. 
12. Farmhouse tradition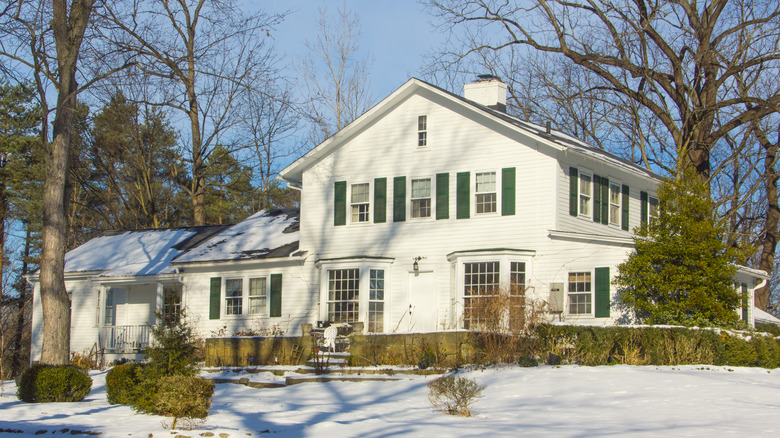 Kryssia Campos/Getty Images
While you might be acquainted with the modern farmhouse look, what about traditional farmhouses? Yes, in days gone by, it wasn't uncommon to find green shutters on white houses. They were more functional back in the day, but many homeowners still brighten up plain white homes with shutters in varying shades of green. 
13. Repeat that, please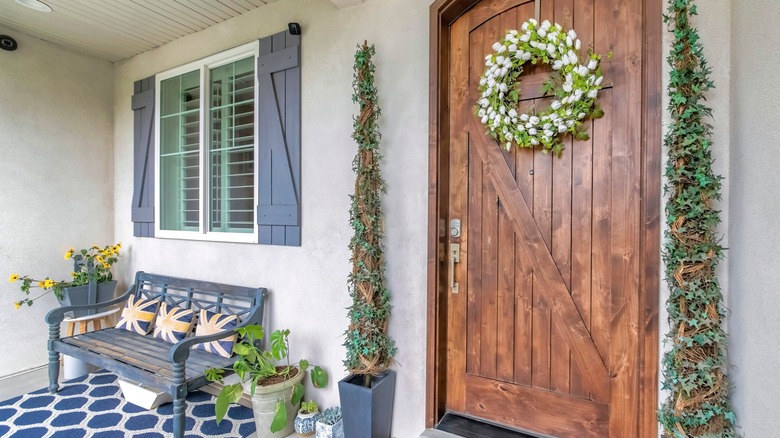 Jason Finn/Shutterstock
While cohesive color is always important, you can also repeat patterns to coordinate doors and shutters. Mixing a classic wood door with dark gray shutters looks great, anyway. But, the unique way the pattern from the front door is repeated in this variation of board and batten shutters sets this combo apart from other similar looks. 
14. Getting nautical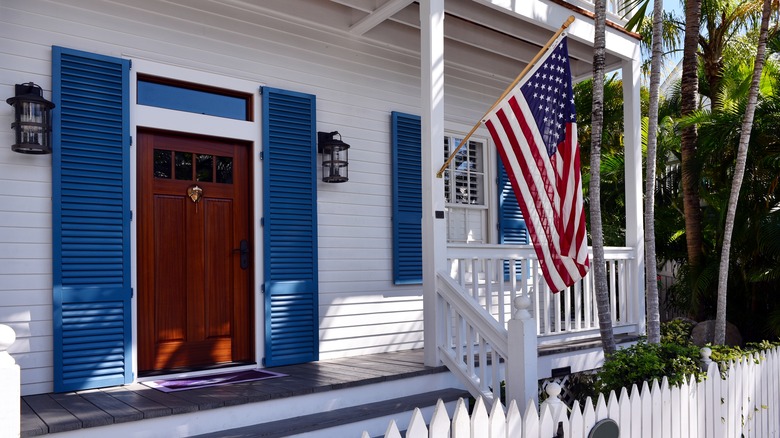 Chuck Wagner/Shutterstock
Nothing says nautical like marine blue. This color on shutters is perfect for a seaside cottage vibe when coupled with a wooden door. Here the louvered shutters can be closed to protect the beautiful door and paneled glass windows when needed. A similar look would work on many homes, even if the shutters are purely decorative. 
15. Making lemonade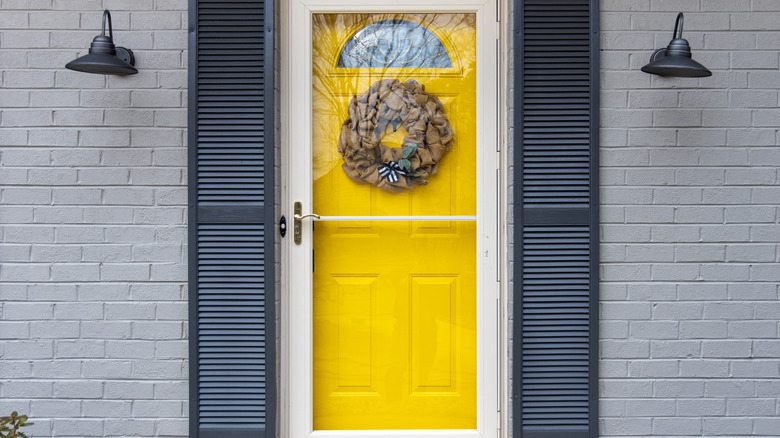 Cory Cress/Shutterstock
Whoever coined the phrase about turning lemons into lemonade probably wasn't thinking about dressing up a boring front door. But hey, it works. Take things one step further by framing a lackluster entry with black louvered shutters for contrast. Shop a bit to find the best deals on exterior shutters to add more to your windows. 
16. Get the blues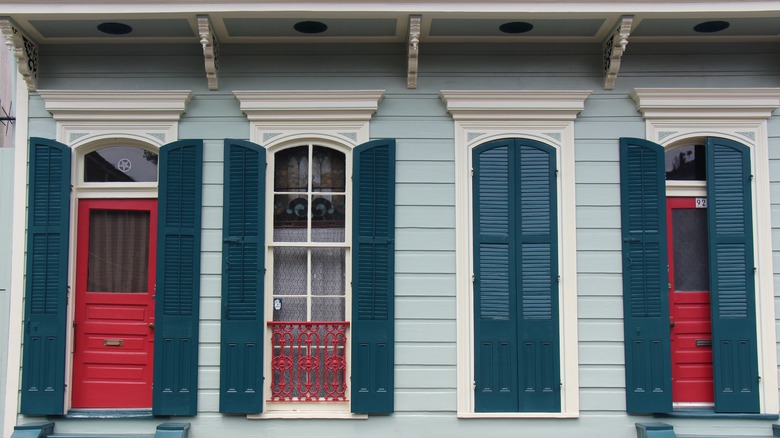 DonyaHHI/Shutterstock
When combining red doors with blue shutters without looking too patriotic, the teal direction can be the way to go. Whether you're updating a historic home with functional shutters or simply adding some color to a more modern abode, these contrasting hues can punch up an exterior without resorting to black to offset the vibrance of red. 
17. Southwestern style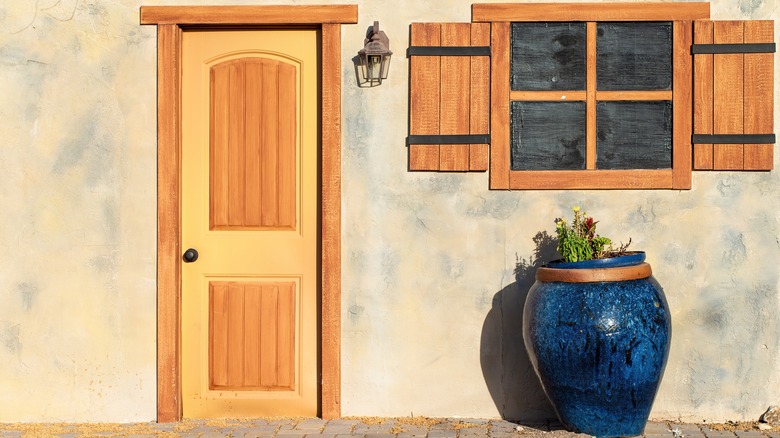 Look At You Photography/Shutterstock
If you prefer your home exterior on the rustic side, take a few cues from the Southwest. This includes combining sunny yellow paint with natural wood and coordinating shutters. Adding black bands to simple shutters breaks up the vertical lines, resulting in a more interesting look while providing a welcome contrast to the wood's natural beauty.  
18. Old world charm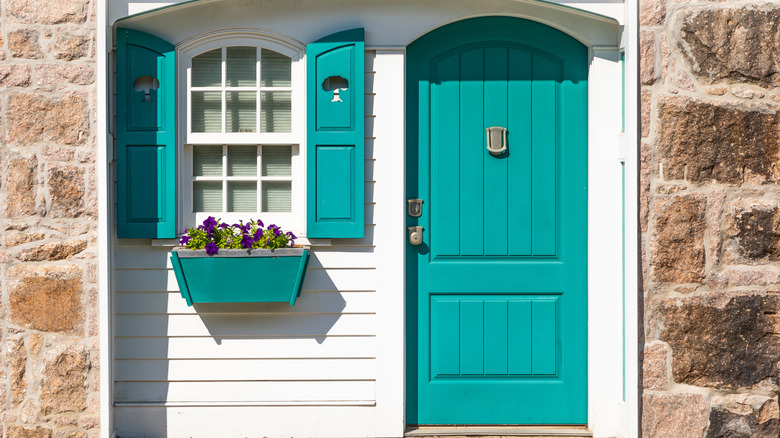 Isabelle OHara/Shutterstock
Have you ever traveled to a spot that was so perfect you wished you could move there? That's not always possible, but you can recreate those colorful memories. Painting doors and shutters a bright color is a great place to start and adding cutouts to flat panel shutters offers another way to pay homage to special locales. 
19. Get spicy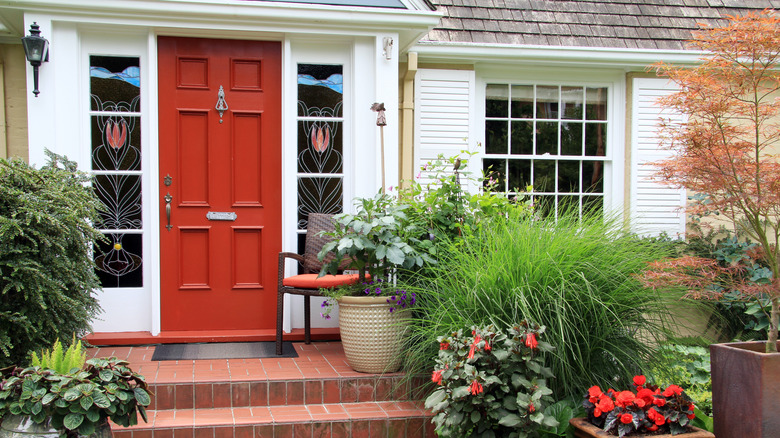 Hannamariah/Shutterstock
When lipstick red just isn't doing it for you in terms of a colorful front door, try spicing it up a bit. Shades closer to paprika offer more orange for a warmer tone. You can't go wrong with white louvered shutters to contrast with a fiery front door look.  
20. Put it in neutral
Right Home Media/Shutterstock
Many neighborhoods require homes to have more neutral color schemes. Taking a cue from the colors used in brick and stonework, picking a dark brown color for doors and shutters is easy. You can also choose a wooden door and combine it with brown shutters for a polished look that will keep the HOA happy.
21. Go bold and go home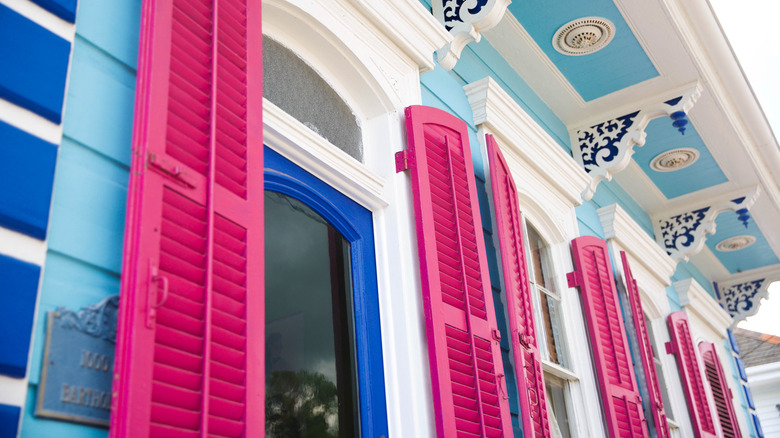 Crystal Palardy/Shutterstock
Vivid blue doors and pink shutters? From the Painted Ladies of San Francisco to historic homes in New Orleans, bright exteriors have their place. These selections won't work for every community, but if you can get away with it and love the look, give it a go.