Should You Ever Install Kitchen Shelves In Front Of A Window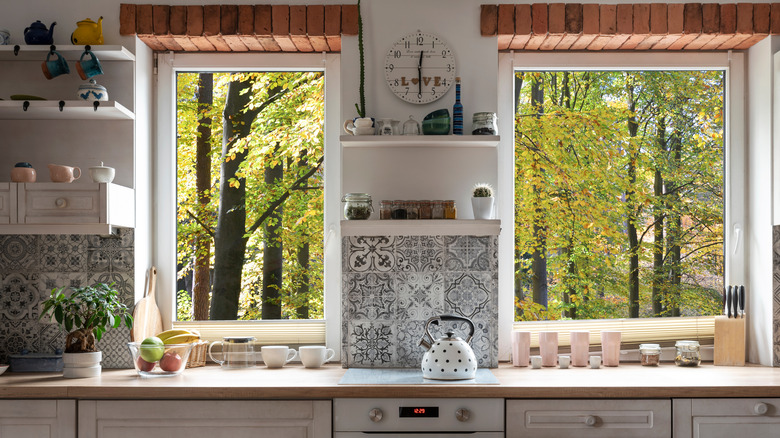 liloon/Shutterstock
From monochromatic color schemes to the triangular layout, you've probably seen a number of kitchen designs come and go — only to be recycled again as the next big retro trend. One big design question that seems to linger is whether to install shelving in front of a kitchen window. While this idea might seem counterintuitive if you want plenty of natural light, it can still be pulled off. With so many shapes and sizes of shelves to choose from, you should be able to find a set (or build your own) that provides storage, frees up precious counter space, and actually accents the window. 
The key is not to go with anything that's too bulky. In fact, simple is better, especially if your sink also faces the window. You wouldn't want shelves that protrude far enough to bump your head as you're doing the dishes. Moreover, if you're not planning on the shelves being the focal point of the room (as opposed to your island or your banquette), then they need to be narrow, providing clean lines and a great spot for storing your favorite dishware, stemware, or even cookbooks.
It's all in the placement
You can achieve a practical and visually appealing effect by choosing materials that won't draw attention to the shelves themselves. Moreover, they should be situated in such a way that they'll blend in with your kitchen's design without overtly standing out, which will allow for the visual focus to fall on the items on the shelves. The size and shape of the windows can serve as a guide for figuring out where to install the shelves. 
For large windows, you might try placing shelves across the top if you want more light to shine into the room and if the items on the shelves serve more of a decorative purpose or are used only on special occasions. For instance, the nice dining ware that you use only when entertaining would add visual appeal, or you can place your favorite plants or a long, narrow planter's box for a small herb garden.
Shelves can also be placed at eye level, thus doubling up as storage space for plates, bowls, glassware, or even food containers that don't fit in the pantry. This arrangement would work with almost any size of window or if you have multiple windows in a row on the same wall.
What to consider before installing shelving
Another important factor is the material choice. Wood and metal are both sturdy and versatile as long as you find the right tones that compliment the colors of your walls and cabinetry. Glass presents another eye-catching option, but you'll need to refrain from placing heavy objects on this type of shelf, as this material is quite fragile. Acrylic could be a safer option, but again, be mindful of the weight that's placed on it. 
Another decorative idea is to install a thin rack or to line hooks across the front of one long shelf to hang various items if having multiple shelves is not possible. One possible downside to installing shelves in front of your window is that you may not open the windows, and depending on how eclectic your décor is or what kind of motif you're aiming for, you might have to carefully choose which items to place on your shelves.