What Is Fiber Cement Boarding, And When To Use It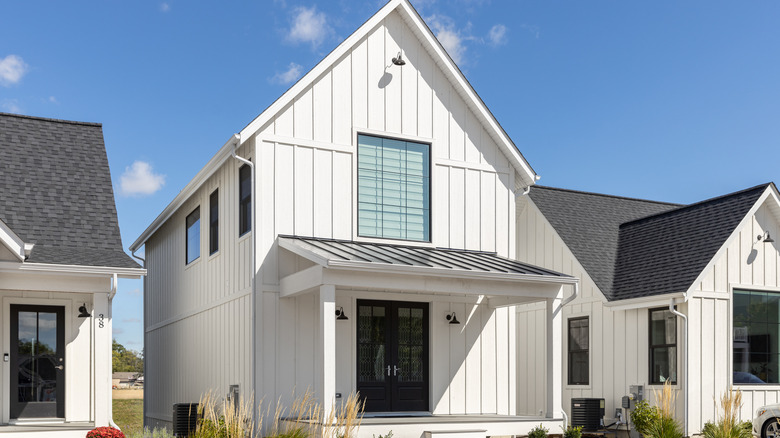 Joe Hendrickson/Getty Images
Fiber cement boarding is a go-to option these days for new construction and home improvement projects. These boards are created by mixing and layering cement, sand, small wood fibers, and other materials. 
A composition such as this makes it incredibly durable and resistant to common wear and tear, and it's why the boarding is most commonly used as house siding. If you think you're unfamiliar with it, chances are you know it by a different name: Hardie Plank or, as it's sometimes spelled, hardiplank. James Hardie is the leading maker of it, hence the nickname.
Because fiber cement boarding is a composite of several materials, it can be designed in numerous ways. Take a scroll through the JamesHardie website, and you'll notice the material shaped into long planks, shingles, and panels, each available in various textures and colors. The pieces of wood grain used to construct the boarding means it very easily passes as real wood. Some brands are designed to mimic brick and stucco, too.
Fiber cement boarding as siding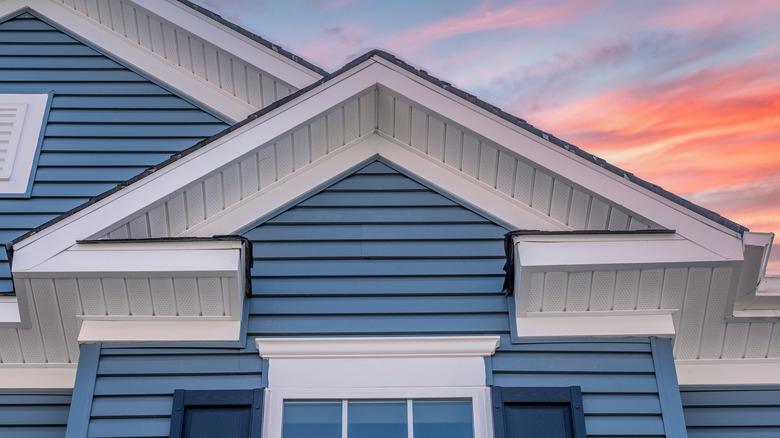 tokar/Shutterstock
All the advantages of fiber cement boarding make it an excellent choice for exterior siding, whether you're building a new home or replacing the siding of an old. You can worry less about storm damage and hot or wet climates as it is moisture and heat resistant.
It's also sturdy enough to withstand the pelting of most hail and small debris generated by high winds, and it'll hold up well against salty, beachside air. Termites won't find this boarding particularly appealing, either, due to the lack of moisture build up.
Fiber cement siding can be installed horizontally or vertically. Some home builders even utilize it as trim and soffit panels; the latter being a connector of the roof's overhang and side of the home. It should be noted it will cost more to create a home exterior with this type of boarding. Fiber cement is much heavier compared to other siding options such as vinyl and aluminum. This extra weight means it'll take more labor to install, and that is what typically increases the price.
Other uses of fiber cement boarding
P.KASIPAT/Shutterstock
Fiber cement boarding's design flexibility means its uses expand beyond the exterior of a home. You can bring it inside, too, to feature on interior walls, ceilings, and even subfloors. Remember, it's heat and moisture resistant, so these boards are particularly well-suited for kitchens and bathrooms. The strength of it lends itself to heavy wall décor and ceiling fans, too.
Whether used inside or out, fiber cement boarding is fairly easy to maintain. Its resistance to water means you can clean it much like you would any other interior surface. When cleaning siding, James Hardie does recommend specific settings if a pressure washer will be used. Really, though, the only major upkeep you could face is repainting. The frequency of such a task is dependent on several factors, including how it was originally painted or finished and the elements in which it faces. Let your eye be the ultimate judge.