What Exactly Is A Plunge Pool?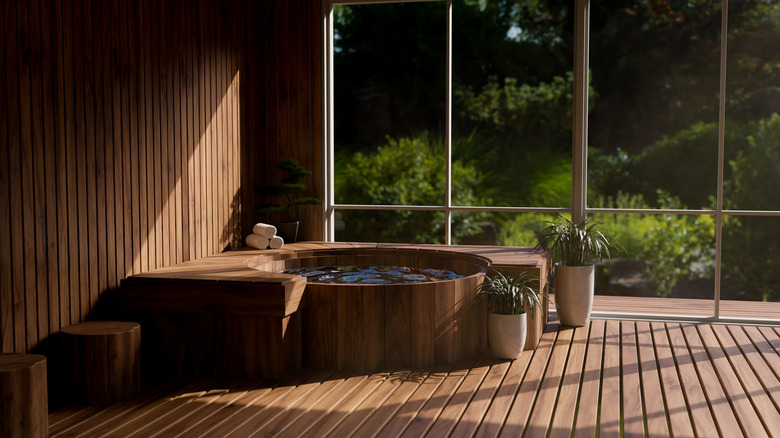 Bongkarnthanyakij/Getty Images
A plunge pool is a small, shallow pool typically designed for relaxation and cooling off instead of swimming. Generally smaller in size compared to traditional swimming pools, it is meant to accommodate a small number of people at a time but deep enough for a person to immerse themselves in. Plunge pools can be installed indoors but are often found in outdoor settings. They are popular in hot climates as a refreshing escape from the heat.
This type of pool provides a compact and convenient solution for those seeking a refreshing dip or a relaxing soak without the need for a large swimming pool. They are a popular choice for homeowners with limited space or individuals who desire a more intimate and private pool experience. To decide if a plunge pool is the right choice for your home, consider how you plan to use it, the space in your backyard, and what features are essential to your pool experience.
Key features and characteristics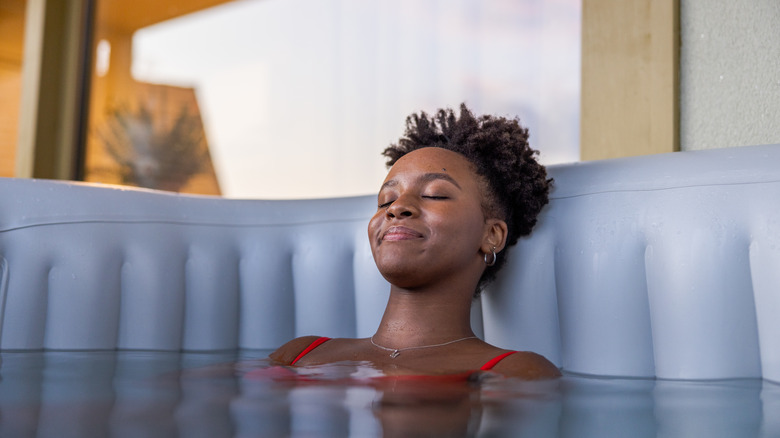 Azmanjaka/Getty Images
Plunge pools are quite versatile and come in various designs, shapes, and styles to fit individual preferences and available space. They can be inground or above with depths of around 3 to 7 feet and can be placed more creatively around the home. "Because of their smaller size, it's easier to tuck a plunge pool into a corner, nestle it against a planter wall, or integrate it into a deck, making it feel inviting and cohesive with the rest of your outdoor design and landscaping," says Allison Messner, CEO of Yardzen (via Better Homes & Gardens).
Plunge pools can also be heated or chilled for a refreshing plunge or a relaxing dip. Some even have built-in seating areas or hydrotherapy features to provide that extra spa vibe. They can be lap plunge pools with jets or infinity plunge pools to enhance the aesthetics and overall experience. Going beyond the pool itself, you can add things like a shallow landing, pergola, or float to accessorize.
Pros and cons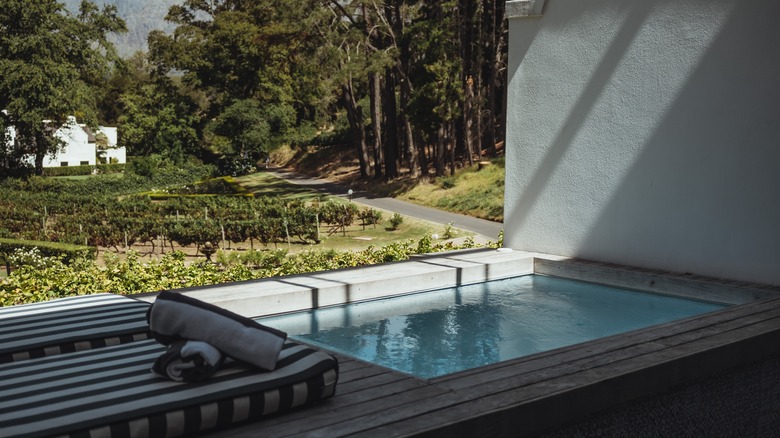 Sanne Dost/Shutterstock
Here are some pros of plunge pools. They are ideal for small backyards and outdoor spaces because they allow those kinds of homes to still get the pool experience. Plunge pools require less water, fewer chemicals, and reduced energy consumption for heating or filtration. This is great for the environment and better if you're in a drought region. This also means that they are more affordable to install and maintain when compared to larger swimming pools. A plunge pool costs $22,650 on average, while a standard inground pool costs $35,000 on average. The labor of maintenance is also less than with a standard pool and won't be as big of a chore.
On the cons, plunge pools aren't fitting for exercise swimming or hosting large gatherings. Their limited space makes it tougher to have multiple users or host bigger activities. They also affect a home's resale value. While plunge pools are appealing for various reasons, they may not have the same universal appeal or impact on property value as standard swimming pools. Keep this in mind if you plan to sell your property later on.