How To Steal The Look Of Bethany Frankel's Farmhouse Hamptons Home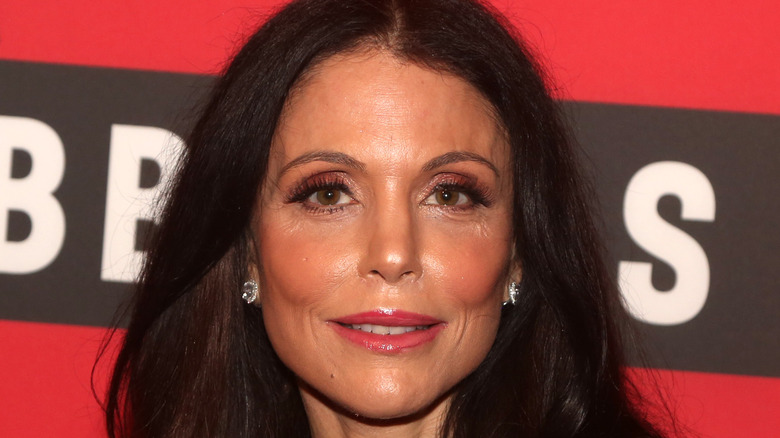 Bruce Glikas/Getty Images
Though she may be known more for her time on "Real Housewives of New York," Bethany Frankel has a keen eye for interior decorating. In a video on TikTok, Frankel shared her home in the Hamptons that has a chic farmhouse vibe described by Frankel as "beachy farmhouse." Both are popular décor styles on their own because of the charm and coziness they bring to a space. The interior color scheme is neutral, featuring shades of white, cream, and beige throughout, which adds a serene and calming feeling coaxing you lay back and relax. It's fresh and airy with an elegant, timeless feel that will make you want to spend weekends away.
An area this beautiful and relaxing needs homes that match, and the Hamptons do not disappoint. The town is filled with stunning mansions with charming details that make you feel like you're staying in your own resort. And inside these residences are beautiful living spaces that aid in luxurious relaxation. Frankle describes her Hamptons home as her "happy place," and after seeing the video tour, it's not hard to see why. The farmhouse-inspired décor is the ideal surrounding for a luxurious getaway.
Fresh farmhouse
The relaxing farmhouse décor is highlighted by the comfortable materials used in the furnishings. Two side chairs and an ottoman appear to be finished with bouclé, a soft and comfortable fabric made from small loops. It also introduces a subtle texture that brings visual interest to the room. The sofa sitting under the large window in the living room appears to be linen, a lightweight and breathable material that will keep you cool as you lounge in the living room.
Recreating this look in your own home is all about picking the right materials. Incorporate lighter fabrics like cotton and linen to give the space that airy and beachy vibe. Bouclè adds a coziness that'll make you want to cuddle in for a relaxing day. If you don't introduce this fabric as a piece of furniture, consider throw blankets and pillows featuring the comfy texture.
Frankle's overall color scheme is neutral, so stick to whites, creams, and tans to bring the look into your own home. If you want to incorporate a little color, stick to calm, coastal shades like light blue, sage, and pale yellow. Frankle also brings in a beachy farmhouse look by using natural materials. Look for coffee and side tables in a light or blond finish. Live-edge wood adds an effortless natural feel. Jute or woven cotton rugs provide texture and are comfy underfoot.
Outdoor oasis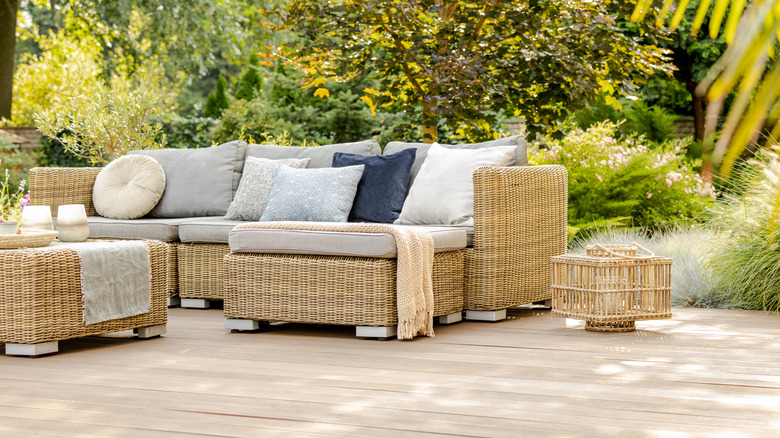 Ground Picture/Shutterstock
Outside Bethany Frankel's home is a stone patio that looks over the lush green lawn and sparkling pool. It's a comfy little nook that would be perfect for relaxing with a drink, reading a book, or just enjoying the fresh air. The fresh beachy farmhouse style flows easily from inside to out. Similar materials and a neutral color scheme tie the two spaces together. A mix of crisp white and lighter-toned wood to warm up the space to a comfortable and cozy outdoor area.
Continue the modern beachy aesthetic outside with wood in a light blonde finish, like Frankel's wooden sofa. Add plush white cushions to create comfortable seating you'll want to sink into. A wooden bench sitting underneath the window provides extra seating and more natural texture for the outdoor space. The wood finish also complements the wooden siding on the older Victorian house, which ties together the charming coastal farmhouse feel. Use similar natural textures similar to those found inside, like a woven wicker coffee table. A little fire pit would add warmth on cooler nights, so you can sit and enjoy the outdoors longer. Consider one with a more rustic feel or a stone finish to bring in the comfortable farmhouse style.