Tips On How To Plan A Perfect Pergola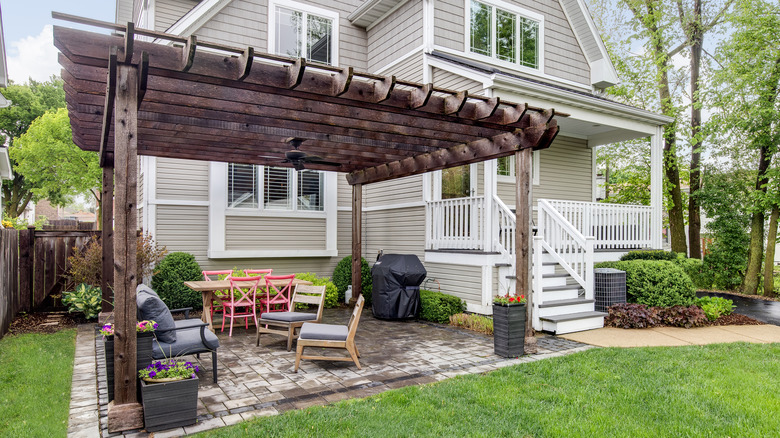 Hendrickson Photography/Shutterstock
A pergola can be a beautiful retreat in any yard; they are an affordable and stylish backyard upgrade that provides shelter, shade, and a welcome respite. Before you start building — or hire a contractor — there are a few things to consider.
The first is building codes. To comply with local regulations, obtaining the necessary permits and approvals from the building inspector or planning commissioner of your local government is crucial when building outdoor structures. These officials have also established policies on setbacks and height restrictions. Setback defines the distance your structure must be from the front, sides, and back of your property line. In addition, depending on your neighborhood, you will need to check any homeowner's association rules and requirements before building. 
Once you have your permits in order, and know any setback requirements, start thinking about the location. Consider your climate and how you intend to use this space. For the best shade coverage for an open-roof pergola, face your structure toward the north or east. If you're considering outdoor dining and entertainment, you may want to face it toward the west to enjoy sunsets.
It's all in the details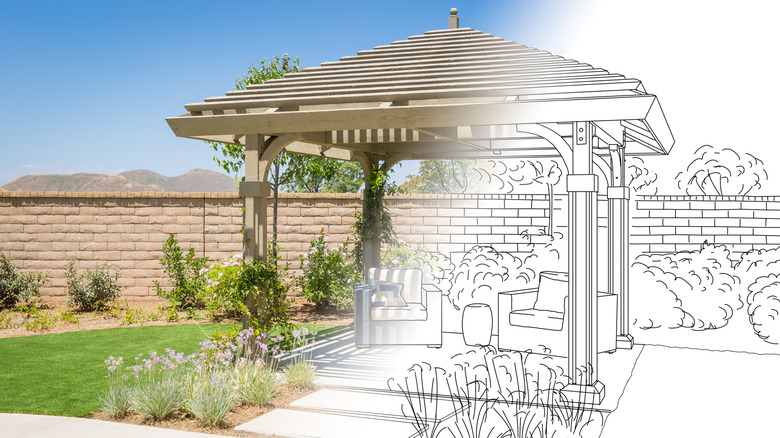 Feverpitched/Getty Images
Consider your permit details when you start putting plans together. The typical height range for a pergola is between 8 and 12 feet, and 8 feet is recommended for smaller structures, perhaps attached to your home. With most construction, 10 feet works and ensures ceiling fans and light fixtures are safe for even your tallest friends. Twelve-foot structures are most suited to larger spaces with considerable footprints. When determining the final size, think about your home and yard space and try to complement — not overwhelm — the area.
How much does a pergola cost? Well, that depends. Their size, materials, design, and where you place them impact your overall price. You will also need to factor in any required building or zoning permits, licensing, and homeowners' association fees. However, you can expect to pay between $2,200 and $5,900 to build one. Smaller pergolas attached to your home can save you money, while larger, custom-built structures can propel your budget to over $10,000.
Accessorizing your pergola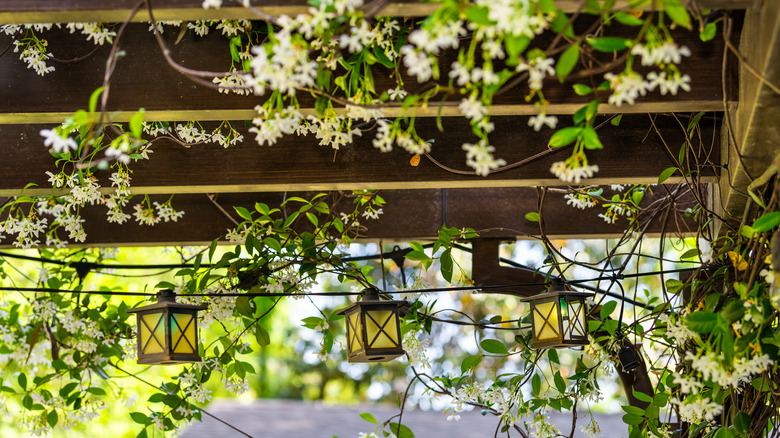 Ablokhin/Getty Images
Once you've made your foundational choices of material and location, you can envision more decorative features. Personalize your space with curtains, pillows, and cushions. And since we're al fresco, take full advantage of the great outdoors and incorporate climbing plants like English ivy, clematis, roses, wisteria, or grape vines. All can climb and add color, and some can bring sweet scents.
Take full use of vertical spaces and hang string lights or curtain lights, lanterns, and plants. A table, chairs, or lounge set anchored by an outdoor rug creates a comfortable conversation area. And to keep the rays at bay, incorporate color-coordinated tarps or sunshades. For cooler nights, electric patio heaters are a great way to extend your evening without the chill.
All can go a long way in softening the look of the construction and creating a warm and welcoming resting spot. What's more, they enhance the look and increase the function of this natural space.