Gossip Seating: The Conversational Furniture Trend That's Making A Major Comeback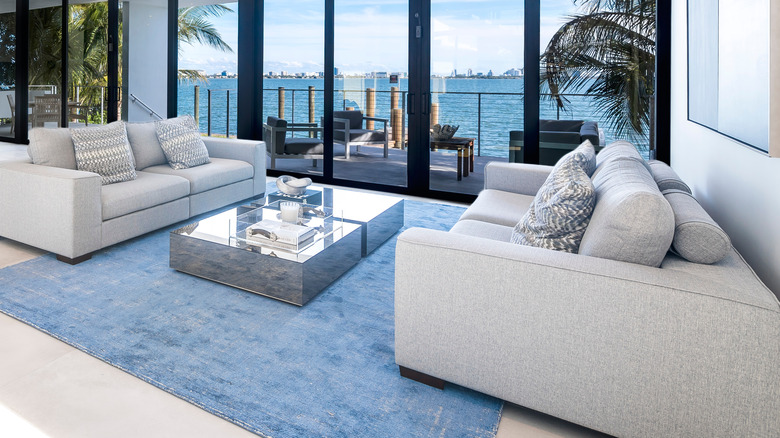 MDV Edwards/Shutterstock
In an era when we stream shows on tiny screens that we watch alone or flip through social media accounts on phones while sitting side-by-side with loved ones on a couch, the idea of choosing furniture specifically to encourage conversation could be complete folly or maybe — just maybe — it's what we all really need. More designers and retailers are recognizing that there's a market for people looking to connect more intimately with one another. Interior designers have long recognized that placing furniture within the magic 8 feet circle enables conversers to hear one another, but now they are rediscovering a new take on an old favorite called the gossip chair that placed two people in close proximity but not touching.
For decades, sofas have been rectangular, generally unimaginative pieces of furniture with perhaps a new fabric here or a carved leg there. Retailers most often sold them on the merits of comfort or affordability. Once in a home, the couches were plopped in front of televisions that grew ever larger. All the while, conversation became less frequent, relegated first to moments during commercial breaks, and then abandoned altogether once we recorded programs and fast-forwarded through the advertising. Even though we can't forward through the ads during streamed shows, the conversation seems to have fizzled. Perhaps it's your couch. Toss the rectangle, and get ready for a trip back to layouts designed for conversation and furniture that makes you want to lean in for a little chat.
Furniture that races around the curves
A trendy, hip, or unusual piece of furniture can be an instant conversation starter. Some gossip seating furniture styles that are making a comeback will definitely get visitors talking. Long gone is the matchy-matchy sofa and loveseat combo that you grew up with. Manufacturers like Verpan have tossed caution to the wind. Verpan's Easy Sofa, for example, is a brightly-hued (purple, orange, or green) disc with dividers. One King's Lane opted for the impeccable style of brilliant white for their two-seater sofa in linen, a classic tête-á-tête, which means head-to-head. Nina Campbell goes them one better with the Tête-á-Tête-á-Tête, a three-seated combination of the classic kissing couch for two.
The tête-á-tête has a long history dating back to times when two people romancing one another weren't permitted to touch but wanted to whisper sweet nothings with little risk of being overheard. The seating style allowed their heads to be close together while keeping their bodies chastely apart. The style has been out of favor for living rooms but never completely disappeared from outdoor furniture showrooms where they took the shape of curved loveseats and benches for the garden.
Arranging the conversation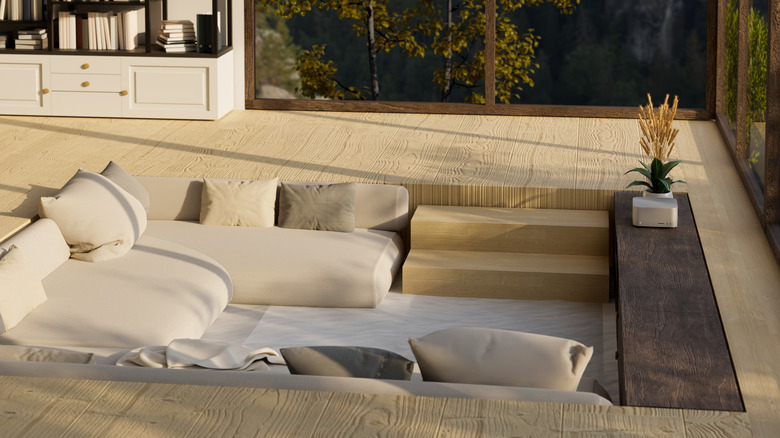 Bongkarnthanyakij/Getty Images
Conversation comes easily for some people, but for others, it might take the right ambiance, which can be created in part by unique conversational furniture like the gossip seating making a comeback. If they don't chit-chat about how unusual the furniture is, maybe the furniture arrangement itself can help by putting individuals closer or getting them facing one another.
Place furniture facing a center point like a coffee table, remembering the 8-foot rule so that the chatters can easily talk. If the room is large, you may need more than one conversation area. Tie them together with similar rugs or other elements that create cohesion.
One of the exciting comebacks isn't just furniture; it's the retro look of a conversation pit. Popular in the mid-20th century, they began to get noticed again after the television show "Mad Men" hit the airwaves in 2007. Conversation pits originally were recessed areas of the living room that placed the seating a few steps lower than the rest of the room. The seating was often built-in and encircled the "pit" on at least three of the four sides. A New York Times article found, however, that some people who remembered the era also remembered the dangers of falling into the pit! Perhaps a modification of the encircled conversation area without the sunken design would work best, but have a little fun: A conversation about taking a tumble into the 1965 conversation pit could get the party started!