The Viral Gardening Hack That Proves Tulle Is The Best Material For Pest Control
Most gardeners know to expect some loss during the growing season, but it can be extremely discouraging to wake up in the morning and find that your crops have been ravaged by rabbits. Pests seem to find their way through even the most impenetrable of fences, but building a totally pest-proof garden barrier can be equally annoying to fiddle with when it comes time to water your plants. Luckily, you don't always have to choose between protection and convenience. According to a hack shared by Rhonda Moffit on TikTok, you can use ordinary tulle, like the kind available from a fabric store, to keep rabbits, squirrels, birds, moths, and more away from your precious plants. And the best part of this resourceful idea? You won't have to pull back the tulle to water your garden. 
Tulle is an ideal garden cover because it's porous enough to allow water, moisture, fresh air, and sunlight to pass through, yet durable enough to deter rodents and other pests. Here's how Moffit uses tulle in her backyard garden and how you can harness the hack for yourself to save time while watering your plants.  
Tulle is a fiddle-free pest barrier
In a video shared on TikTok, Rhonda Moffit can be seen watering her garden bed, which lies safely underneath a tulle tunnel. She says, "I just wanted to show you why I love tulle so much." Spraying the watering hose directly through the tulle, Moffit explains that tulle is "the perfect breathable material, [water] goes right through." She continued excitedly, "So there's no taking it off, putting it back on, you know, none of that!" Because tulle is a synthetic open netting, it resists pests like birds, squirrels, and even rabbits but also leaves enough gaps in the weave for water and fresh air to pass through. Unlike other forms of open-knit garden netting, tulle is also fine enough to keep egg-laying moths, grasshoppers, snails, and slugs out of your garden.
Viewers loved Moffit's resourceful idea and were amazed by how easy it is to water the garden through tulle. One commenter wrote, "I normally purchase mosquito net from the fabric store, but I think tulle might be cheaper!" But many people may not need to spend anything to create this hack. As another commenter said, "I have a ton of leftover tulle from our wedding four years ago. Now I can finally use it!" In a reply, Moffit wrote, "You're so welcome, love! I love that you can be creative in the garden! And use what works for you!"
How to make your own tulle tunnel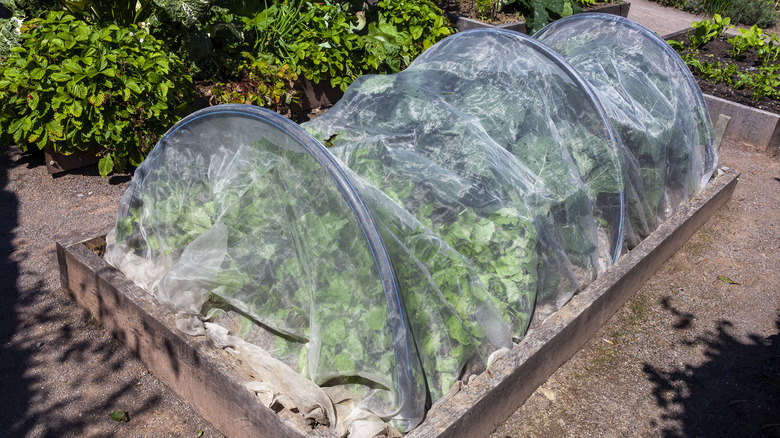 Tonybaggett/Getty Images
You can purchase garden net kits online, but making your own is extremely easy and usually much cheaper! To frame the garden bed, one viewer suggested, "I also used hula hoops last year from the Dollar Tree. The biggest size, cut and dump the beads out, and use that as the frame." You can leave the hula hoops as they come or spraypaint them to blend in with their natural surroundings, then secure the hoop halves against the edges of your garden bed. Ensure that the tulle fabric you purchase is wide enough to drape all the way to the soil, then weigh down the edges of the tulle with bricks or stones. Unlike ordinary garden and mosquito nets, tulle comes in a wide range of colors, so you can also coordinate your hoops with your fabric hues for a rainbow of color in your garden!
After you've established your net, think carefully about the plants it will cover. Concerned about pollinators needing access to the plants, one viewer of Rhonda Moffit's video wrote, "But how do the bees get to the flowers?" Moffit then explained that she keeps brassicas under her tulle nets, which don't require pollination to grow and aren't useful for pollinating insects. Bok choy, broccoli, cabbage, cauliflower, collard greens, and mustard are ideal candidates for tulle tunnels because they don't need pollination, but they do need protection from pests!