Fix My Flip's Page Turner Is Sick Of This Modern House Style
For a number of years, one interior design style has reigned supreme: modern farmhouse. This style typically utilizes rustic woods, galvanized metals, shiplap walls, and light colors like white and gray. However, while this is a common choice, not everyone loves this look, including Page Turner of HGTV's "Fix My Flip."
When interviewed by Rachel Stults and Natalie Way on Realtor.com's podcast "House Party," the hosts talk to Turner about the show's premiere episode, which is called "Costly Mistakes in Lake Arrowhead." Stults says to Turner, "It's so refreshing to not see modern farmhouse in this design, I have to tell you. Natalie and I were both very appreciative that it was a very different look, it was very unique." Way adds, "Yeah, it was very nice to not see the classic subway tile," and Turner interjects with, "I'm sick of it." She adds, "the grays, the whites, you're not gonna see that on this show." However, she also points out that modern farmhouse may be seen on "Fix My Flip" if the homeowners of the fixer-upper like that look, as they're really the ones in charge. But if it was up to Turner, she'd choose any other style in a heartbeat.
What Page Turner prefers instead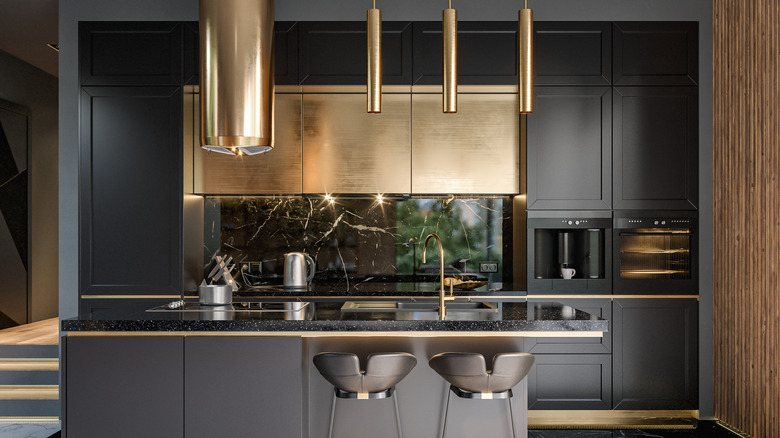 Gladiathor/Getty Images
While modern farmhouses can work in some instances, they can look out of place in older homes. According to Page Turner, it's extremely important to stay consistent with the time period of the architecture when decorating so that everything feels cohesive and full of character. For instance, when renovating a 1920's craftsman home, she keeps the original wood floors, ceiling moldings, and fireplace surround, as showcased on HGTV. Another reason why Turner often stays away from modern farmhouse design is that it just isn't her personal style. Instead, she typically creates lots of juxtaposition with black and white tones, as well as dramatic elements like gold hardware, black Zellige tiles, and stone accents. 
She also loves adding wooden accents, either through the flooring or along the walls, but these always feel elegant and warm instead of rustic and country-esque. For instance, on season 4 of HGTV's "Rock the Block," she, along with her partner Mitch Glew, adds a horizontal wood wall in a living space and a vertical narrow panel wall in the bedroom, and both look elegant. If you want to see more of her work, Season 2 of "Fix My Flip" premiered on May 4, 2023, and the next episode will air on May 11.