Page Turner Of Fix My Flip Breaks Down The Business Of Flipping Homes - Exclusive Interview
If you watch a lot of renovation shows or follow the advice of social media's many (supposedly) self-made real estate millionaires, you would think there is no easier way to get rich than to flip a few houses. However, HGTV's Page Turner is eager to calibrate your expectations. Although the licensed real estate agent and businesswoman has sold millions in real estate and completed over 100 successful flips, she's also seen the disastrous results of treating this serious and complicated business venture like a "game" or "side hustle."
In Season 2 of her hit show "Fix My Flip," Turner comes face to face with blown budgets, ill-advised renovations, bungled schedules, and possibly the largest-scale cat rescue that's ever occurred on HGTV. In short — she's seen everything that can wreck a homeowner's dreams of becoming a flipper, and then some. In this exclusive interview with House Digest, Turner educates those with real estate aspirations on running their operation like a legitimate business and offers some expert reno tips for crafting a profitable and livable space.
Fix My Flip and Rock the Block both presented unique challenges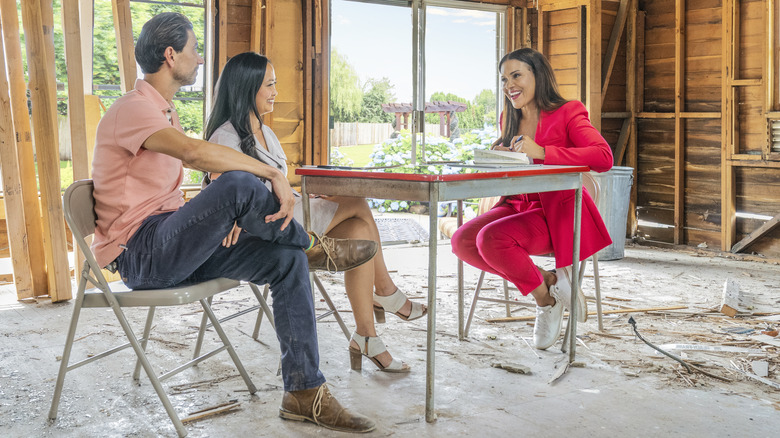 HGTV
"Fix My Flip" attracted 12.4 million viewers in its first season. How will Season 2 up the ante for your fans?
It's so exciting to hear that number. Well, the ante will be up this season. We still have some runaway flippers, but you may or may not see the front of a house get pulled off by a truck. You may or may not see over 130 cats being rescued from a house. You may or may not see some flippers who are pretty underwater and stubborn in their ways of flipping. I may have to walk away. Those things might up the ante a little bit.
After filming and participating in "Rock the Block," a new season of "Fix My Flip" must have been a nice change of pace. How did your experience taking part in the two shows differ?
I would probably rather give birth to my twin girls than do "Rock the Block" again. [laughs] It's completely different. "Rock the Block" is the most strenuous ... I wish there were more behind-the-scenes [moments shown] because it was an out-of-body experience. However, the comma to that is that we did it, and we did it well.
I'm so proud of the work that we did on "Rock the Block," and not just me and Mitch [Glew], my teammate, but all of the teams. Unless you're there watching it, you have zero clue how much work goes into "Rock the Block" in six weeks, and 5,000 square feet, and 100 people on set. I'm actually glad that I did do it, because I can say, "Hey, I did it, and if I could do that, I could do a whole lot more."
In comparison, "Fix My Flip" is a walk in the park. However, I'm being reminded now of some of the flippers that I have to work with on "Fix My Flip." It's probably a close call of which is more challenging, because people are challenging. Houses are one thing, but people are another. All I know is they both gave me a new strength in my career and in life, too. Our careers are also real life, and I got through both, and I'm so proud of myself.
Flipping homes is a business, not a 'game' or 'side hustle'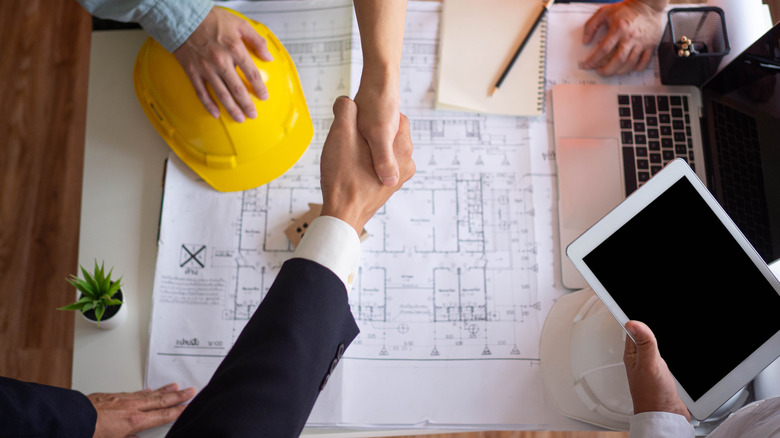 shisu_ka/Shutterstock
In past interviews, you've noted how some people have a misconception that flipping houses is a side hustle as opposed to a full-time job. What unexpected aspects of the job make it such a profound commitment?
I love that you did that research, because that drives me crazy! The profound commitment is that you could lose a lot of money, and that livelihood could be your savings. Or what I've seen on "Fix My Flip" — people use their parents' life savings to start this "side hustle," and then they lose it because they don't look at this business as a business and they don't run their flips as a business. That's the biggest challenge and misconception in this quote "side hustle" world, or "the game." That's what people call it.
"I want to get in the real estate game." As soon as they say that, I'm like, "I don't want to work with you, then, because it was not a game to me." I've raised my children in this industry, and it's a tough business and it's risky. It's just as risky as the stock market or anything else where we put our money, and we don't know what the outcome is going to be.
The real estate market has undergone some incredible shifts in recent years. Given current property prices and borrowing rates, what advice do you have for those getting into the house-flipping business in 2023?
Make sure that you run it as a business because the stakes are a lot higher. Interest rates are up. When I bought my house in 2003, interest rates were 8, 9, 10%. Interest rates right now are not at "heart attack" level. People who are new in the business are making it such a big deal. They're fine. The difference is that [with] a million-dollar house, you had 3%, but you owed a million dollars. Now you're at 6% and the homes may be worth $800,000. I'd much rather have that because I owe less money.
The price, the monthly payment, will balance itself out. If you're getting into flipping now, be over-aware, and don't be so confident in your home, that it's going to sell because it's so beautiful. Homes are not selling themselves anymore. Real estate brokers and agents and the flippers actually have to go back to work and sell houses like I used to do before this crazy seller's market hit a few years ago. My advice is don't think the house is going to sell itself, and it's probably not worth what you think it is, because at this point, buyers are going to tell you what the house is worth. They're looking for a beautiful custom look and feel for a cheaper price.
Profitable home upgrades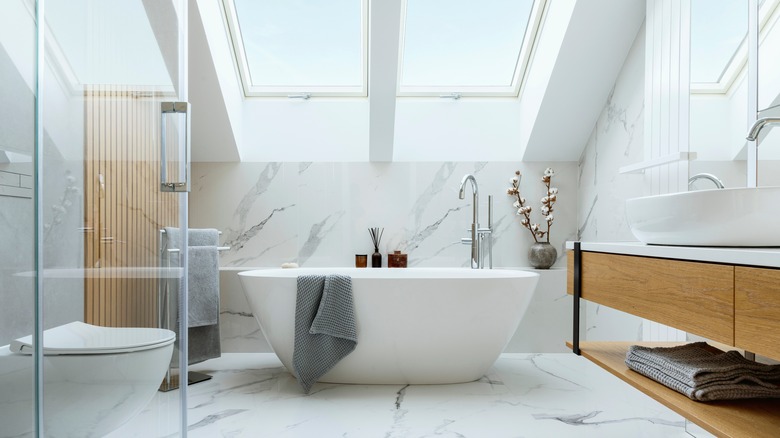 Followtheflow/Shutterstock
What renovation project should homeowners skip if their bottom line is profit? Going off that, which ones are the most profitable investments?
That's such a good question. If budget is the challenge, then — and I've dealt with flippers on this; actually on Season 2 as well. Don't add the square footage ... Most neighborhoods are built the same because all the homes were built at the same time. Most of them have the same layout, floor plan, and square footage. That's why in real estate, we don't comp apples to oranges, meaning we don't comp a one-story house and compare it to a two-story house.
It's the same thing when you're flipping a house or you want to renovate your home and sell it. If the neighborhood doesn't call for adding square footage, then there won't be anything for the appraisers to compare the house to because now you're the biggest house on the block, and you don't want to be that. That's number one. Don't add the square footage. Number two would be to add the square footage if the neighborhood calls for it. But focusing on the kitchens and the bathrooms [is] where your moneymakers are.
These days, many homeowners desire a home office even if they lack the floor space for a traditional setup. Are there ways you can get creative in order to add a home office to smaller properties?
Absolutely. A lot of people use what's called flex space. If you purchase a three-bedroom home and you ... maybe only have one child or two children that may be young enough to share a room, then you can use that third bedroom as half-office space, or the flex room, which could be part of the den. You do have to get creative. I've seen and I have actually done ... Even at my mom's house now, I surprised her for my birthday. My mom and my sister have a two-bedroom condo in Florida, but they also have a Florida room, and it wasn't enclosed.
We enclosed it because my mother is a forever learner. She's 83, getting her doctorate right now. We enclosed it and we made that her office. This was the patio. But a lot of people have the patio, and you can use that or even your garage. Get real creative in your garage. Throw up some drywall, put some paint; don't even worry about the flooring. You can throw some epoxy on the floor and make it cool over the cement. Now you have your home office.
Finding the right contractor for your business
In "Fix My Flip," you are accompanied by seasoned builder Mitch Glew. What characteristics do you look for when hiring builders during a demanding renovation?
Mitch is definitely the prototype. You have to have a contractor, number one, who's communicative. If they're not returning your calls [or] your text messages quickly, that's an indication that they're going to probably work on your job with the same slow pace.
Number two, they have to give you a written bid. Give me a bid — show me a breakdown of exactly what you're going to do. A lot of contractors don't like to do that because they don't want the client to see what they're going to get paid. But when you're a flipper, you know that everybody has to get paid. Show me what it's going to cost upfront. If they don't provide you with something written, they're not your person. Those are the first two things.
The third thing [is] make sure you like them. If they have a jerky personality, then it's nobody you want to work with, because you're going to be with that person for the long haul, from start to finish. Even if they do good work, if you don't like them, it's not going to work well in your interest or your home's interest.
One more thing — this is super important. Flippers have to know that they are [the] boss. The contractor is not the boss. If I am employing you to work for me in my home, then I am the boss and I call the shots, period.
DIY-friendly projects for your home
What budget-friendly DIY upgrades would you recommend to homeowners who seek to increase their home's value while also making their house a more livable space?
Well, that works two ways, because DIY doesn't always add value appraisal-wise, but it adds value to a buyer. For instance, on "Rock the Block," in my primary bedroom, I had the wood slats going up the wall. Everybody loved it because it was so sexy and very luxurious looking ... The wood slats going up the wall like a spa feel like you're in — which we were in — a very expensive home. That was inexpensive. Everything in "Rock the Block" — and I'm not a spokesperson for Wayfair, but everything we got from Wayfair. It was really cheap, and literally, we did it ourselves. It's peel-and-stick on the wall. Or wallpaper — that increases the buyer's interest and the buyer's value.
Peel-and-stick wallpaper I do on "Fix My Flip." The next buyer doesn't like it, you take it down; you don't have to worry about it. It's not old school. If you're able to paint your cabinets, paint your cabinets. If you can change out some of the faces and put glass in the cabinets instead of all wood, try that out. Definitely change all of your fixtures. That's a great DIY throughout the house. Also, your pull on your cabinets is a great DIY. You can get them inexpensive and make them still look custom and look expensive.
As co-owner of an activewear brand, fitness is obviously incredibly important to you. What are some must-haves that you look for in a home gym?
I definitely need an exercise bike. I'm addicted to my exercise bike. Weights — in a home gym, people discount weights a lot. Weights are super important to maintaining a healthy lifestyle and keeping your muscles and your bones strong. I just turned 50, so I am so glad that I have loved fitness most of my life because I see how important it's going to be for this next chapter of my life. In a home gym, weights, something that you can do to make sure you have your cardio, and we can do our own body weight cardio. But having a bike or a rower, something like that, is my definite must. A treadmill — definitely a must.
The new season of "Fix My Flip" will premiere on Thursday, May 4, at 9:00 p.m. ET/PT and will be available to stream on discovery+ the same day.
This interview has been edited for clarity.