The Inexpensive Plank Flooring Fix My Flip's Page Turner Swears By For A Luxurious Look
Flipping homes has grown in popularity over the years — the trend is often helmed by home renovation shows that feature designers and flippers transforming a home and selling it for a healthy profit in a matter of weeks. Moreover, these shows also give us a look at upcoming trends, new tricks, and the best materials to use for home renovations. HGTV's "Fix My Flip," hosted by Page Turner, is one such show where the focus is on improving equity without breaking the budget.
The real estate broker assists those who have gotten overwhelmed with their flipping project. She provides a few tips and tricks to help homeowners stop losing money and solve the renovation issues that may have piled up in the process. In a recent episode, Turner uses luxury vinyl planking in the home as opposed to hardwood flooring. "I see million-dollar-plus houses putting in this type of flooring," Page says of the flooring material, per Realtor. For anyone looking to give your home an upgrade, this stylish floorcovering may be the way to go.
Elevate with luxury vinyl flooring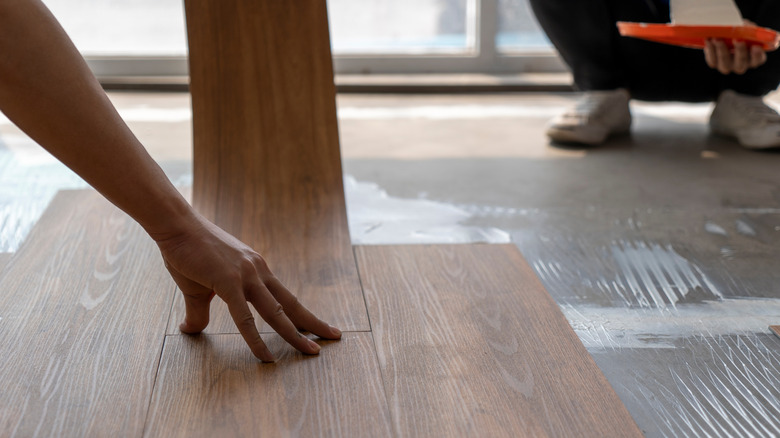 appleyayee/Shutterstock
Hardwood has long had the reputation of being the most luxurious material for flooring. True hardwood floors are prone to scratching and can warp if it gets wet, meaning it's not a great option for bathrooms or kitchens. Wood flooring can also be expensive, with solid hardwood ranging from $5 to $28 per square foot, a cost that can quickly add up when doing multiple rooms or the entire house.
On an episode of "Fix My Flip," Page Turner works with brothers looking to flip a property. One of the brothers suggests using luxury vinyl flooring because "It looks like real wood but is less expensive, more durable, waterproof, and good for pets," and Turner quickly agrees, per Realtor. Not only does this material look like hardwood, but it is also more durable. Vinyl flooring is resistant to scratches and scrapes and doesn't deteriorate when exposed to moisture. The major benefit of luxury vinyl flooring, however, is its price — on average, $2 to $5 per square foot. The lower price is ideal for flippers wanting to make a profit as well as homeowners who want to renovate on a budget. The new season of "Fix My Flip" premiered on May 4 on HGTV, and the newest episode premiers on May 11, 2023 on HGTV and streaming on discovery+.