The Container Store Bin You Shouldn't Be Storing On Shelves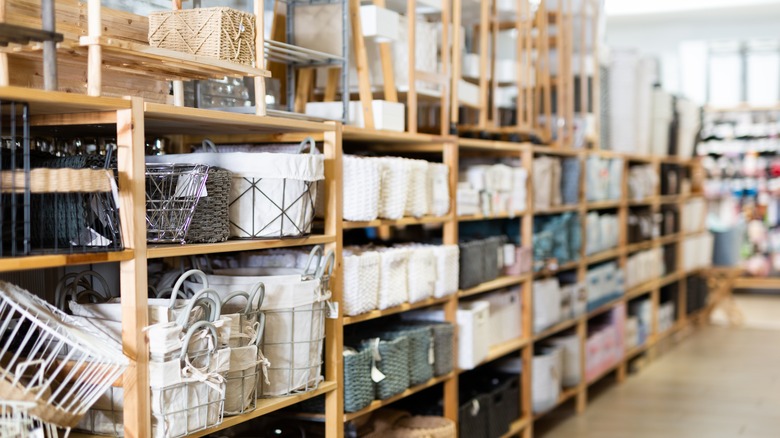 BearFotos/Shutterstock
The Container Store is full of wonderful storage options for your home, and nothing saves space or tidies up a shelf like its bins. And although keeping everything from clothes to accessories in a bin is a great way to organize, there are some designs that aren't as useful on a shelf. In fact, The Container Store has explained that although fabric bins are stylish, they might not be the best option for this type of storage system.
While fabric bins are available in many patterns and colors, their somewhat flimsy structure isn't great for pulling out or grabbing items, especially when placed higher than eye level. This type of product isn't a "drawer-style" option, and therefore can't replace a plastic or other solid bin that can easily slide on and off of shelves. One of the biggest drawbacks of using fabric bins is that they will lose their form if they're pulled on too often, ultimately rendering them useless.
Why fabric bins might not be the best choice
The Container Store narrator mentions that while fabric bins are cute, they have no structure, and relying on them for shelf storage is unwise for those who desire something sturdy. Additionally, some fabrics can suffer from sun damage if kept on shelves near a window and slowly lose their color. And if kept in humid areas, like the bathroom or kitchen, this could cause the materials to smell over time. If you're looking for a more reliable option, plastic tubs are ideal because they can handle a variety of environments while keeping your items securely in place.
However, don't count out fabric bins just yet. Although they may not be the best option to place on a shelf, they work great on the floor and can hold anything from blankets to pillows and other accessories. As long as you remove the items from above the bin rather than yanking on the edges, it will keep its shape and look nice while remaining functional. Essentially, it's best to consider what purpose your storage bins will serve. If they are meant for decoration in a cool, dry space, fabric designs are a great choice. For more wear and tear needs, hard shells are the best option.
Storage bin alternatives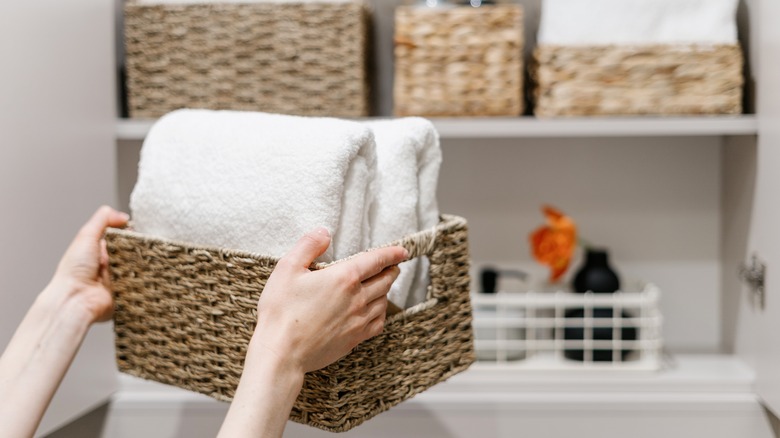 brizmaker/Shutterstock
Although plastic bins are a good alternative, they aren't the only model to choose from. Wicker, bamboo, and wire baskets are all available in most home goods stores, though The Container Store carries a pretty large assortment. While these materials offer more stability, wicker and woven designs might do best with lighter items kept inside, to avoid warping their shape with heavier items that may push roughly against the sides. Additionally, wire bins offer the advantage of visibility, and if you do use plastic tubs, they'll protect your items from dust and dirt, especially when used with a lid.
It can be easy to create an engaging aesthetic with your storage baskets — you just have to plan out everything beforehand to accommodate your home or room design. Playing with different sizes of the same material or model adds dimension while mixing materials can pull several elements through a space. For instance, combining metal and wicker creates a chic farmhouse effect, and sturdier plastics are ideal for minimalistic approaches. Storage bins don't have to be drab — all it takes is a little planning and vision and then, voila!