Here's How To Fix Your Chipped Laminate Countertop So It Looks Brand New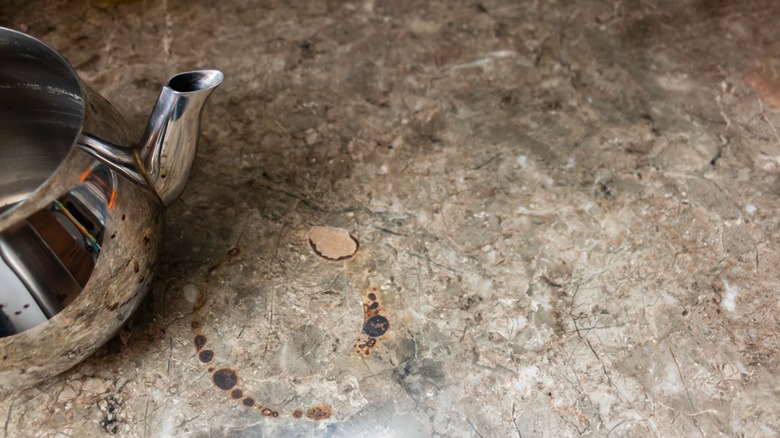 pamir/Shutterstock
Laminate, known by the brand name Formica, is an affordable countertop option that comes in many different colors and patterns. Even though it's incredibly durable, it's still not impervious to chips, dings, burn marks, stains, and scratches. These can be quickly fixed with specialty markers, putties, DIY kits, and paint. Most of these repair methods are relatively inexpensive, ranging from under $10 to around $50, though more extensive overhaul kits can run you well over $100.
Enamel paint is perfect for smaller chips and dings, though it takes a steady hand and, depending on the color and pattern of your laminate countertop, could also require some color-matching skill. When all else fails, you can make your laminate countertop look brand new by carefully sanding and applying paint specific to restoring laminate countertops. 
With proper care, your laminate countertop can last anywhere from 10 to 20 years. This means using a barrier like a thick towel or trivet when setting down hot pots or pans, refraining from treating your countertop as a cutting board, and using a nonabrasive cleaner like Windex, 409, or Mr. Clean.
Use pens, putties, or all-in-one kits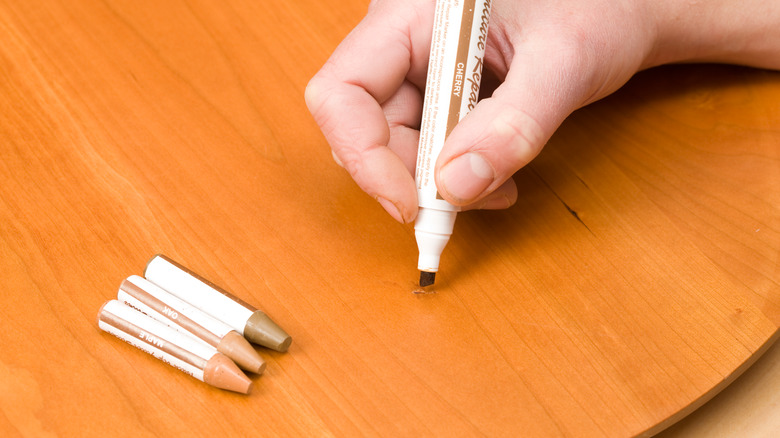 Banksphotos/Getty Images
If the chip is minor, the easiest and most economical way to fix it is with a touch-up pen, putty, or paint, and each will run you less than $25. Touch-up pens and putties are meant to be used on wood, laminate, and vinyl and contain a stain or dye that matches or is similar to the surface being treated. 
Properly cleaning and drying your laminate is the first integral step. If you're using a pen, color in the chip, and then rub the color into the surrounding area to blend it. Let it dry, and repeat the process if necessary. If you're using putty, fill the chip and wait for it to dry. You'll want to carefully sand it down flush with the surrounding laminate. 
You can find DIY laminate repair kits at your local home improvement stores. These kits have everything you'll need to fix and repair chips, dings, or scratches in your imperfect laminate countertop. They generally use a combination of putty or paint and a hardening agent, like epoxy resin, to fill in your countertop blemish. Depending on the product, you can pay anywhere from $10 to $25 for a basic pen or putty filler kit.
Get creative with paint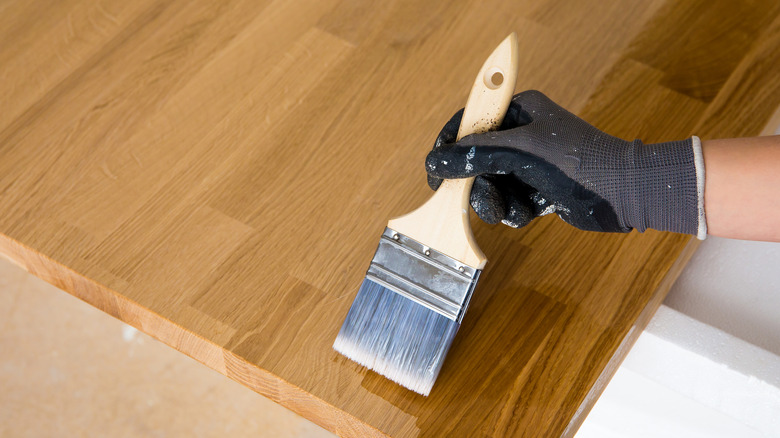 Helin Loik-tomson/Getty Images
For individuals with a steady hand, using enamel paint is a simple way to hide a laminate chip. It's a bit more labor-intensive, but it holds up much better when compared to pens and some other fillers. If your laminate countertop is beginning to look worse for wear, you can always upgrade it by covering it with a coat of paint. While it isn't a challenging project, it takes much more time than 24 hours of curing. On top of that, the result is entirely dependent on your prep work. So it's important not to cut corners.
You'll still want to fill your chips and blemishes with a hard filler, like epoxy putty, followed up with a good sanding to give it some grip. The best choice for refinishing your Formica countertop is to purchase an all-in-one kit that includes paint, primer, and sealant and is specific to this project. While they can be a bit pricey, these kits are all-in-one, and some are even fully customizable. Other options are to get creative with pouring resin and making your own DIY stone-infused countertop or going the risqué but fiscally smart way by purchasing everything à la carte.