How To Still Afford A New Home While Mortgage Rates Remain High
Kate_sept2004/Getty Images
Data from Freddie Mac shows that, for the week ending May 4, 2023, a 30-year fixed-rate mortgage loan will likely have an interest rate of around 6.39%. That means that, for a home with a purchase price of $250,000 and a 20% down payment, your monthly mortgage would cost you over $1,600. Thankfully, there are ways to still afford a home — even with interest rates climbing.
There are a number of different mortgage options available that can give you a financial edge, such as mortgage rate buy-downs, which is a way to pay upfront for a lower interest rate later. Some lenders offer a 2/1 buy-down, meaning the initial year of your loan, your interest rate is 2% lower than the current rate, and in the second year, it's 1% lower. To qualify for this, you'll need to make an upfront payment to the lender. When you reach the third year of the loan, the rate returns to current levels. 
Another option is to use a bridge loan, a type of short-term financing. This is a popular option for homeowners who want to buy a home now but cannot or do not want to wait until they sell their current property. Obtaining a bridge loan allows you to buy a home now even though your existing home has not sold. Once you sell the home, the proceeds go to pay off the loan, and the remaining balance is then converted into a regular mortgage.
Down payment assistance programs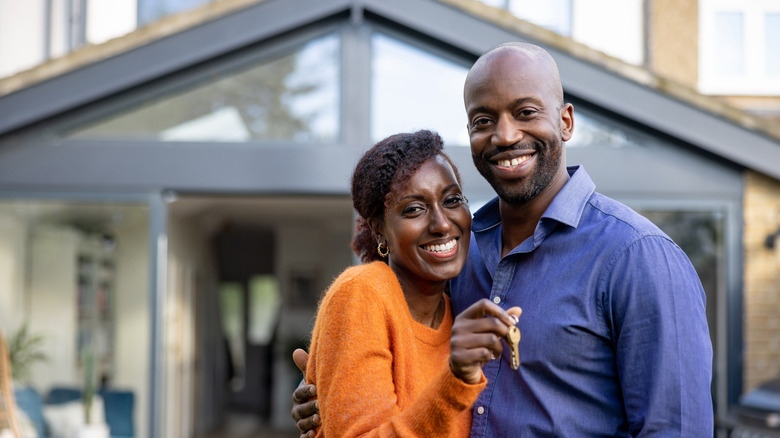 Andresr/Getty Images
First-time home buyers may also qualify for a down payment assistance program. Several versions exist and the benefit here is that they allow you to cash in on available funds to help cover the down payment requirement of a lender. Some of these programs are a grant you don't have to pay back, while others are used for closing cost credits or interest rate reductions. While many of these programs are not available through the federal government, you can turn to HUD-approved housing counseling services or your state's house finance agency to find out if you qualify. These organizations provide connections to housing programs within the state that could lower your overall costs.
You can also reduce some of your costs if you qualify for an FHA, USDA, or VA loan. These lower the overall interest rate you'll likely pay and can keep closing costs more in line with your goals. Even the down payment requirements are less. Be sure to carefully compare the different types of programs available, and work with your lender to find the most competitive rates.