Save Kitchen Countertop Space With These Command Strip Paper Towel Hacks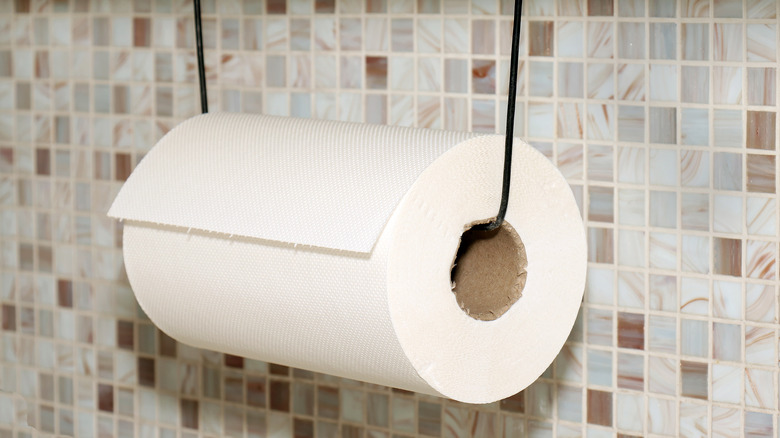 Ttatty/Shutterstock
We may receive a commission on purchases made from links.
In a small kitchen, countertop space is often limited and may need to be reserved for preparing food. If this is the case for you, perhaps your paper towel holder is taking up too much room, but you're not sure what to do with it. One option is to replace it with a wall-mounted paper towel rack, which could be purchased on Amazon and attached either to the wall or to the bottom of your cabinet. However, maybe you already have a paper towel holder and don't want to buy a new one. In this case, all you'll need to hang it are Command Strips and a Command Hook.
This process, as demonstrated on TikTok by @_yothatsdice, will hang your holder horizontally out from the wall, which may make the most sense next to a countertop, so it's not just floating in space. To do this, attach a hook to the wall with a Command Strip, then simply hang your paper towel holder from the base on the hook. Keep in mind that, to do this, you'll need a metal or plastic paper towel holder with an open base and not one with a solid base, as you wouldn't have anywhere to hang it from. 
Another way to hang your paper towel holder
However, while @_yothatsdice's hack could be helpful, it may also cause the holder to become wobbly every time you try to rip off a paper towel. Additionally, maybe you want your holder to be hung straight up and down instead of horizontally out from the wall. If so, you'll need a holder with an easy tear mechanism, or a short bar that typically helps you remove a sheet with more ease. This is what you'll hang the holder from either on the side of a cabinet or on the wall.
To hang your paper towel holder vertically, follow the footsteps of @equeenin on TikTok and begin by placing small pieces of painter's tape where the hooks need to go, using the easy tear mechanism as a guide for spacing. This will be done in a triangle formation, with one placed on the top and two side by side below it to fully support the holder. Then, once the hooks have adhered to the wall and the painter's tape is removed, simply hang the paper towel holder from the easy tear mechanism so that it stands vertically, with the base 'hovering' over your countertop or floor. 
Where to purchase your supplies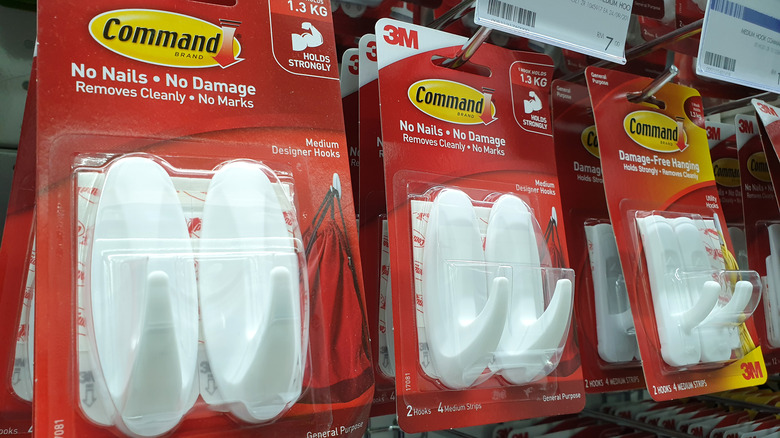 TY Lim/Shutterstock
The first step for either of these methods is purchasing enough medium size Command Hooks, and a pack of two can be bought on Amazon for about $6. The Command Strips, which adhere the hooks to the wall, come in these packs. To mark where the hooks need to be hung, use some basic painter's tape, which you can buy on Amazon for under $5. Alternatively, you could also mark where they need to go with a pencil, then erase it afterward. 
Depending upon which method you're using, you'll also need the right paper towel holder. For the horizontal method, choose one with an open base, such as this simple design from Amazon for $5. If you're hanging it vertically, however, you'll need one that has an easy tear mechanism, which you could purchase at Target for $15. Further, make sure the small bar has an opening in the middle, as this is how you will attach it to the top hook to make the holder extra sturdy.