How To Nail The 2023 Home Wine Bar Trend With IKEA Cube Furniture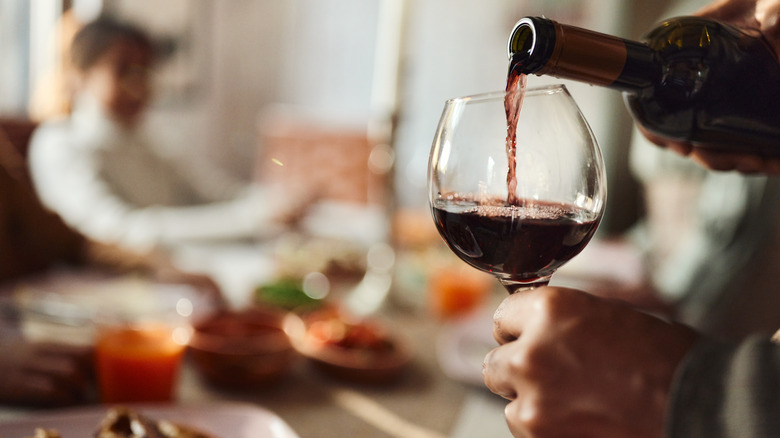 Skynesher/Getty Images
We may receive a commission on purchases made from links.
One of the most inspiring hacks on TikTok might include two of your favorite things: wine and IKEA furniture. The first is a delicious treat, and the second is inexpensive and easy to decorate for DIY projects like this one! The popular Kallax cube from IKEA is great for storage, but now it can also serve as a fun wine bar that guests will go crazy over. Nailing this trend is easy and only requires a couple of items.
This TikTok hack is especially handy for those looking for a way to display their favorite bottles of vino or give friends and family easy access to glasses and bottles. The perks of bringing this clever hack into your home include more storage space and a fun display for parties or everyday use. Instead of investing hundreds of dollars on a wine rack, you can create your own that provides ample space for up to 12 wine glasses, several nice bottles of vino, and fun accessories that complement your existing aesthetic. Are you ready for the best DIY project yet?
How to complete this project
To begin this wine-inspired endeavor, you'll need a few key materials, starting with the IKEA cube. The Kallax has over 2,000 five-star reviews and is available in five colors and finishes: black, gray, matte and gloss white, and white oak. You will also need to purchase two under-cabinet wine glass racks, which you can find on Amazon or other online shops in different price ranges.
There are a variety of glass hangers to choose from, but this TikTok video features two racks with three rows, which can hold 12 regular-sized wine glasses or 18 champagne flutes. The more glasses your rack can hold, the less room you need in your kitchen to store them, opening up cabinet space for other items. To attach these wine holders, flip the cube upside down, then use a drill to connect them under the topside of the block. Keep the racks centered to achieve an equally spaced and clean finish. 
Tips for decorating your wine bar
Once you've attached the racks, flip the cube back over and place your stemmed glasses in their slots so that the base of each one hangs from the metal slider. Now, it's time to decorate your unit with aesthetically pleasing accessories. Depending on the theme of your home, you can add wicker or canvas baskets or drawers into the bottom two slots of the cube, creating extra storage for napkins, wine stoppers, coasters, and whatever else you may need during a tasting.
On top of the cube, place a basket or a shallow tray where you can add several bottles of your favorite wines to make the overall design look clean, organized, and accessible. Finish off the surface with picture frames, color-matching ornaments, or a plant to provide dimension and texture. This little wine bar will offer the ideal spot to prepare and enjoy a drink while providing more space to keep favored items on display and tucked away into the nooks and crannies.