Bobby Berk Shares How To Style Any Surface In Just Four Easy Steps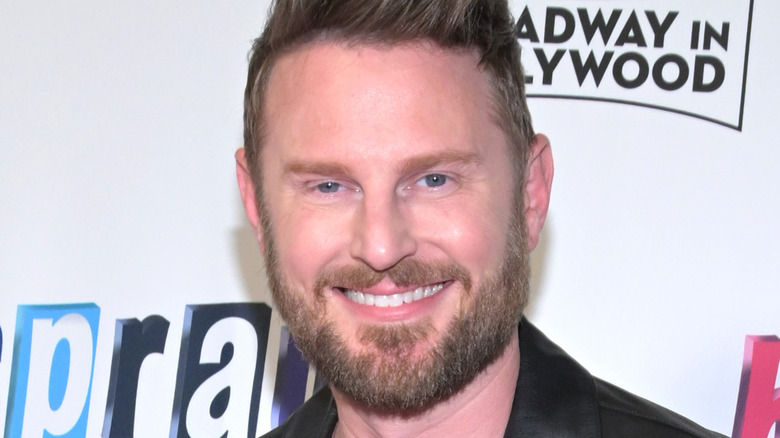 Michael Tullberg/Getty Images
Bobby Berk, interior design expert on the Netflix series, "Queer Eye," loves simplifying the styling process for homeowners everywhere. On his TikTok, he decorates a wooden credenza in just four steps, and you could easily do the same on an empty surface in your own home. However, know that these steps only apply to furniture that's pushed up against the wall, not something floating in space like a coffee table.
The first step is to layer two pieces of artwork. Begin with the largest and place it off-center, leaning it against the wall, then position the smaller piece of artwork partially in front of the larger item. Second, take horizontal stacks of two or three books and place them on both sides of the surface. Third, add vases or statues of varying heights on top of the stacked books. The fourth and final step is to include a lamp on the opposite side from the highest vase to illuminate your completed vignette.
Berk's additional styling tips
Bobby Berk also provides a few additional tips on how to style a surface in one of his videos on YouTube. He says to follow three basic decorating rules: Always vary heights, layer textures, and include organic elements. Further, make sure the design appears balanced by dispersing the tall items across the surface. For instance, if you have a lamp on one end, place the same size vase or plant on the other side. A plant inside a decorative pot is always a great piece to include when adding height to your vignette. 
To vary the appearance of your stacks of books, you could place some vertically and use bookends to keep them in place. Another way to make your design unique is to arrange greenery inside your vases, which could either be real or faux. Finally, add a collection of two to three small items for more texture. This could include statues, paperweights, stones, small vases, or trinket containers. If you want more styling tips from Berk, Season 7 of Netflix's "Queer Eye" premieres on May 12, 2023.