TikTok's Viral Tea Towel Hack Is A Genius Way To Create DIY Pillowcases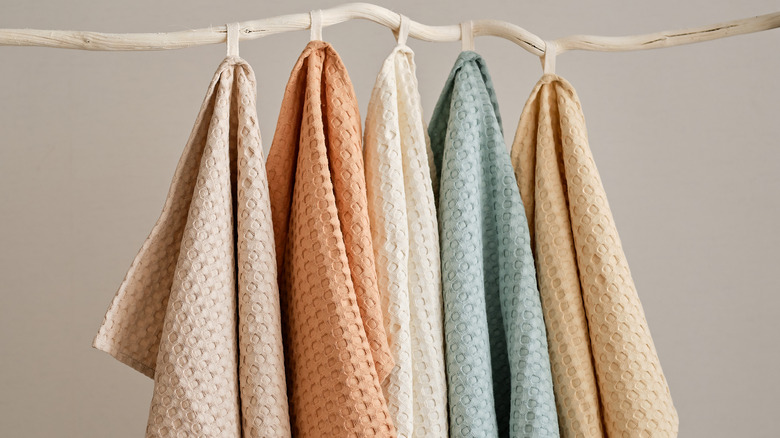 soul_studio/Shutterstock
If you're looking for a way to repurpose unused tea towels or if you need to spruce up the pillows in your home, this TikTok hack is perfect for you. With just a few tea towels, some glue, and a bit of inspiration, you can create cute pillowcases for yourself or your kids and revamp your old or out-of-season throw pillows.
The hack, posted on TikTok by @redeux_style, shows how to craft pillowcases using two tea towels with just one cut, and since this trick uses fabric glue, you won't need to spend time fiddling with a sewing machine. You can also customize this hack to fit any pillow. For smaller pillows, like throw pillows, you can get away with using one tea towel, and if you prefer, you can sew by hand or with a machine instead of using fabric glue. Buttons and other accessories can also be added to your towels, so your pillowcase is decorated however you prefer. 
Using tea towels to make DIY pillowcases
In the video, the tea towels are used to make a pillowcase for a regular-sized pillow. Take two tea towels and line them up with the insides facing out. Use a pillowcase that fits the pillow you want to cover and lay it over the towels. Your towels should be the right length with excess width. Cut the extra fabric off, making sure to leave about 1 inch for your seam, and glue three sides of your towels together, leaving one short side open. The two end corners will have a bit of extra fabric above the glue, which will leave your corners bunched up. If you cut the excess fabric off, your corners will be pointed, and since tea towels already have a hem, you won't need to worry about the edges of the opening looking unfinished. Flip it right side out, put in your pillow, and you're finished.
You can use matching tea towels for a more traditional look or mix them up to have different designs on each side. If your pillowcase ends up wrinkled, you can quickly iron it.
Turning tea towels into throw pillow covers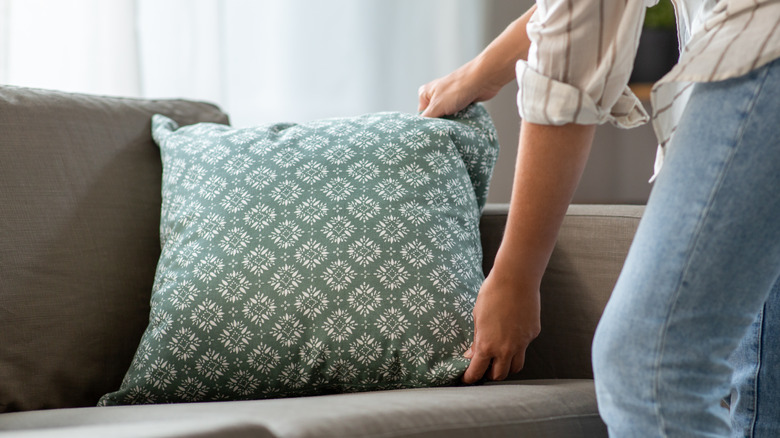 Dolgachov/Getty Images
To modify this hack for a throw pillow cover, you'll only need one tea towel. The towel will have extra room on the longer sides, so fold those two sides over to match the size of the pillow. Then, pin your towel to hold everything in place while you sew or glue. If you want to sew by hand, make sure to hide the knot on the end of your thread inside the fold and choose a thread color that matches your towel. While sewing by hand could make this a fun learning project, especially if you're teaching your child to be crafty, a machine will be faster and have straighter seams. Finally, fold the towel in half hamburger style and sew only two edges, leaving one open for your pillow. 
If you don't want the opening to gape after the pillow is inserted, you can add velcro to each side of the opening inside the pillowcase. Your new throw pillow covers can be decorated with buttons, twine, or cute string that can also be used to secure the opening.
Whether you have too many tea towels that you don't know what to do with or need a way to redecorate your living room or bedroom, this TikTok tea towel hack will help you create gorgeous pillowcases quickly and easily.