HGTV's Jonathan Scott Gets You Started With The Tools To Get Your Spring Cleaning Done Right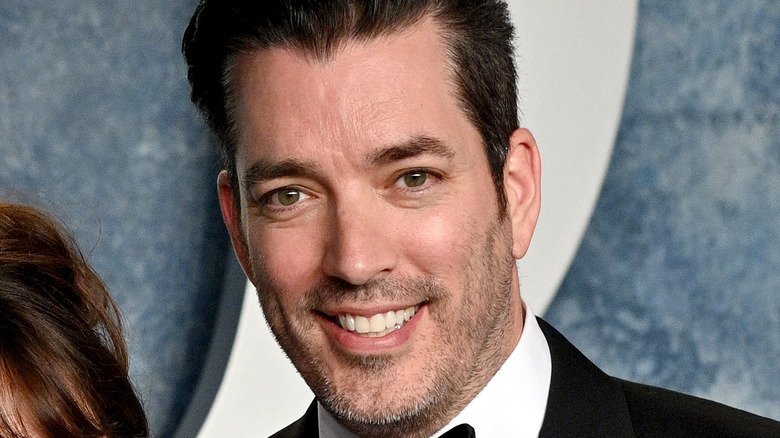 Lionel Hahn/Getty Images
Spring is in the air. But before you grab your sun hat and gardening gloves and start to get ready to tend to your outdoor plants and yard, you should probably take care of the inside of your home first. That's right; it's spring cleaning time. Luckily, the star of the hit HGTV show "Property Brothers," Jonathan Scott, is here to give you a breakdown of all the essential items you need to properly clean your home this spring. The list includes microfiber cloths, dusters, sponges, scrub brushes, brooms, vacuums, baskets, bins, and of course, some all-purpose cleaners.
When preparing yourself emotionally and mentally to take on the cascade of dust bunnies, dirt, grime, pet hair, and greasy fingerprints that have made their mark this winter, you can at least feel confident with the aid of advice from professionals. Let's take a look at how the right tools can be used to tackle this begrudging job in no time flat.
How these spring cleaning tools can be best used around the home
In a recent Instagram post, Jonathan Scott shared a helpful checklist of the supplies he thinks you need to properly clean your home this spring. First off, microfiber cloths and dusters can be just the thing to wipe away the dust that has collected on your ceiling fans, appliances, shelves, and ledges. Because of the super soft material, microfiber cloths are also best fitted for cleaning the screen of your television or other electronics as they won't scratch the sensitive surface. Next up, sponges and scrub brushes can be used to wipe down your kitchen and bathroom counters as well as scrub away all the grime from your sinks and toilets.
To tackle those dirty floors, make certain that you have a broom or vacuum cleaner handy. A large or small portable vacuum is almost essential if you have pets in the home, as it can easily remove dust and allergens from all of the nooks and crannies of your floors, bedding, chairs, and sofas. Scott also lists baskets and bins, which is a no-brainer to have on hand so you can quickly toss out used cleaning supplies or random junk found around the home. Finally, to clean and disinfect every room, have a reliable all-purpose cleaner to rid yourself of dirt and germs. This can be a natural blend of vinegar, lemon juice, and water or another store-bought cleaner of your choice.