A Home Depot Trend Expert Shares The Hottest Summer Outdoor Cooking Trends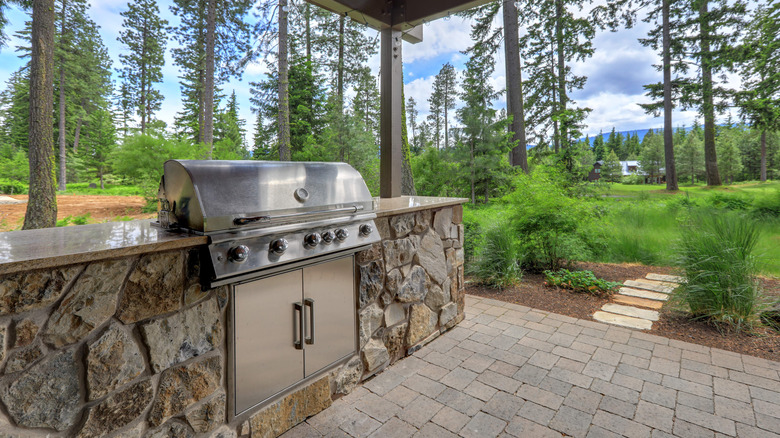 Artazum/Shutterstock
As summer approaches, people begin to prep their patios for cookouts and outdoor activities to take advantage of the warm weather. Every year homeowners experiment with fun trends to entertain guests and family, coming up with themed events or potluck-style dining to get everyone involved. If you've been looking for some inspiration on how to have the hottest patio parties, an expert has spilled the beans on how to make your backyard the place to be all season.
Sarah Fishburne, the director of trend and design at The Home Depot tells Better Homes and Gardens, "With more meals being prepared at home, grilling fans are looking to expand their outdoor cooking options to include a variety of backyard cookers such as griddles, pizza ovens, and even an outdoor air fryer." Themed evenings are also getting a boost, with cooking styles that cater to whatever motif is on the docket. While hotdogs and hamburgers on the grill will always be a staple, it's time to get creative with your outdoor extravaganzas this summer.
Expand your outdoor cooking options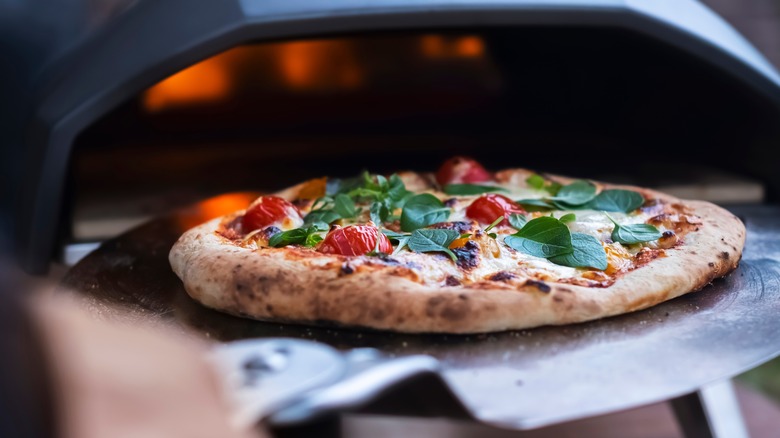 Mr. and mrs. Black/Shutterstock
Investing in a pizza oven lets you prepare a homemade pie whenever the craving comes, and these are great for "make your own" nights where everyone can design their food from the dough up. Air fryers are trending as they make it easy to prepare food quickly both inside and outdoors. This means there's more room for bigger meats on the grill while dishes like fish, shrimp, and even vegetables can heat up in this portable appliance.
If you're looking for another fun way to include everyone at your get-together, why not assign different cultures or cuisines to each group for the ultimate potluck? If your backyard does feature more than one cooking device, such as the pizza oven or air fryer, it provides ways to host unique and innovative gatherings. It can also allow you to explore more outside-the-box menus. Fishburne explains, "We're seeing homeowners looking to create experiences when they are hosting people and becoming more adventurous by incorporating dining themes like By the Sea grill parties, Hawaiian BBQ, and even Around the World grilling."
Upgrade your grill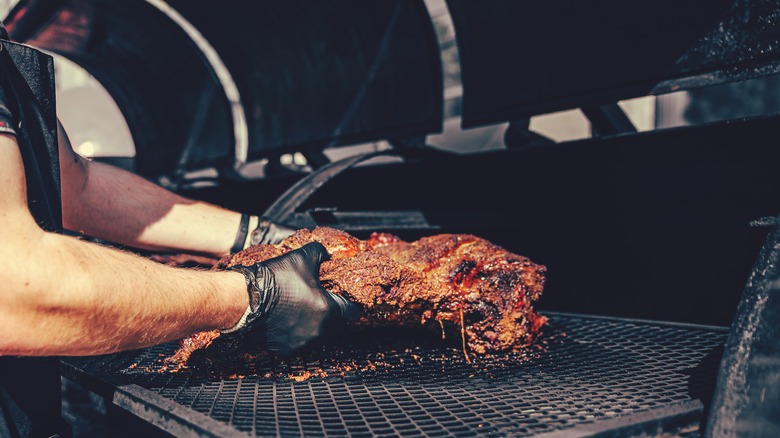 siamionau pavel/Shutterstock
Many people have begun hosting and cooking more over the last few years, finding new ways to entertain as they go. BBQs have always been commonplace when the weather warms up, but Fishburne says that people are channeling more inventive techniques to prepare and serve their dishes. Instead of a standard grill, you can cook up delicious eats on an outdoor griddle like a Blackstone. Don't wait until lunch or dinner to venture outside. Why not serve up a massive brunch complete with bacon, eggs, sausage, and even French toast?
Smokers are another great addition to your outdoor entertaining area, and leave foods tasting so good thanks to the process of slow cooking. BBQing doesn't just have to be about the basics. You can really lean into the theme and produce a full BBQ restaurant experience complete. Serve corn on the cob from the smoker, and of course, whip up chilled side dishes like potato salad and deviled eggs. You can also try smoking salmon for seafood-loving guests or serving smoked cheese for vegetarian friends.