Create The Illusion Of A Walk-In Pantry With This Clever Double Door Trick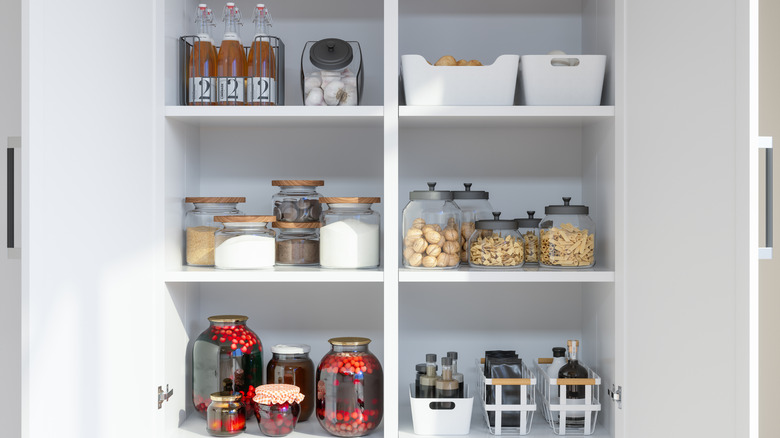 Onurdongel/Getty Images
We may receive a commission on purchases made from links.
When designing your kitchen pantry, a walk-in is typically the best option, as this choice will provide you with the most storage space. However, not every home can accommodate such a large area for storing food. Luckily, there's a way to create a similar look without taking up too much square footage. It's called a double pantry, given this name because it has double doors with built-in storage. This will create the illusion of a walk-in pantry when the doors are opened. 
To see if this feature will work in your space, you'll first need to ensure that the area in front of the pantry can accommodate swinging double doors. They cannot be bi-fold or sliding ones, as they need to be able to hold shelving, which will create two extra "walls" for storage. You'll also need to leave enough clearance inside the pantry for the extra shelving to fit when the doors are closed. Finally, when deciding where this feature should go, the best place is near the refrigerator, as this will make cooking and putting away groceries extremely simple.
Designing the ideal double pantry
There are countless features you could add to your double pantry to make it more customized to your needs. For instance, one common choice is to extend the counters from the kitchen into the pantry, creating an extra workspace for food preparation. If you want to maximize this space's usability, add a small sink as well. This area could also house appliances like a coffee maker or a mixer, so they can be out of sight when the doors are closed. To make your pantry blend into your kitchen, hide it in a wall of cabinetry for a custom, built-in appearance. 
Another great way to improve your double pantry is by installing lighting beneath each shelf, allowing you to easily see everything stored there. This is also the ideal place to choose an unexpected design element since the pantry is usually pretty small. For instance, you could install bold wallpaper behind the shelving or on the doors, which would make your kitchen really stand out. 
What you'll need to create this in your own home
To create a double pantry that looks like a walk-in, first, find the right double doors that open from the middle. These can be made out of any material you desire, from wood to metal, and the hardware can also make a massive difference in the overall appearance. However, the doors need to be solid, without any glass windows, to maximize the amount of the pantry's storage space on the inside. If your home doesn't have a pantry at all, you can purchase a freestanding cabinet with double doors at Home Depot. 
Then find the right shelving; most options at Amazon simply hang over the top of the door, such as the basic Lavish Home wire shelf. Another option is one with three hanging woven baskets, which is slightly more expensive but still relatively affordable. When it comes to choosing the proper lighting, focus on LEDs, as these will be the brightest and most useful. A pack of 10 motion sensor lights can also be purchased on Amazon at a low price.