The Hidden Pantry Trend You'll Be Seeing Everywhere In 2023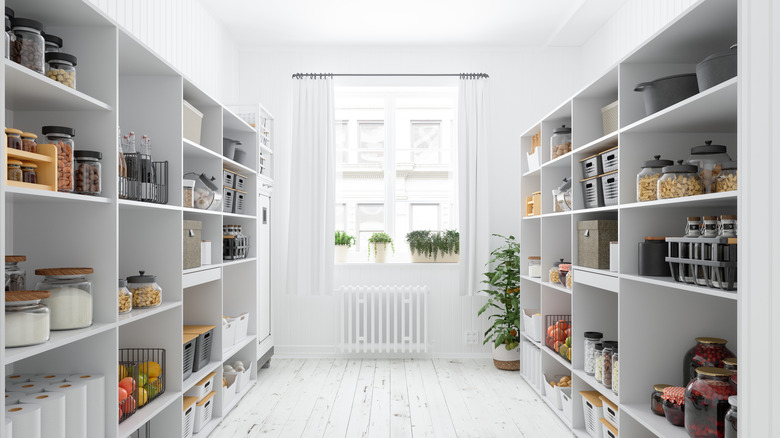 Onurdongel/Getty Images
Maximizing the space in a kitchen makes storing things more manageable and leaves you with a cleaner area. One of the places that get the most crammed is a pantry. Things can get buried under each other in a smaller space and go bad over time. However, having a hidden pantry lets you keep everything organized inside since it's a larger, more accessible room away from the main kitchen area. Hidden pantries are similar to Butler's pantries because they have extra countertops where you can prep food or store prepared food for events.
Also, hidden pantries can be completely unrecognizable, often concealed behind a sliding door that blends with the wall or matching cabinetry panel. So, you'll want to remember where you installed it so you don't knock on every wall. Or, you can get a couple of swinging doors that lead into them. You can customize them to match your kitchen's interior or make them completely different. Regardless, they're one trend that will blow up everywhere in 2023.
Benefits of hidden pantries
While hidden pantries allocate to give you more storage in the kitchen, they're also multi-functional. You can include cabinets and counter space to store unused kitchenware and have additional prepping space. Incorporating appliances, such as a mini fridge, sink, or dishwasher, will allow you to move items that don't fit in your regular fridge to the pantry. Moreover, you'll be able to have a place to store your dirty dishes throughout get-togethers so that you don't have a messy kitchen. You can wash the dishes in a secluded place once everyone is gone or leave them for the following day.
Utilizing a hidden pantry to store your food and other appliances can keep your main kitchen area clean and clutter-free. We mentioned how the extra space makes your food organized; you can use bins and labels to create a system that works to categorize everything together. In addition, you can add cabinets to store seasonal kitchenware and linens to keep them in pristine condition instead of holding them in the central kitchen or a box in the garage.
Types of hidden pantries
You can install hidden pantries almost anywhere inside or outside the kitchen. Design your hidden pantry to fit your needs and layout best, like access through a sliding panel in-between counters to break up a wall. If you're looking for a more traditional butler's pantry, they're often designed outside the kitchen that can lead to other entertainment areas. For example, they can have an entrance through the kitchen and stretch along a hallway that leads to the dining room. If you have the space, you could transform an open hallway into a hidden pantry by closing it off with a few walls and doors.
Instead of having the pantry lead into the dining room, turn a food pantry into a walk-in pantry. You'll create more depth and space to add more shelving units and countertops. You can design your hidden pantry however it fits with your area. For example, suppose you don't have an extra room. In that case, you can build a hidden pantry, transform a closet, or occupy a small space with a bar and customized cabinets to store anything other than food, like fine china dinnerware.
On the other hand, if you don't have the space or need additional storage, you can build a dry or wet bar and display your favorite wine bottles or spirits. Or, turn the area into a coffee bar with a coffee machine and choice of coffee to prevent exposing them on your kitchen counters.