Is It Safe To Install A Home Security System By Yourself?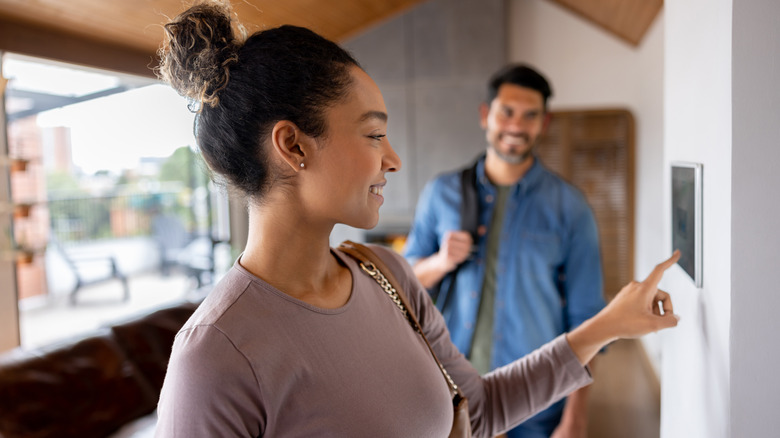 Andresr/Getty Images
Installing a home security system by yourself can be safe, depending on your level of expertise. With the necessary technical knowledge and experience, it can be done. However, it's best to consult with a professional to ensure proper setup and effectiveness if you aren't confident about any aspect of the process.
It also depends on the type of system you're installing and how much wiring or integration it needs. If you're dealing with a traditional provider that requires a technician to be consulted during the installation, then you won't have the option to DIY. Modern providers, on the other hand, are more likely to offer products for self-installation and have detailed instructions, making them safe to DIY. They also allow you to build your system over time instead of having to install everything at once, which spread the costs out and lets you go at your own pace in terms of installation labor.
When to DIY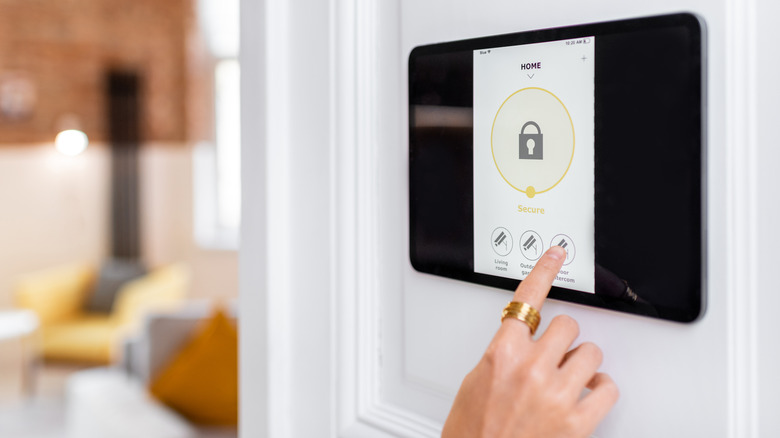 RossHelen/Shutterstock
As mentioned, modern security system companies are designed for easy installation. One example is SimpliSafe, a company with an easy self-installation process that allows 97% of its customers to do it themselves. Their system provides step-by-step guidance through an app and doesn't take a lot of time to set up. Frontpoint and Abode are some other brands that offer DIY installation. To avoid dealing with wiring and electrical connections, these modern systems may also offer plug-in or battery-powered options.
If you have a good understanding of technology and feel comfortable with tasks like mounting cameras, setting up sensors, configuring software, and connecting devices, it will be safe to install these systems yourself and save on the installation fee. DIY systems also save on monitoring and contract fees. Just note that a system without a monitoring plan means the alarm will notify only you, not any authorities or external help.
When to call a pro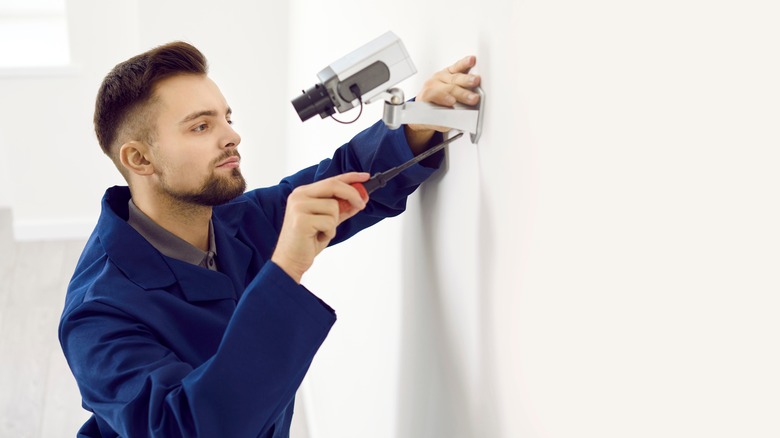 Studio Romantic/Shutterstock
If you lack technical knowledge or experience, aren't comfortable dealing with tech in general, or have a more complex system than usual, it's advisable to seek professional help. Some examples of complex systems are those that include panic buttons, fire or carbon monoxide monitoring, or pet motion sensors. If you're getting a security system that requires certain wiring or electrical work that you aren't used to, that's another reason to hire a professional electrician or security system technician.
Note that improper installation can compromise the effectiveness of your security system. For example, poorly positioned cameras or improperly calibrated sensors may not work as they should. Consult a professional when in doubt to ensure optimal performance. Another thing to note when installing a security system yourself is that you may miss out on professional support and warranty coverage. Professional installers often provide ongoing assistance, troubleshooting, and maintenance services, so doing it yourself might mean having to deal with any issues that may arise after installation.