The Sneaky Way HGTV's Wendell Holland Hides Kitchen Spices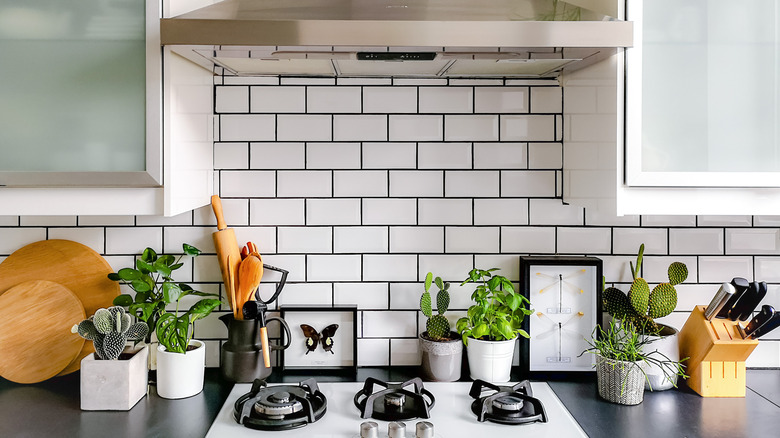 Luoxi/Shutterstock
Living in a small home can have its perks, except when you need more storage. The rooms are often half the size of a larger home, but you can make the most of your space with a few storage hacks. For example, HGTV's "Hot Mess House" host Wendell Holland knows the best place to keep spices out of sight in the kitchen without occupying any space in the drawers or cabinets. His secret is keeping them in the tile backsplash tucked behind a retractable mini "wall" door. You might be thinking about how it's possible to make a storage space in your wall, but Holland, his co-star Cassandra Aarssen, and their crafting crew found a way.
There isn't a right or wrong way to arrange your belongings — everyone has a style that works for them. HGTV's "Hot Mess House" focuses on transforming cluttered homes into new, clean spaces. "My job is to find the method in my clients' madness," Aarssen said. "Once we find their organizing style, we can set up a space that works for them." If you need help organizing your home, Holland and Aarssen have some tricks up their sleeves. While they work with families to improve their home's organizational structure, you can apply what they do to items in your home, like hidden kitchen spices.
Incorporate hidden spices behind the backsplash
When you're cooking throughout the week, things can get messy. For example, you might leave the dishes in the dishwasher for a few days, or your pantry might need to be more organized, so you'll have to dedicate a morning or afternoon to cleaning up. However, creating a specific area for your groceries — especially spices — can reduce the clean-up time. Since spices are used frequently while cooking in the kitchen, you want them to be easily accessible where they won't take up too much space. Most folks keep their spices in a cabinet, but the downside is that they get lost behind other condiments. Perhaps you dedicate a drawer to your spices, leaving you with one less drawer for other kitchen necessities.
Instead of taking up room in cabinets and drawers, HGTV's Wendell Holland opted for a sneaky spice cabinet behind the tile backsplash in the kitchen of a "Hot Mess House" episode. HGTV gave a sneak peek of the secret spices in a TikTok video. A small door can be pushed open, leading to two shelves stocked with multiple labeled spices. It's next to the stove, making it the perfect place to reach for them while cooking. You can use one and pop it back on the shelf instead of carrying it over from a cabinet across the kitchen.
Keep your spices to a minimum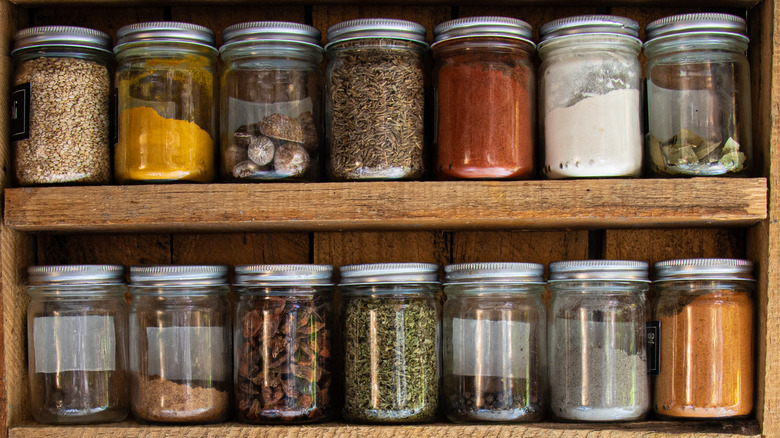 Luis Raul Torres/Shutterstock
If you're not looking to remodel your backsplash or install a miniature cabinet in one of your walls, you can always rearrange the spice cabinet. The key to maintaining an ordered spice cabinet is by having a minimal amount of spices. Unless you enjoy cooking various types of food, you only need about 10 different spices in your cupboard. Zest Kitchen lists the top 10 spices it considers essential in the kitchen. A couple more spices are fine, but you want to have less than 20 because it can cause chaos in your cabinet.
When you're thinking about where to situate all of your spices, consider how close you want them to be to the stove or your prep area — it'll make it easier to grab the one you need and put it back. Otherwise, if you're organizing your spice cabinet, there are different organizers you can use to keep them together. For example, a tiered rack has multiple shelves you can place your spices. You can take out the rack instead of rummaging through the cabinet.
Alternatively, you can turn a thin corner cabinet into a pull-out spice rack to hold all the spices you want. Sometimes, they're located next to the stove — they roll out of the cabinet and display all your spices. Additionally, a handful of spice bottles can make your storage space manageable.