The Easiest Way To Waterproof Your Shower Window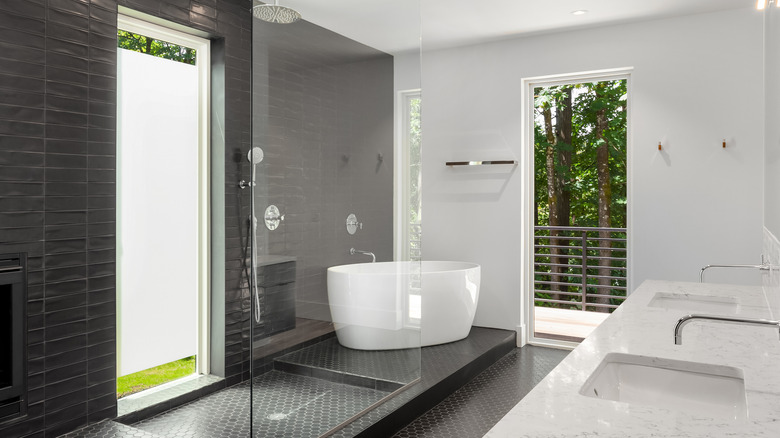 Breadmakers/Shutterstock
Shower windows funnel natural light and aesthetic beauty into our bathrooms, but they may unwittingly serve as a hotspot for mold. Maintaining a window requires regular attention, particularly for moisture-prone shower windows. But don't panic just yet: with careful intervention, you can seal off potential leaks and protect your bathroom against future water damage issues.
Several simple bathroom window treatments will waterproof your shower window without requiring significant time, expense, or skill. In addition, each option offers practical solutions to this common household challenge, from traditional shower curtains to simple waterproof window film solutions.
Envision the shower curtain as an unsung hero in the waterproofing battle, serving as an effective barrier against unwanted droplets of moisture. Next comes silicone caulk: an essential DIY toolkit staple providing watertight sealing properties. Waterproof blinds give both functionality and aesthetics while offering robust defenses against water. Lastly, waterproof window film adheres directly to glass windows, providing additional protection and privacy. Explore this guide and uncover an easy solution tailored to your shower window situation.
Shower curtains and silicone caulking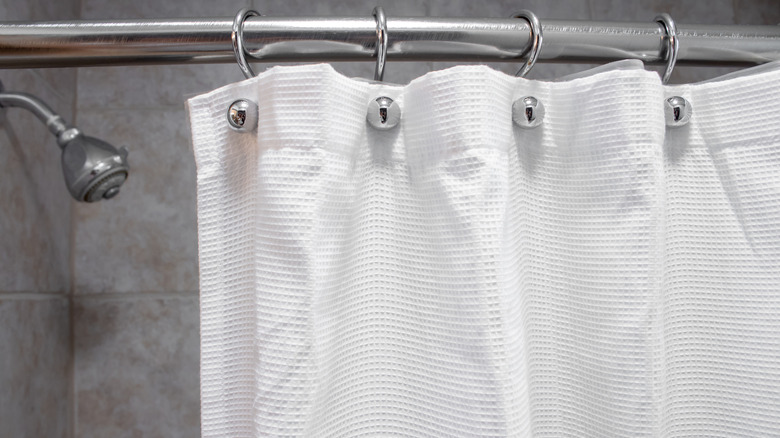 Ana Anderson/Shutterstock
Waterproofing solutions come in all forms; sometimes, the easiest solutions prove the most successful. Two simple yet effective waterproofing techniques are shower curtains and silicone caulking.
The shower curtain is often viewed as nothing more than a decorative element, however, its role in waterproofing is much more significant. A strategically positioned waterproof shower curtain can act as an effective shield to your window and requires minimal effort while creating adequate protection from moisture. Installation typically requires securing the curtain rod above your window and then using a curtain to cover the entire window area when the shower is in use.
Silicone caulking provides another simple but more long-term solution. Renowned for its durability and water resistance, silicone caulk is well suited to sealing gaps where windows meet walls. Start the process by clearing away old caulk or debris. After drying completely, create a clear path by masking off the designated area with painter's tape. Next, use your caulking gun to apply an even bead of silicone caulk around each edge of the window frame before smoothing with damp fingers. Peel the tape away and leave it to cure for 24 hours. The end result is perfectly sealed windows!
Waterproof blinds and window film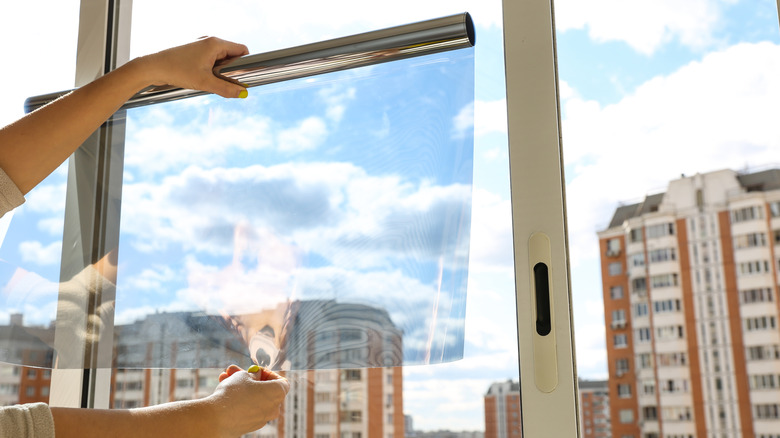 Petr Smagin/Shutterstock
Two additional options combine functionality and aesthetics — waterproof blinds and window film. Both are solutions that offer distinct benefits tailored to solve the moisture problem in your shower window.
Waterproof blinds add a classy and functional element to bathroom décor while effectively defending against moisture. These blinds are constructed from materials like PVC or vinyl that resist moisture build-up in bathrooms. Waterproof blinds are easy to install inside window recesses, ensuring an effective barrier between the window and shower spray. They also feature adjustable privacy levels and light control features!
Window film provides another intriguing solution. The benefits of window film include the ease of installation (it adheres directly to window glass), the moisture protection it offers, and privacy. Available designs include clear or frosted films to meet individual aesthetic preferences; installation typically requires precision using tools such as a utility knife, a flat edge, and a spray bottle filled with soapy water. Once the film is measured and cut to size, carefully apply it to the window pane. Then, utilize a utility knife for precise cutting and a flat edge for application. Finally, carefully smooth out any bubbles that form during the application process for a flawless finish.