What Is A Drink Table And Is It Worth Adding To Your Living Room?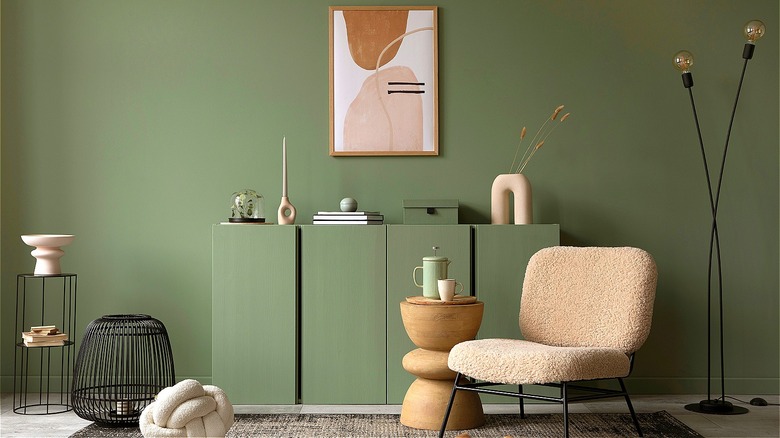 Followtheflow/Shutterstock
A drink table, also known as a martini table, is just as it sounds. It's a small, low-to-the-ground table used for the sole purpose of holding one to two beverages, snacks, other small items, or even houseplants. It's typically placed next to seating areas, like sofas, love seats, chairs, and recliners in a living room, but you can also find them next to beds, even the bathtub. Because of their versatile nature, these miniature pedestals (usually no more than 15 inches in diameter) are a nice middle way between a coffee table and the normal, sometimes heavier-duty end table.
They're simple and easy to store, and the best part is that there's a drink table for almost every discerning taste out there. They can be made of wood, metal, glass, or a combination of materials, giving you plenty of options. When it comes to how they look, drink tables can go from simple and subtle to fancy and ornate. It all depends on what you personally like and the overall atmosphere you want to create in the room.
Besides holding your morning brew or late-night apéritif (or bowl of popcorn), drink tables are also meant to act as a statement or focal piece, adding a bit of personality to your living room or other communal space. Because of their diminutive stature, they can also make use of spaces that wouldn't normally accommodate a coffee table.
Choosing your new beverage buddy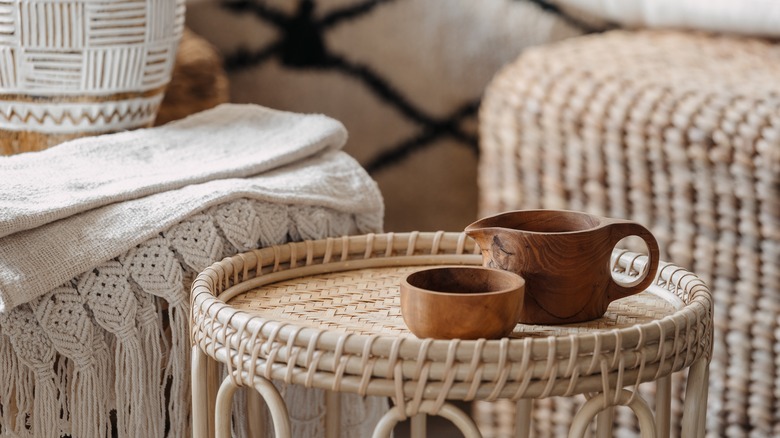 brizmaker/Shutterstock
Unlike coffee tables, drink tables should sit flush or a little below the arm of the seat it's bunking up next to. This ensures a good flow, and that you won't accidentally knock something over. To determine the correct-sized table, measure the height of your living room sofa or chair arm. The standard couch arm will run between 24 and 32 inches, so having your table somewhere in between is a good start.
When it comes to drink-table shapes, you can choose what you prefer. That being said, round tops are ideal for smaller spaces, so if you have a bijou living room, you might want to go this route. The curve of a round table also naturally draws the eye in. Square tables tend to offer more surface area and work well as display tables. Any piece of cornered furniture has the potential to accidentally cause minor bodily injury, however, so if you or someone you know tends to be accident-prone, tuck a square table out of the way (or avoid purchasing this shape altogether).
If the room in question has a lot of heavy furniture or items that are blocky in nature, opt for a more organic-looking table. This will bring a bit of life into the room and, depending on how radical it is, could very well become a topic of conversation. Always choose a table that will bring contrast to your dwelling, which will bring more life and energy into your space.
Don't limit drink tables to just drinks (or food)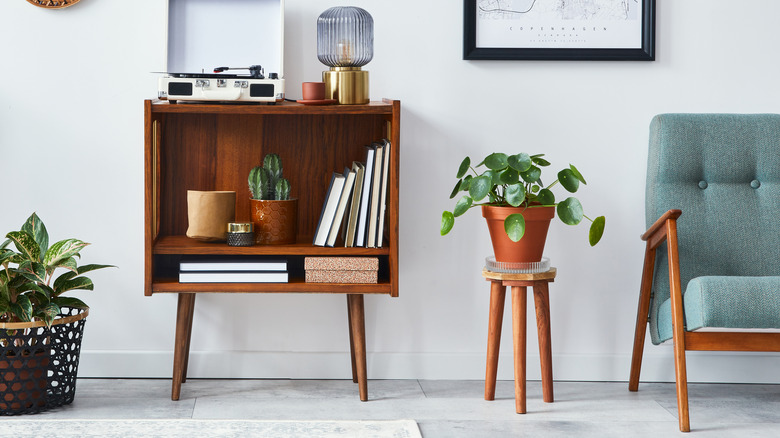 Followtheflow/Shutterstock
When decorating, don't limit your drink table to just being a glorified food-and-drink support system. These mini tables do well for hosting artwork and other decorative items, too, like small floral arrangements, sculptures, crystals, or candles. For example, you could create a book nook in your living room by utilizing your drink table as a mini vertical bookshelf. While you don't want to overdo it (keeping in mind the "Rule of Three"), having one or three of your current reads nearby can serve as a reminder to engage in a little literary self-care.
If you're a plant parent and are jonesing to show off your newest foliage family member, turn your tiny drink table into a plant display stand. Organic items like plants can add a bit of tropicalcore flair, infuse life into your space, and depending on the plant, can actually help purify the air. Another way to repurpose drink tables? They can also be converted into impromptu workstations, acting as a compact productivity hub for notebooks, your laptop, or a tablet.