The Viral TikTok That Shows How To Reglaze Your Bathtub In Any Color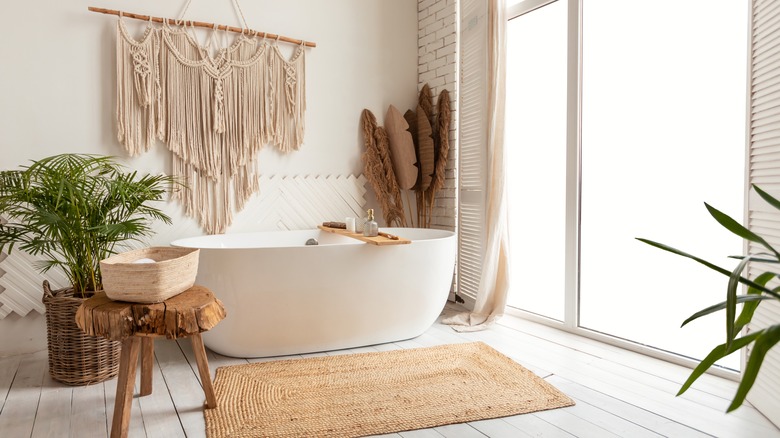 Prostock-studio/Shutterstock
When your tub is looking run-down, your first thought might be to rip it out and install a new one. Yet, buying a new tub can cost you around $5,000 on average, depending on the tub you're purchasing and the labor to install it. As an alternative to replacing a dingy tub completely, you may opt for a facelift by refinishing and reglazing it. The exciting part of reglazing a tub is you can do it in any color. TikToker @danidazey showed us how her 1959 desert bathtub was transformed after she reglazed it with an orange color.
Whether your tub has been in your home for decades and needs a new look or you want to add a fun pop of color to your bathroom, reglazing is an excellent way to make it brand new. Note this isn't a simple DIY project, however; and @danidazey does recommend hiring a professional since it's a more complicated project that can turn out poorly if not executed correctly.
How to reglaze your bathtub
Though @danidazey recommends hiring a professional, if you're interested in tackling reglazing your bathtub a new color yourself, she goes through the process step by step. You'll need masking paper, hydrofluoric acid, primer, and, of course, your color of choice. Like any other home renovation, it's essential to prep your area before starting — tape masking paper along the walls and floor to prevent glazing those spaces. Depending on the state of your tub, you'll want to give it a good clean and repair any damages.
Once your tub is prepped, apply the acid to every inch of the tub with a sponge and scrub the surfaces. The acid will act as sandpaper and roughen up the inside and walls so that the primer and paint adhere to the tub. Then, it's time to apply your primer. You can use a spray gun or handroll the primer on. Finally, apply your choice of color on top of the primer to reglaze the tub and allow it to dry completely before removing all the masking paper and tape.
The cost to reglaze a tub
As aforementioned, replacing your tub can cost thousands of dollars, with the average falling around $5,000. Though the cost will vary, depending on a number of factors like material, overall, it's much more expensive than reglazing your tub. However, purchasing a new tub might be your only option if your tub is damaged and can't be fixed. Otherwise, reglazing your bathtub a new color can transform the appeal of your tub and your bathroom for about one-fifth the price.
To reglaze your tub, it'll cost between $200 and $1,000, with the average price being just under $500. TikToker @danidazey replied to one of her followers' comments that her project cost $450 — the labor cost $400 and the paint cost $50. Moreover, the project is often done in a day, so you don't have to worry about waiting for a new tub to be delivered and installed weeks after purchasing it.
If you decide to DIY the project, you'll save even more money since you'd only have to buy the prep supplies, primer, and glaze, so you could land in the $200 range.