The Decor Item Guests Can't Help But Notice On A Home Tour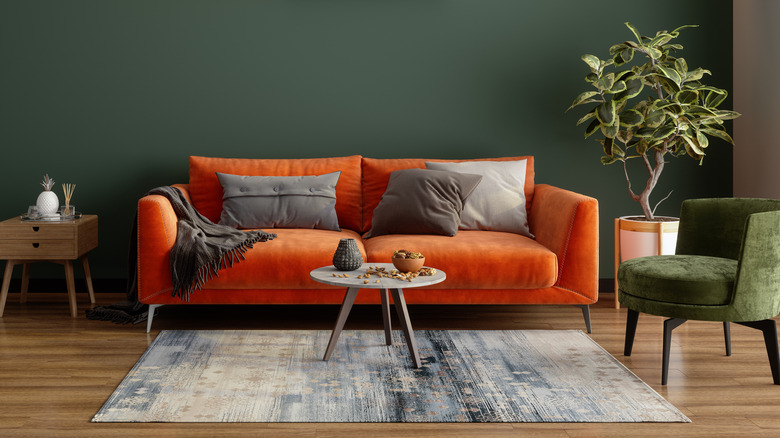 Onurdongel/Getty Images
Even the most observant guest probably isn't inspecting your every decoration and furniture choice. However, there is one item that your guests will probably take notice of, and it's often the largest item in the room — your area rug. Unfortunately, this is especially true if your rug is the wrong size, color, or shape, as it can make the entire living room design feel like something's off, even if your visitors can't actually name what it is.
According to interior designer Lisa Gilmore, a rug that's too tiny is one of the first things she notices in her friend's homes. "People are often afraid to go large with their rug, worried it will swallow a room. Actually, it is quite the opposite," Gilmore says. "A large rug grounds your space and helps everything feel connected," (via MyDomaine). When choosing the right size rug, ensure that at least all the front legs of your furniture can fit on top of the surface. If you need to see how the piece will look in the room before purchasing, lay down painter's tape in the same dimensions. 
A rug's position is also key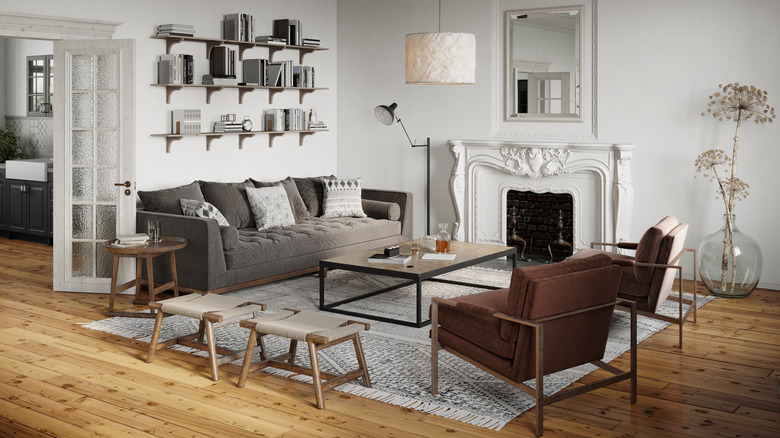 Alvarez/Getty Images
Not only is the size important, but the position is crucial as well. If your rug isn't perfectly placed in the space, it could draw attention in a negative way. For starters, while some rooms may need the piece centered around the four walls, others may look best with it centered to an architectural detail like a fireplace or windows. Further, if you have an open floor plan, rugs can help define a certain area of the room.
The rug also needs to feel like it's anchoring pieces of furniture that would otherwise serve no particular purpose. Therefore, instead of having every piece on one side of the rug, all the furniture should look evenly balanced. Additionally, it isn't advisable to place an area rug in a room that doesn't have enough furniture, as its purpose is to ground the other pieces. If it sits by itself, it may draw unwanted attention from guests.
Taking advantage of your guest's attention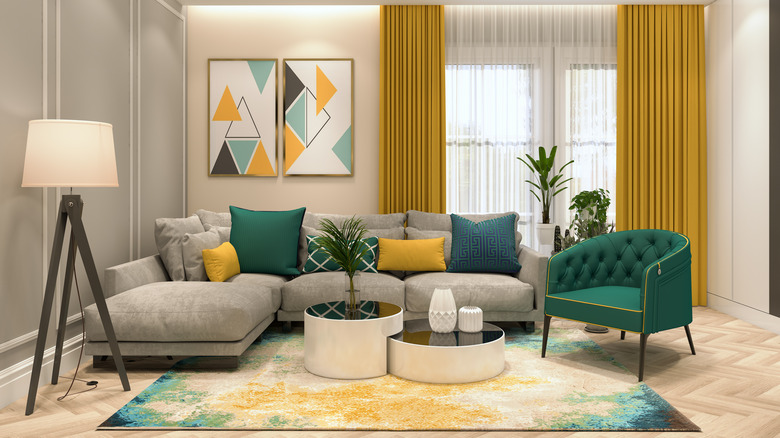 Vlajs/Getty Images
While you don't want your rug to draw negative attention because it's too small or positioned incorrectly, it may be beneficial for it to be eye-catching in a positive way, as it could make your design really stand out. One way to grab your guest's attention is by choosing an extra oversized rug. Even if your guests can't actually name what it is they like about the room, they'll most likely get an overall sense that it's well-designed and perhaps even luxurious.
You could also do something unexpected but tasteful, like position your rug at an angle that faces towards an architectural piece. For instance, maybe you have a corner fireplace that you could place a rug in front of diagonally. Colors and patterns can also be used to your advantage — while the piece should match the rest of the furniture and décor in the room, it could also stand out. Stripes can be especially beneficial, as horizontal ones may make your room feel larger. Finally, to create a cozy atmosphere, try layering multiple rugs, which will add extra textures and colors as well.