The Beloved Luxury Hot Tub That Is Surprisingly Eco-Friendly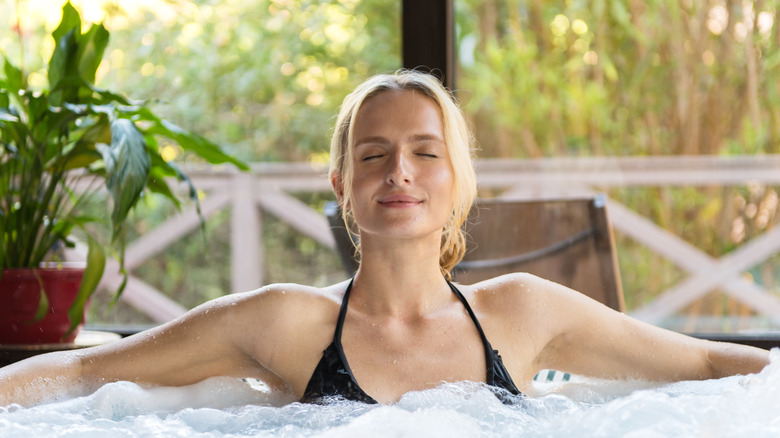 Yoh4nn/Getty Images
A basic entry-level hot tub will likely cost at least $3,000, although most models cost between $5,000 and $20,000. When buying a hot tub, you also have to factor in electricity or gas, plumbing, and maintenance, and at the end of the day, the best-maintained hot tubs can still look a little ugly.
Despite their high price tags and hefty maintenance costs, hot tubs are, at their core, relatively simple machines. You don't always need fancy plumbing and an uptick in energy consumption to enjoy a soothing experience. Emily Henderson, star of HGTV's "Secrets from a Stylist" and "HGTV Design Star," shared an Instagram post showing off her contributing designer Emily Bowser's new wood-fired hot tub from Goodland. The best part is this no-frills hot tub is gorgeous — no clunky plastic knobs in sight! However, it's also worth noting that it doesn't require harsh chemicals and is made entirely of recyclable materials, making it an eco-friendly option for a luxurious soak.
Luckily, Henderson doesn't just leave us with a glamorous and shiny hot tub photo promotion; she also gives a platform for Bowser to dive into a more detailed review on her blog. Learn more about the supplies she used, the cost breakdown, some potential pros and cons of the wood-fired hot tub, and what people have to say about this creative and relaxing home amenity. 
Hot tub setup and surroundings
Bowser was very transparent in the post shared on Style by Emily Henderson. "Doing these reveals is so fun and we get some real perks that I am so thankful for, but it isn't cheap and takes up a lot of time as well," the writer explained. "Luckily, Goodland has been very gracious with us because this has been the longest turnaround of any shoot of mine ever." On Bowser's Instagram, she writes that the project took about eight months to complete, a timeline that likely would have been shorter had the family not experienced an "overwhelming year."
The wood-fired hot tub is beautiful on its own, but Bowser's unique setup is truly a backyard oasis with blossoming orange trees hanging overhead and a small planter garden flanking the area. In her cost breakdown, she lists a concrete slab foundation, wooden privacy fence, and other materials and services needed to create the perfect hot tub space in a shady corner of her backyard. The total cost of the renovations came to $4,705. 
When it finally came time to install the tub, Bowser explained (via Style by Emily Henderson), "You could probably figure it out without instruction – it's that intuitive, maybe takes 15 minutes, and doesn't require a professional as no plumbing or electricity is needed." Goodland's website shows that the $6,295 hot tub fills 24 inches deep, accommodates up to four people, and can use freshwater or saltwater.
Addressing some common concerns
We must admit the Instagram post is pretty picturesque, but is the hot tub practical behind all that woodsmoke and mirrors? Some commenters voiced their concerns under Henderson's post. "Ugh. More pollution in the air. No thank you! Hate wood-burning anything, especially when the West Coast burns all summer long," one commenter wrote. Another seemed drawn to the nostalgia of this all-natural heating method, writing, "Growing up in Alaska, we had wood-burning hot tubs, even rentals. Didn't know they still existed."
Others had concerns about the safety and sanitation of the hot tub. "It's pretty, but what about all that standing water and mosquitos," asked one Instagram user. "Is there a cover?" After being tagged by Henderson, Emily Bowser replied, "There is a cover. I think if we are using it often enough, mosquitos wouldn't have a chance." She then tagged Goodland to chime in, and they confirmed, "Yes, they aren't much of an issue with our experience. You can add a little Epsom [salt] in the water if your geographical area is really bad." 
For the most part, people who saw the post seemed to love the idea and were wowed by Bowser's photograph with the wood privacy fence and fruiting orange tree. "Super helpful post! [I] was so curious about these and appreciate the transparency. Excited to look into one for us," one enthusiastic user said.