18 Ideas For Bathroom Flooring That You Probably Haven't Seen Before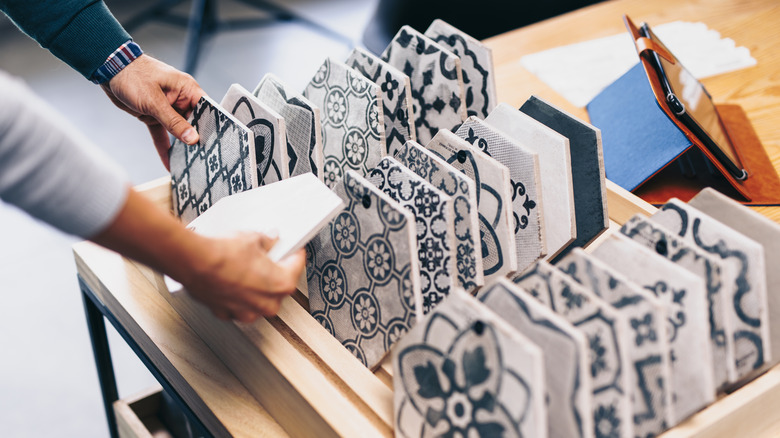 hedgehog94/Shutterstock
When perusing bathroom flooring options, you've of course come across one common material again and again: ceramic tile. This is an extremely popular choice for a number of reasons, including that it looks timeless, has a waterproof finish, and is quite durable. Another typical choice is vinyl, which can look like wood but has a waterproof finish, usually in either a brown or gray tone. While these are both practical options that would undoubtedly look fine, maybe you want your bathroom flooring to stand out instead.
If you prefer to make a statement with your bathroom flooring, there are a couple ways to make this happen. You could use an interesting tile, either with a pattern or an unexpected color, or another option is to decide upon a unique material that really draws attention. Below, we've got all the inspiration you need with 18 unique bathroom floors that will seamlessly improve the aesthetics of your space.
1. Eclectic tiles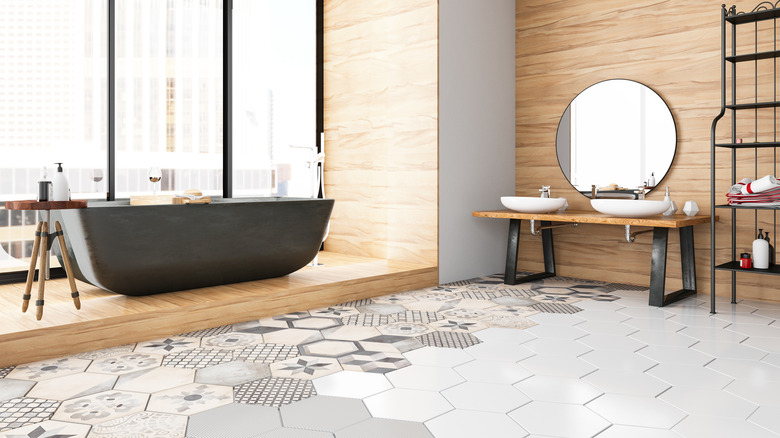 Asbe/Getty Images
To give a basic bathroom more interest, add eclectic tiles to one area of the floor. As shown above, these don't need to cover the entire surface, but could instead be isolated to one section, such as along the edges of a bathtub platform. To make the space look cohesive, keep all the tiles the same shape and size. This will give them a uniform look even though the patterns and colors are different.
2. Patterned tiles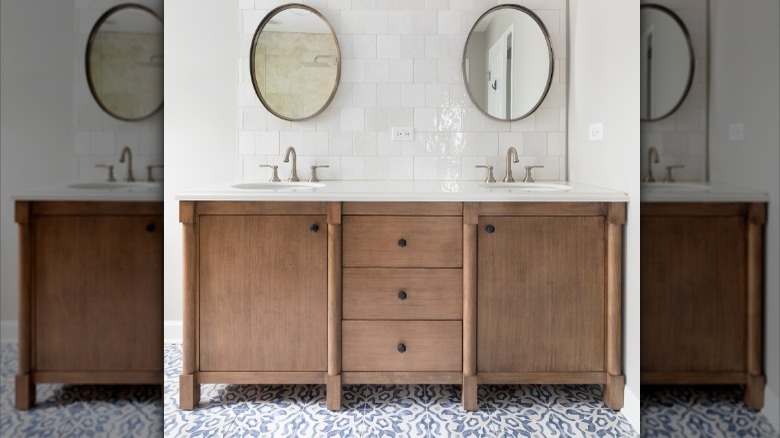 Hendrickson Photography/Shutterstock
If you want your whole floor to have the same look, cover it all with patterned tiles. Like the tile shown above, yours could have a lovely star pattern that gives it a more traditional feel but still looks beautiful. To make your floor really stand out, choose solid and neutral colors for the rest of the space, like white tiles on the wall or stained wood cabinets on the vanity. 
3. Wooden planks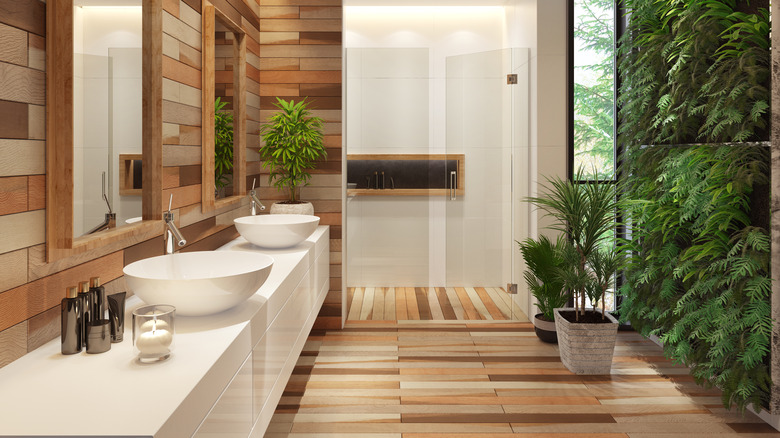 Tulcarion/Getty Images
While uncommon in the bathroom, wooden planks could be used on the floor, as long as they're sealed properly. Other alternatives that will provide you with a similar look include waterproof vinyl or laminate. For a multi-colored and eclectic appearance, mix and match the wood stains of your planks, and install them in a random pattern that isn't perfectly arranged.
4. Dark and diagonal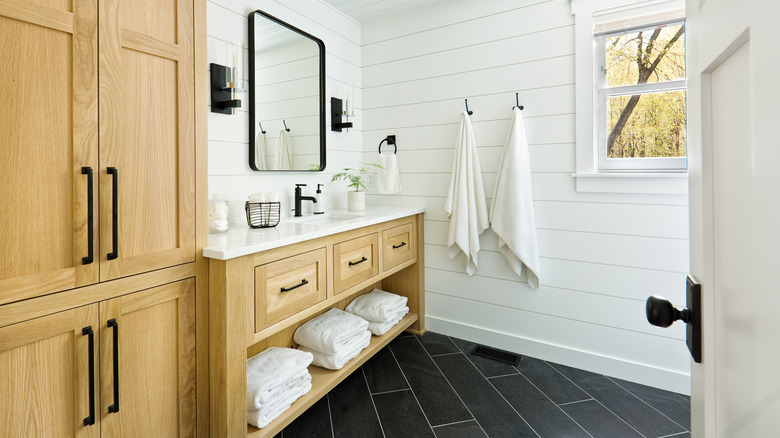 Yinyang/Getty Images
While long floor tiles are typically installed straight across the floor, this can make your space look a bit dull. To give it a unique look, try starting from the corner and installing the tiles diagonally. Another way to make your floor unique is by choosing a dark color like black to increase contrast, especially if the rest of the space is mostly white and light wood. 
5. Mixed tiles
Imaginima/Getty Images
Mixing tiles of different sizes will give your space a one-of-a-kind feel. This bathroom floor has larger tiles along the edges and tiny tiles down the middle. Add the more interesting tile leading towards the most beautiful area in the bathroom, like the bathtub cove with the arched window in the room above, as this will draw the eye towards that space.
6. Black border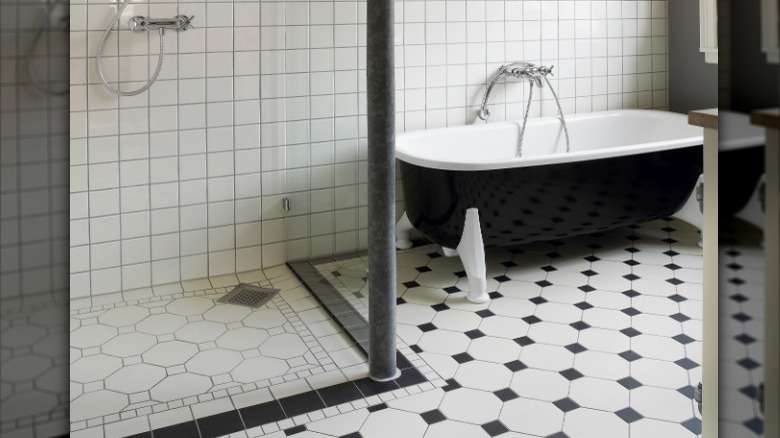 Kristianseptimiuskrogh/Getty Images
To give your flooring an extra edge, border it in dark colored tiles like the solid black ones above. Not only will this help differentiate between the shower and the floor, but it could also make your bathroom appear more traditional. This looks best when the rest of the tiles in the space feature the same dark color, like pairing a black border with white and black tiles.
7. Marble slabs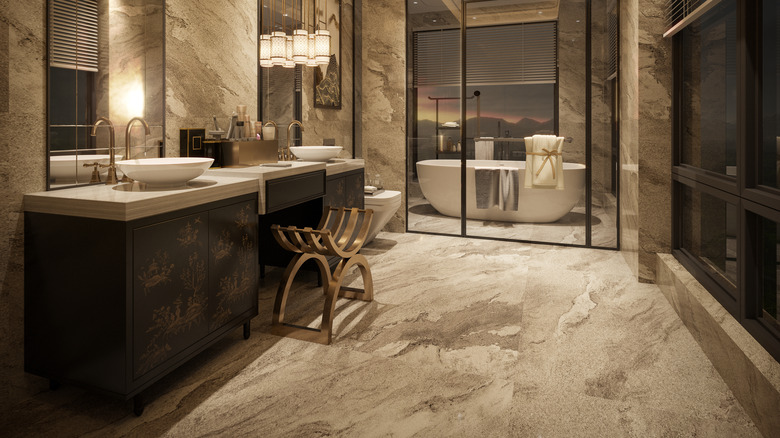 Bulgac/Getty Images
Covering your bathroom floor with huge marble slabs is sure to make it appear luxurious, especially if they have organic veining. To make the design feel even more expensive, carry the material up the walls as well. While marble is typically white or gray, choosing a warmer tone like beige will make the bathroom feel cozy, even though all the surfaces are made out of hard stone.
8. Geometric design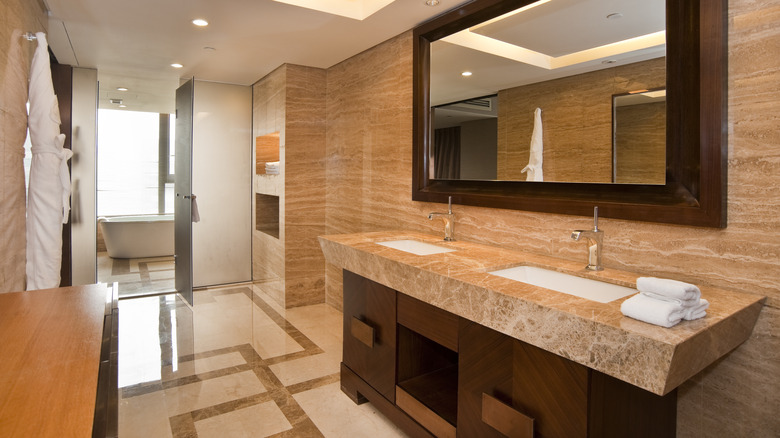 Mayina/Getty Images
If you want your floor to look like no other floor you've ever seen, add a unique, geometric pattern that zig-zags from one end of the room to the other. This causes the eye to continue down the length of the space, which could make your bathroom look longer. To make the geometric pattern stand out, decide upon either a lighter or a darker tone than the rest of the floor. 
9. Dramatic marble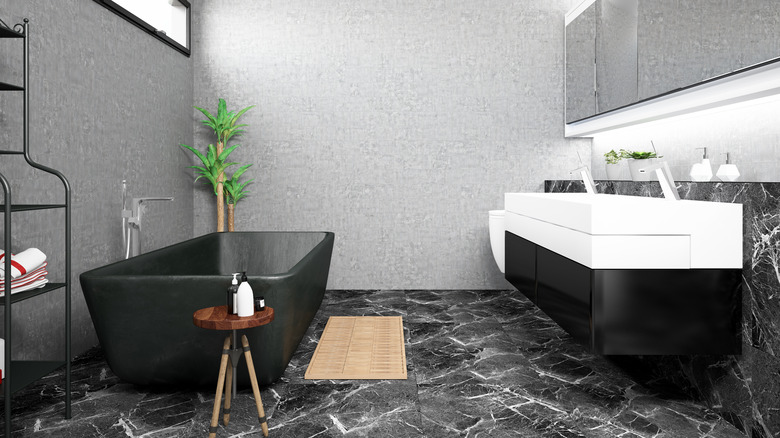 Asbe/Getty Images
The contrast of black with white in a marble design will always provide a dramatic appearance, as it does in the bathroom seen here. Choosing black grout will also make the tiles appear like they're all one piece, which makes the space feel extra expensive. When doing this, adding black accents on the vanity or the bathtub creates a more cohesive design.
10. Bright blue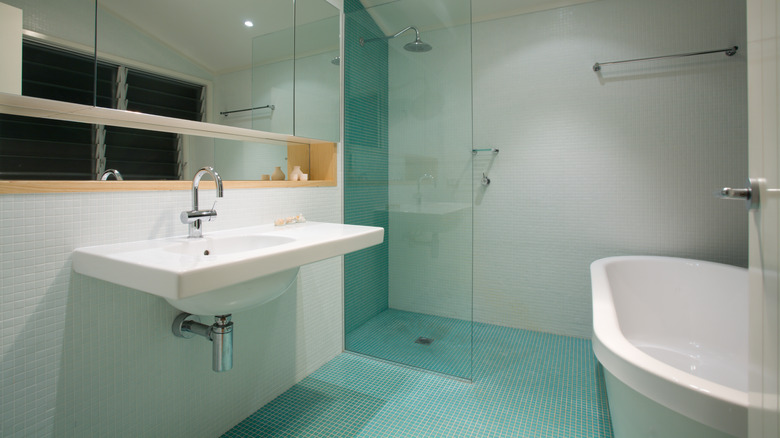 Turnervisual/Getty Images
If you choose a small tile, keeping all of them the same color will make the floor look like one solid surface. Bright blue tiles may be an unusual choice, but they can really liven up a bathroom, especially if the rest of the features are white. Another way to make your floor stand out is by continuing the tile into the shower and up one of the walls. 
11. Wooden bathtub platform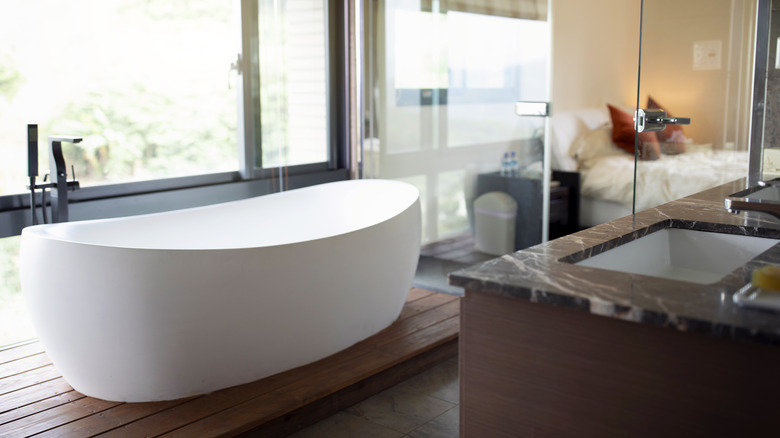 Srdjanpav/Getty Images
To draw attention to a beautiful bathtub, which is often the star of the design, place it on a wooden platform and use a different material for the rest of your floor. If you want to add warmth and richness, consider cherry wood. This type looks especially grand when paired with a pure white tub or a white and black marble countertop on a vanity. 
12. Gray pebbles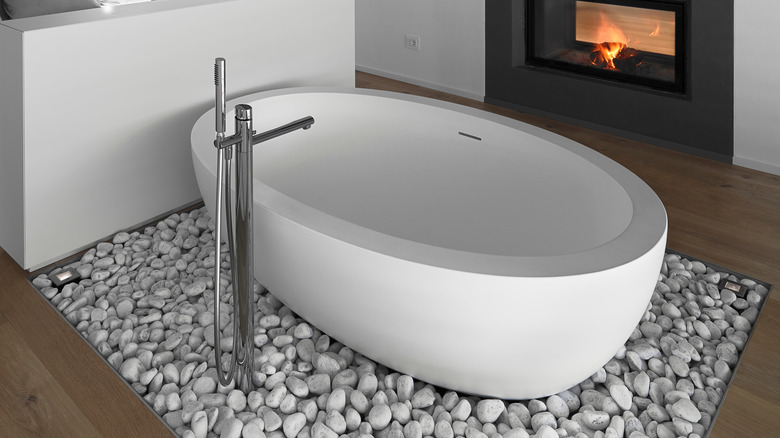 adpePhoto/Shutterstock
While some cover their entire floor in pebble tiles, this space has a gray pebble garden for the bathtub that's surrounded by wooden planks. Can you pair the look with a fireplace? Even better. This will give your bathroom a luxe, vacation-like appearance, as the combo of rocks and fire will make it feel inspired by nature.
13. Tile and stone walkway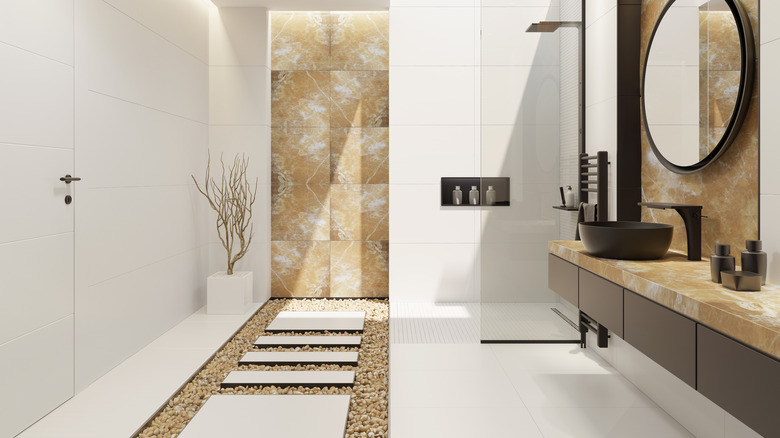 Tulcarion/Getty Images
Here's another example of how you could use pebbles to create an interesting feature in your bathroom. These line the sides of a tile walkway that extends down the length of the space. Because they're beige, they also work to bring in more warmth and color. A great tip here is to use the same color of the pebbles in other areas of the design, like the vanity and decorative wall in the space above. 
14. Green marble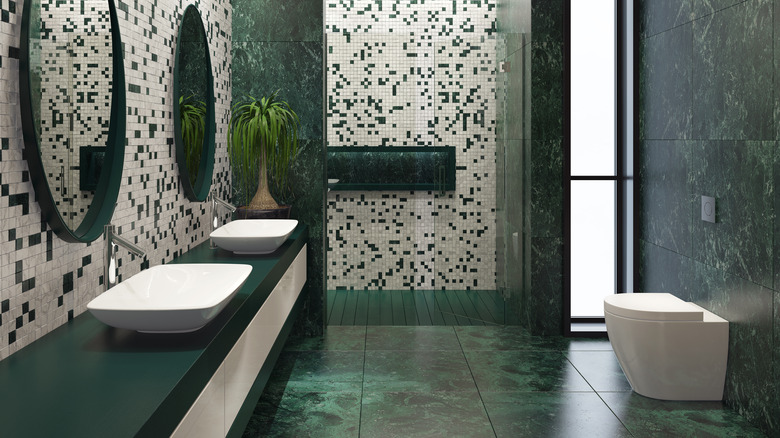 Tulcarion/Getty Images
While there are plenty of marble colors to choose from, perhaps the boldest choice is emerald green. Because marble has so much movement, placing the right tiles next to one another so that the flowing veins look cohesive is best. Choose large tiles and use a dark color for the grout so that blends into the design.
15. Sunshine yellow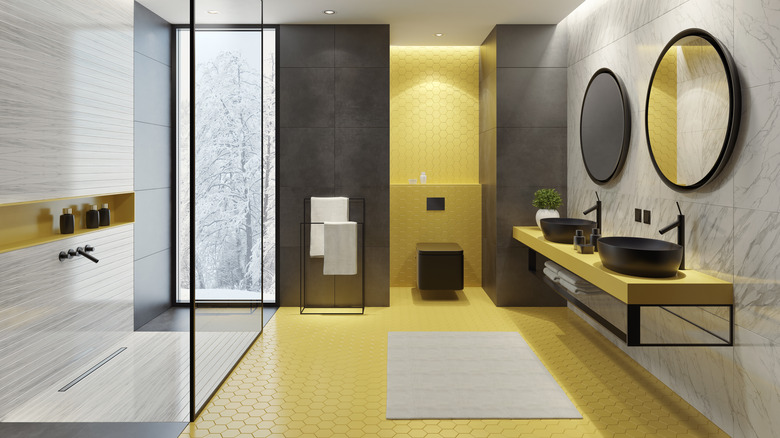 Tulcarion/Getty Images
If your room is looking a bit too neutral, try including sunshine yellow tiles on the floor. To make them appear cohesive in the space, also include other yellow elements, as these homeowners did with their unique vanity, wall panel, and shower niche. Smaller tiles with an interesting shape, such as the honeycomb pattern above, can add more interest to a solid colored floor.
16. Mosaic tiles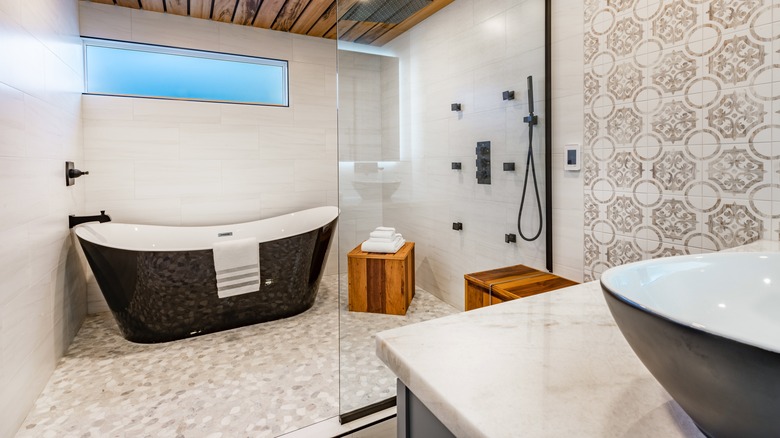 Sheila Say/Shutterstock
Mosaic floor tiles create that elusive sense of uniqueness since they often include a myriad of different colors. You could either make this flooring really stand out with bold shades or go for something more neutral by mixing whites, grays, and creams. If you go for the more subtle mosaic tile, pair it with other patterned tiles like the ones showcased on the right wall.
17. Checkerboard tiles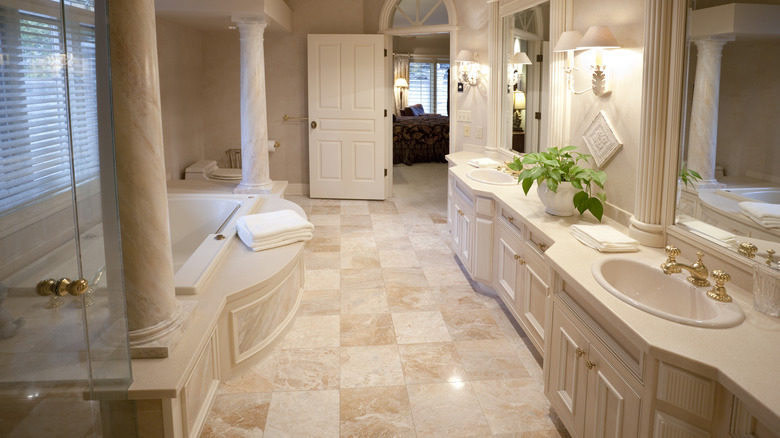 Jamesbrey/Getty Images
Perhaps the most classy choice, checkerboard tiles give off a 'wow' factor. To slightly tone down this design feature, choose tiles that look extremely similar in color instead of creating contrast with black and white. If they're marble, a neutral color can make the movement in the tiles really flow. Making the rest of the room monochromatic, like in the cream-toned room above, will also draw more attention to the design of the tiles.
18. Long wooden planks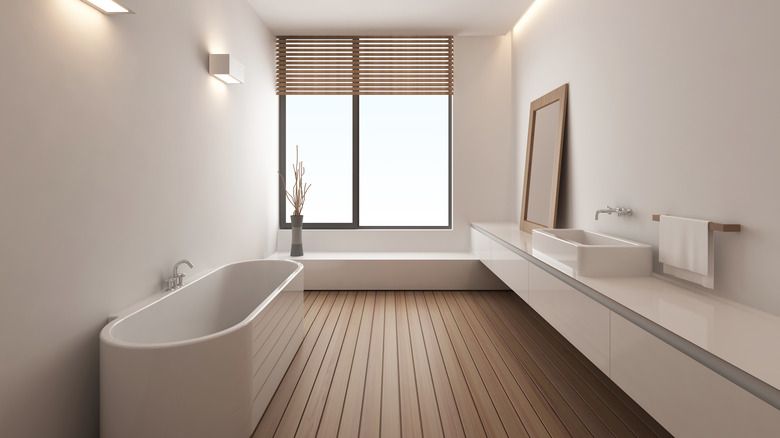 Deliormanli/Getty Images
While wood in the bathroom will always make a statement, choosing extra long, skinny planks that extend from one side to the other will really add a dramatic look. At the same time, it makes the room feel orderly and clean. When doing this, it's best to extend the planks down the length of the room instead of across the width; this will create an illusion that makes the room look longer than it really is.