Transform Your Home Into A Parisian Escape With These Nate Berkus Tips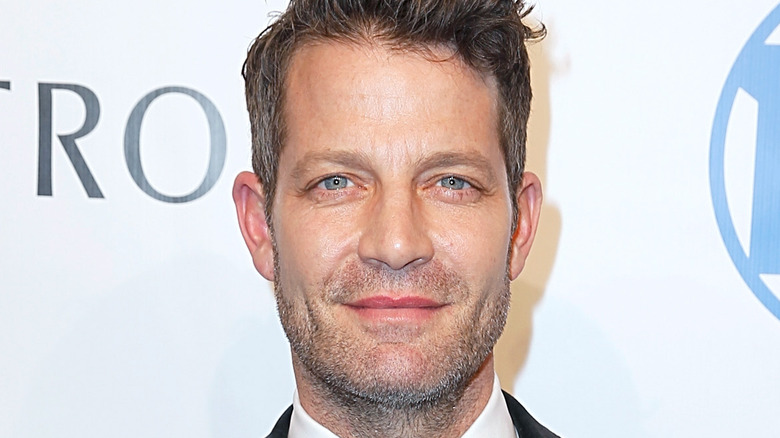 Dominik Bindl/Getty Images
In his HGTV show, The Nate and Jeremiah Home Project, Nate Berkus helps families renovate their homes. In Season 1, Episode 4, Berkus transforms a townhouse from the 1920s into a beautiful Parisian-inspired space. Despite the house's small kitchen and dated furnishings, Berkus is able to create that open and airy feeling that is commonly associated with Parisian decor. By following the tips he used to renovate this house, you'll be able to mimic the elegant, European style in your own home.
Common components of Parisian decor include ornate chandeliers, decorative paintings and mirrors with gold-colored frames, elaborately carved moldings, parquet flooring, and a minimalist style. Walls are often painted white to enhance the natural lighting in the space, and Berkus uses gray cabinetry to give a nice contrast. Berkus also utilizes large furniture and an armoire to hide the TV, giving the space a homey, timeless feeling without sacrificing modern conveniences.
Rely on architecture and a soft color palette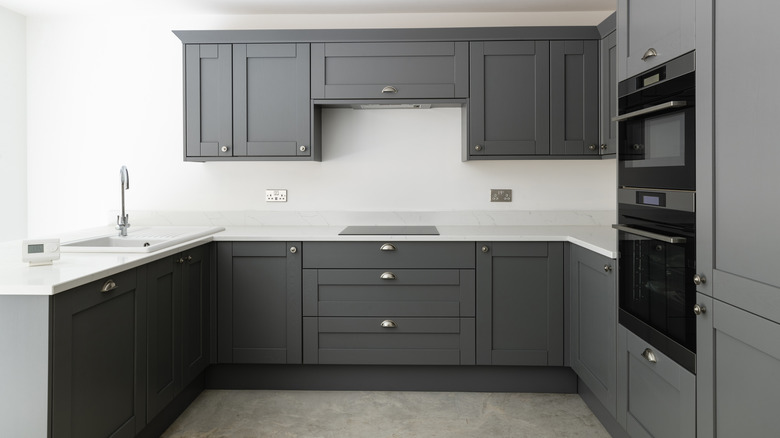 Solstock/Getty Images
When renovating this home, Nate Berkus used white, gold, and gray colors throughout the home to achieve the Parisian style. While the white walls, countertops, fireplace, tables, and armoire bring light into the room, adding darker cabinets and seating keeps the space from feeling washed out. The gold decorations and chandelier accent the rooms and give them a luxurious look. Painting the walls, molding, and armoire white also gives the rooms a more sophisticated feel, and draws your attention despite being the same color.
Berkus also adds a sweeping archway between the living area and the kitchen, which opens the space up and makes it seem airy and elegant. In Parisian design, architecture often is the focal point, and changing a square archway into a curved one can elevate the look of your home. Other common architectural features in Parisian interior design include tall windows and iron balconies.
Install marble counters and console tables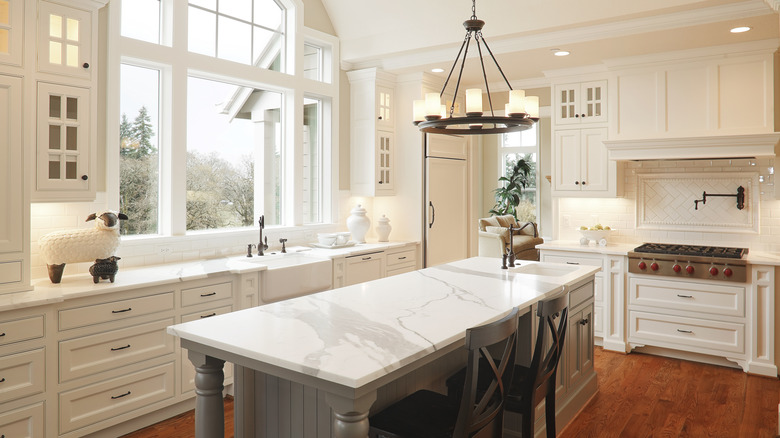 Chuckcollier/Getty Images
Nate Berkus implements white marble countertops in the kitchen and a marble console table near the entrance. By placing a gold-framed mirror above the console table, Berkus adds a beautiful contrast to the marble. Fireplaces are focal points in the Parisian style, and while Berkus didn't change much about the structure of the fireplace, marble surrounds are another way to enhance your room. You can decorate your marble tables and mantelpiece with flowers, candles, and unique souvenirs to create a modern yet classical feeling.
Using white marble will keep the room feeling elegant and make it seem larger. If you like the look of marble but it doesn't fit into your budget, you can try installing white quartz, concrete, or granite countertops. Quartz also requires less maintenance than marble, and granite is more durable. Other options to mimic marble include quartzite and neolith, which are both cost-effective and durable alternatives.
Switch from lamps to a chandelier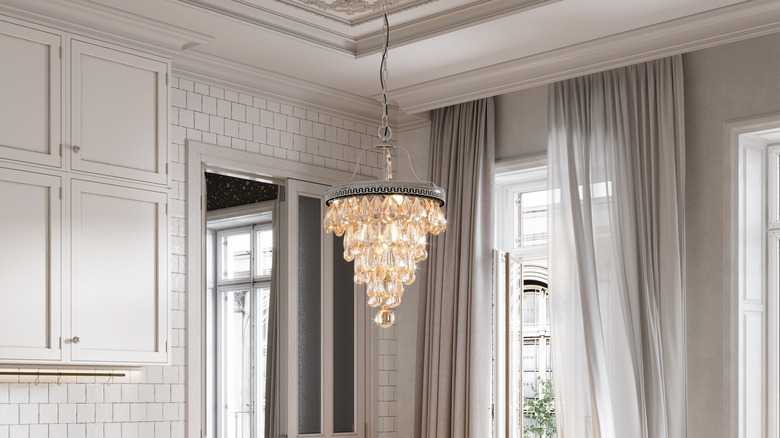 Alvarez/Getty Images
Lighting is an important aspect of any home, and while lamps can make your space cozy and inviting, chandeliers create a luxurious feeling. Adding a chandelier can bring your Paris-inspired room together, and there are several types to choose from, including mid-century and crystal. Choosing a chandelier that has gold-colored features goes well with the white walls, and will help to brighten your space in an ornate way.
If the rest of the room has a more classical style, installing a modern chandelier can provide a bit of a contemporary feel, while if the rest of the room is modern, finding a vintage or antique chandelier can complement your contemporary designs. While some chandeliers feature ornate hanging crystals, others utilize the appearance of candle holders and small lamp shades. Whichever chandelier you choose, it will add a sense of elegance and sophistication to the room.
Install floor-to-ceiling decorative molding
Alvarez/Getty Images
Ornate molding is a big part of the Parisian design, and Nate Berkus installs floor-to-ceiling rectangular moldings near the entrance, by the fireplace, and in the kitchen to elevate these areas. While some moldings are more intricate, using simple paneling can still give a beautiful effect. While having moldings made by a carpenter can be expensive, there are other ways to get this gorgeous look on a budget. One option is to try using styrofoam ceiling medallions, which can be glued in place and don't need professional installation.
In the renovation, Berkus uses wall paneling, which opens up the space and makes the ceiling seem higher. Having molding, furniture, or windows that stretch from the floor to the ceiling can create an illusion that your ceiling is higher than it really is. This gives the room a more open feeling and also provides nice outlines for hanging pictures, paintings, and mirrors.
Add a breakfast nook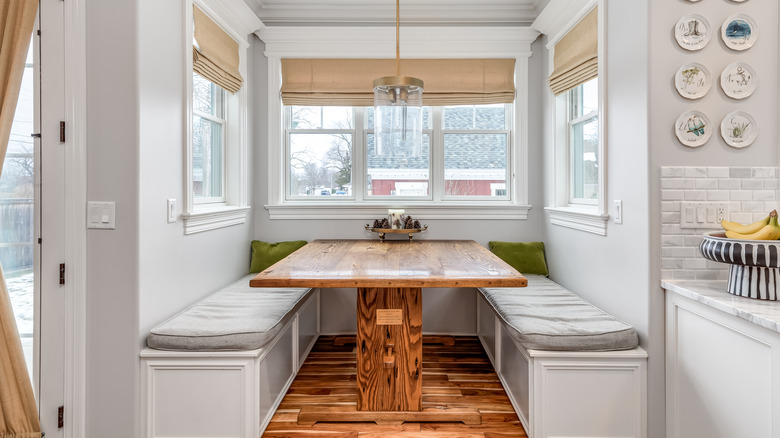 Hendrickson Photography/Shutterstock
While breakfast nooks are not always necessary to achieve a Parisian style, they can provide an elegant seating area in your kitchen. When renovating the townhouse, Nate Berkus installs a cushioned bench and a small, circular table with curved legs beneath a large window in the corner of the kitchen. This not only maximizes the space but adds a homey feeling. Using furniture that looks antique, has curves, and is white or gray will help transform your kitchen.
Berkus decorates the bench with soft colored pillows, and adds a slim candle to the table, giving it a very simple yet graceful appearance. If you don't have space for a breakfast nook, you can add similar furniture to your dining area to achieve the same aesthetic. Parisian interior design is timeless, elegant, and luxurious, and adding these features to your home will help you achieve this gorgeous style.