Turn Your Air Mattress Into An Elegant Bed With This Smart Home Staging Hack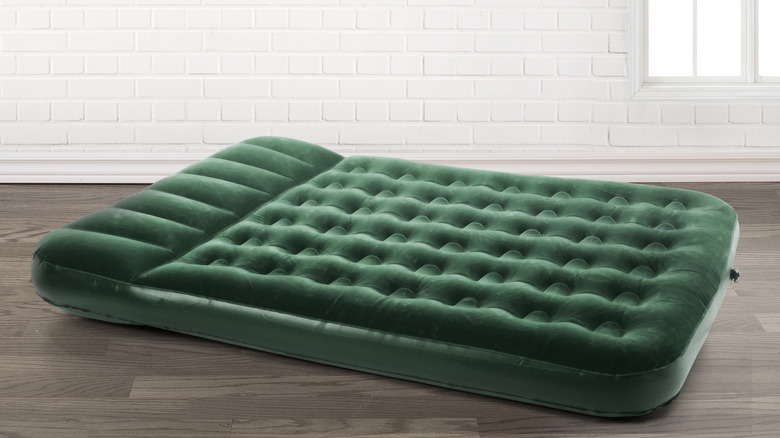 Nakphotos/Getty Images
Staging your home is an incredibly important part of the home-buying process. At first glance, it might seem a bit unnecessary to move in boxes of furniture and decor only to have to break it down as soon as an offer goes through, but setting up a home as it will be used while showing has a major impact on buyers. Typically, completely barren homes are a bit boring — sure, buyers will be able to glean what flooring and layout you're working with, but with a few pieces here and there, they'll actually be able to imagine themselves in the space and might be willing to spend more on the property. According to data from the International Association of Home Staging Professionals, staged homes sold for 20% more on average (via National Association of Realtors).
With that being said, however, it doesn't mean that breaking down and hauling full-sized furniture from place to place is easy. Thankfully, there's an alternative that can make your staged bedrooms look like the real deal without the same level of effort — air mattresses. With a bit of clever styling, you can bypass the need to transport several heavy, bulky mattresses from home to home while still achieving the look of a perfectly staged, cozy bedroom. The key? Building a fake frame and headboard around your air mattress and style it well.
Why an air mattress works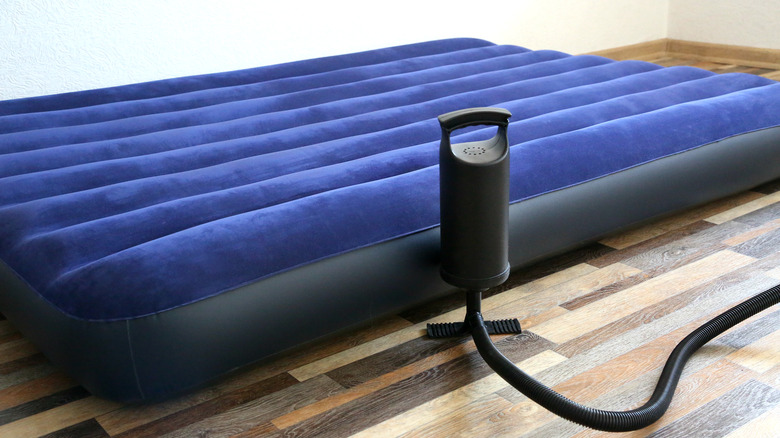 Maria Studio/Shutterstock
It's no secret that typical mattresses are heavy and cumbersome. Whether you opt for an inner-spring or thick foam variety for your staging needs, you're looking at hauling around 50 to 150 pounds, depending on the size and type. For one move, this is no big deal, but when you're staging multiple homes, it can put some serious strain on you and your team. Air mattresses, on the other hand, only weigh about 10 pounds on average, meaning you'll have an easier time moving them from location to location.
Additionally, choosing an air mattress is a great way to save space if you're transporting a large amount of furniture and decor. They're easy to pack down and store until needed and can fit through narrow openings and angular doorways, with no tight maneuvering necessary. Some stagers choose to forgo beds entirely, instead opting to dress boxes with linens and pillows to avoid these additional strains, but the final product might end up looking too stiff and angular to be convincing. Air mattresses, on the other hand, give you the best of both worlds — soft, rounded corners that look real all in one easy-to-move package.
How to stage an air mattress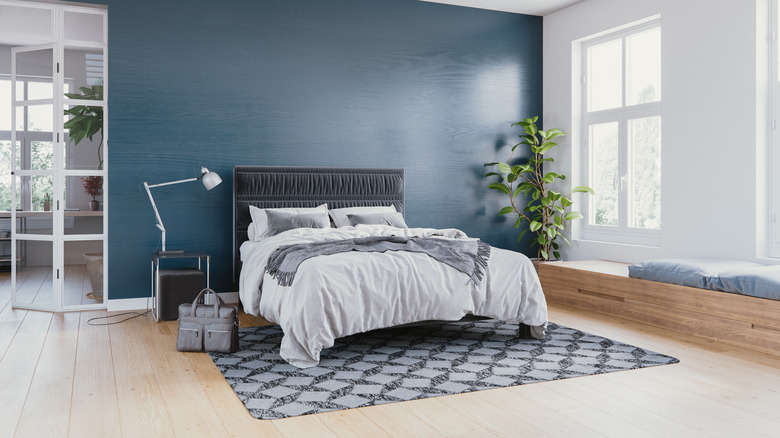 Imaginima/Getty Images
When staging a bedroom, you have two options when it comes to the bed — either start with a simple, easy to transport frame, or build one out of something that can create the illusion of an average bed height. Beds are usually around 25 inches tall, including the mattress, so factor in the height of your inflated air mattress, and then look for boxes, folding tables, or bins that you can stack under. These can be covered with a bed skirt, so they don't necessarily need to be pretty, just functional.
From there, it's time to inflate your mattress and get to work decorating. Air mattresses are the closest you'll get to something that looks real without the weight, but they still have a tendency to sag in the middle over time. To combat this, try to layer the bed with fluffier comforters, throw blankets made with thicker textured fabrics, and overstuffed pillows to up the appearance of comfort. These changes are subtle, but they can make a major difference in the psychological impact of your staging — and the subsequent sale price of the home.