Here's How Joanna Gaines Turns Outdated Ceilings Into Showstopping Pieces Of Art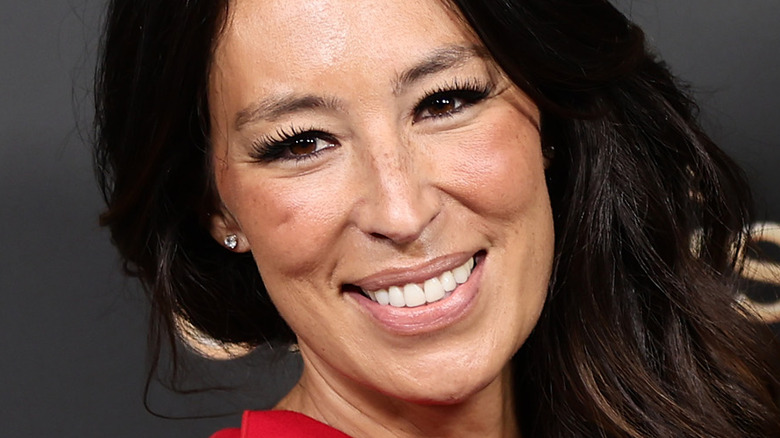 Matt Winkelmeyer/Getty Images
Across various design styles, we're seeing interior designers and homeowners alike taking more risks and stepping away from typical aesthetics. The white and gray interiors that were once popular have given way to moody blacks and warm beiges. And trends like the accent wall have moved upward. Ceilings have taken the place of a feature wall that stands out from the rest of the room. Interior designers urge homeowners not to forget their ceilings when designing a space. And while this means that many people opted to give ceilings a fresh coat of white paint, current trends are seeing more color that brings that ceiling into the design.
TV star and home decor icon Joanna Gaines just happens to be one of those designers that loves using the ceiling to create a new element in a space. In fact, Gaines raves about how a coat of the right color paint can instantly–and inexpensively–transform a space. And by using that paint on the ceiling, you can create an unexpected element that feels custom and thoughtfully designed.
Embracing the fifth wall
Ceilings have long been the fifth wall in a room but are often overlooked for their design potential. But Joanna Gaines has always looked for opportunities to add character to a space. Gaines paints the ceilings in many of her projects to create an accent in the room. In one project, she painted a room and the ceiling a similar shade of moody gray. "The soft gray on the ceiling creates an unexpected statement that brings the whole space to life in an affordable and creative way," Gaines says of one of her designs in an interview with Elle Decor. 
Gaines has also gone beyond painting the ceiling, adding texture as another way to make it a statement piece. Consider adding board and batten or molding to create a ceiling with dimension. Combine added texture with a fresh coat of paint for a sleeker and more modern look. And if you're one to make an even bolder statement, using wallpaper on your ceiling is a great option. It's a perfect way of infusing color and pattern to show off your unique style.