Martha Stewart's Top Tips For Using A Paint And Primer Combo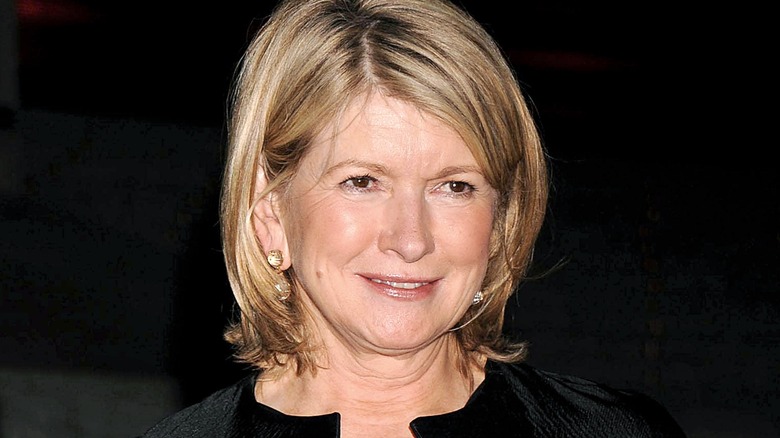 Everett Collection/Shutterstock
We may receive a commission on purchases made from links.
If you need to paint a wall quickly and easily, Martha Stewart has the perfect product for you — paint and primer in one. This combo can be used the same way you would utilize regular wall paint, except that you don't need to apply layer after layer. "You only need one coat, so it includes the primer and the finish coat," Stewart said in an Ask Martha video.
Stewart provides some advice on how to effectively cover a wall with paint and primer combined. After protecting the trim and furniture with tape and plastic sheets, paint the corners with a small amount of product on a wide paintbrush and continue around the entire perimeter. When using a roller, start slightly away from the corner and work your way in, then move out from there to cover the rest of the surface. Because this type of paint is thick, Stewart says it's important to remove excess product with the grooves in the roller tray before applying.
Where to use paint and primer combined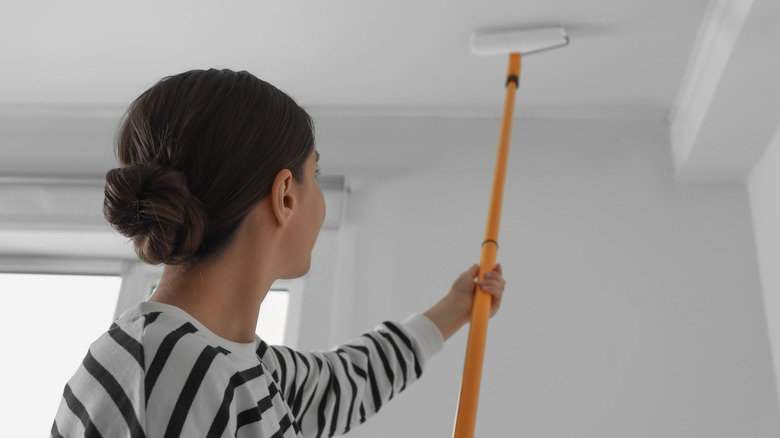 New Africa/Shutterstock
While a paint and primer combination can be beneficial in some instances, it shouldn't be used on every surface. If you're painting wood, metal, vinyl, or aluminum a home's exterior, it's best to utilize a strong primer before you start. However, if you're covering a basic wall inside of your residence that's already been painted, this product could make the process much easier. 
As demonstrated by Martha Stewart on Ask Martha, this type of product is especially helpful when painting the ceiling. This is because covering this surface can be challenging, as you'll need to hold the brush or roller above your head for an extended amount of time. Further, while painting the ceiling, the rest of the room cannot be utilized since you'll need to protect walls and furniture from splatter by draping plastic sheets around the space. When using a combo product, your time may be cut in half (or even more if you would normally apply more than two coats), which will allow you to utilize your room again much sooner. 
Where to buy paint and primer combined
Martha Stewart uses Glidden's DUO Paint to cover her ceiling, but this type isn't widely sold anymore. If you want something similar, Glidden's Premium Interior Paint and Primer is sold at Home Depot and has most of the same benefits, such as a thick formula that will easily cover your surface. Additionally, it's mildew-resistant, so it could be used in a humid space, such as a bathroom. It also has no VOC, meaning it only has a slight odor that isn't overpowering when applied.
There are also a few other 2-in-1 paints you could utilize, including Behr's Premium Plus Paint and Primer, also sold at Home Depot. While slightly more expensive, this specific type has an easy-to-pour lid, which could help you keep your can drip-free. Valspar also has an option sold at Lowe's, which can be used either inside or outside. Interestingly, Martha Stewart sells a spray paint on Amazon that includes both paint and primer that could be used to revamp furniture.