Is Your Washer Big Enough For Your King Size Comforter? Here's What To Know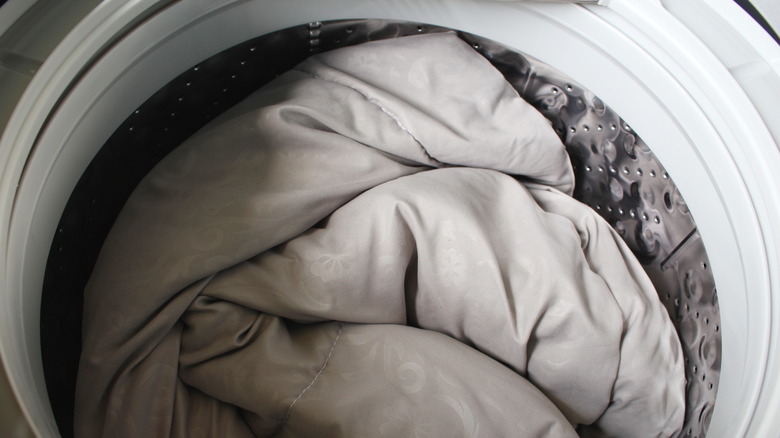 My Hardy/Shutterstock
The comforter is one of the most eye-catching focal points inside a bedroom, a popular addition due to its affordability and versatility. But unfortunately, not everyone can conveniently throw their extra-large comforters in the washing machine, as they might with the rest of their bedding. King-size comforters typically measure 86 to 88 inches in length and 102 inches in width, making them too bulky to fit in many standard washers. Though, your washing machine should be large enough to properly clean a king-size comforter if its inner tub has a volume of at least 4.5 cubic feet.
Washing bed sheets should be a weekly or biweekly ritual, but homeowners are allowed to be a bit more lenient when it comes to their comforters. You should wash your comforter at least once every two months to ensure it remains free of allergens, dust mites, and other harmful microorganisms that develop and spread over time. It should also help to read the care label attached to your comforter in order to give it the cleaning best suited for the item's specific fabric. Here's more on washing your comforter, including alternative routes to take in case your washing machine is too small.
No small tubs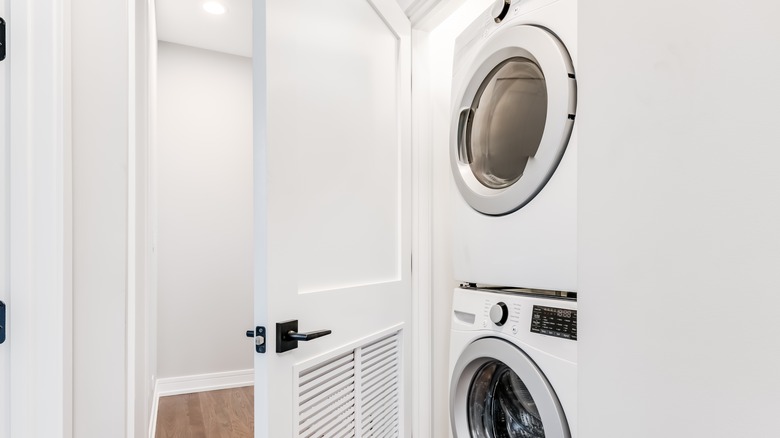 Fio Creative/Shutterstock
If you want to wash a king-size comforter in your home's washer with no complications, make sure your washing machine is deep and wide enough to fit your comforter without resulting in overloading. Washing machine tubs measuring around 3.2 cubic feet are considered small-capacity washers. Those that measure around 4.5 cubic feet can be labeled as medium-capacity washers, and any model reaching or surpassing 5 cubic feet may be deemed a large washing machine. Other sources may argue that large washers constitute any model measuring at least 4.5 cubic feet in volume, but regardless, a machine built to hold this capacity or larger should be more than capable of cleaning comforters of any size.
It should go without saying that compact and portable washing machines will not be able to get the job done. This generally eliminates the washers found in most standard apartments and condominium units. Though, a washer built to service a family of three, four, or more should be large enough to do the trick. So, a washing machine considered large enough for a traditional single-family home will likely fit a king comforter. As additional rules of thumb, standard and high-efficiency top-loading washing machines normally measure 3 to 3.5 cubic feet in volume, and standard front-loading washers generally measure up to 4.5 cubic feet.
Other ways to wash your comforter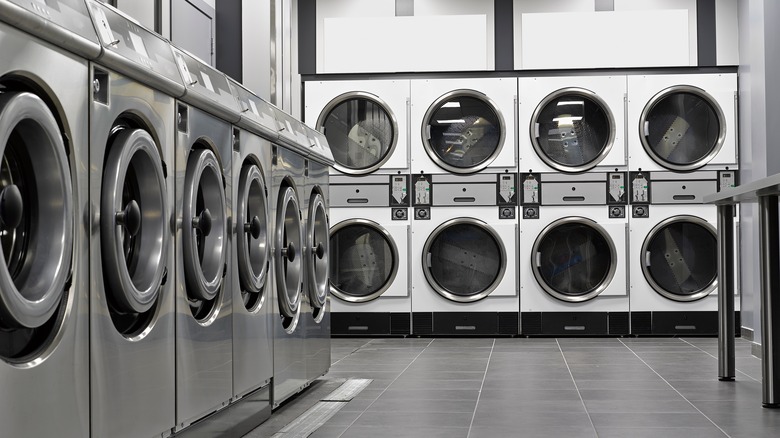 CapturePB/Shutterstock
If you've discovered that the washer inside your home is too small for your king-size comforter, there's no need to worry. There are a couple of alternative measures you can take to clean and sanitize your extra-large comforter at little to no extra cost. The most common option is to take your king comforter to a nearby laundromat. Most laundromats offer at least two sizes of washers for consumers to choose from, and industrial machines can be manufactured to hold anywhere from 20 to 100 pounds of laundry in a single cycle.
This second option doesn't even require you to leave your house, and that is to wash your comforter inside your bathtub instead. To do so, begin by filling your tub with cold water and adding your detergent of choice to the bath. Mix the water and detergent using your hand to create a foamy mixture, and throw your comforter into the tub to begin soaking. Scrub the soapy concoction into your comforter in sections to make sure you're cleaning the entire piece evenly. Once the comforter is fully immersed in the mixture and soaks for about 10 minutes, drain the solution and refill the tub with cold water. Press the soap suds out of the comforter until all the detergent is released from the fabric. Hang your comforter up to dry after patting out the excess water, or throw it in your dryer and set it to a delicate cycle.